Plan to make manure from rotten apples goes awry
Rakesh Lohumi/TNS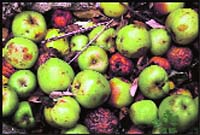 Shimla, August 12
The government plan to make organic manure from the rotting stocks of apple procured under the Market Intervention Scheme (MIS) last season has gone awry.
The new apple harvesting season is at its peak but not a single bag of manure has been produced till date from over 55,000 tonne of fruit, which could not be transported from the collection centres last season. Initially, the entire stock was to be converted into organic manure through vermi-composting under the guidance of Dr YS Parmar University of Horticulture and Forestry, but inadequate availability of worms forced the authorities to use bacterial composting for bulk of the fruit.
The task was assigned to the Excel Industries, which specialises in solid waste management, for the supply of bacterial inoculum for speedy composting.
In the normal course vermi-composting takes three months and bacterial process is even faster but none of them seems to be working well, though the vermi-composting process is likely to be completed earlier. The government is set to suffer heavy losses due to rotting of apples as a record 1,11,000 tonne of fruit was procured out of which a meagre 10,000 tonne was processed and about 45,000 tonne sold in the market, leaving over 55,000 tonne to rot.
The government decided to convert the rotting fruit into organic manure but as is becoming evident now, only a small part of it will be composted. The HPMC is composting about 12,000 tonne out of which not even 1,000 tonne is being vermi-composted. The HIMFED is composting 18,000 tonne.
Senior scientist of university Dr GP Upadhyaya, who is overseeing the vermi-composting part, said composting was started in 45 pits for which 900 kg of worms were required by only about 80 kg was available.
Inadequate worms, along with low ambient temperature during winter, slowed down the process. However, he maintained that the activity was increased during summer and they were multiplying it and it may take a month or two more to complete the process.
This year, the crop is lean and hardly any fruit is being procured under MIS and as such there will be no apple for composting. Even otherwise, non-availability of cow dung and biomass (grass and farm waste), which is being brought from the neighbouring states, makes composting an uneconomical proposition.
The Scheme
n Entire stock was to be converted into organic manure through vermi-composting
n But not a single bag of manure has been produced yet from over 55,000 tonne of fruit
n The task was assigned to the Excel Industries, which specialises in solid waste management