M A I N N E W S
PM snubs Anna who vows to go on Aug 16 fast
l Says the social activist should take his grievances to the concerned statutory authorities
l Gandhian had sought PM's intervention over strict conditions imposed by police for fast
Vibha Sharma/TNS
New Delhi, August 13
With battle lines clearly drawn Hazare's caustic remarks were met with equally scathing reply from Prime Minister Manmohan Singh who told the social activist to take his grievances to the concerned statutory authorities.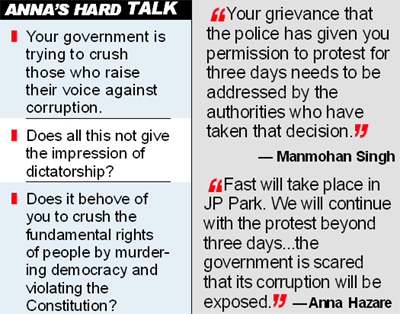 In response to Hazare who rejected Delhi police conditions to limit his protest to three days and 5,000 people, the Prime Minister also informed the social activist that everyone in his government was committed to the Constitution of India.
"I have received your letter, carrying the date 14th August, 2011 and carefully read its contents," Singh said in a terse letter posted on his official site late evening.
"Your grievance that the police has given you permission to protest and go on fast at JP Park only for three days needs to be addressed by the statutory authorities who have taken that decision. My Office does not in any way get involved in the decision-making process. The terms and conditions on which you are entitled to carrying on with your protest are decided by the statutory authorities concerned taking into account the prevailing circumstances and other relevant factors.
"I would request you to address your grievances to the statutory authorities concerned. We are all committed to the Constitution of India and to uphold it both in letter and spirit," the Prime Minister added
With the Centre tying up his application for a protest venue in legal tangles, Hazare earlier in the day had shot off a letter to the Prime Minister, telling the latter that he would suffer a "loss of face on August 15 atop the Red Fort if he did not step in at this stage. Former IPS officer and key member of the Hazare team Kiran Bedi also accused the Delhi Police of being "dictated by the government in power."
The government has decided not to take it lying down While the Congress will respond to Anna's allegations in a press conference at the AICC headquarters on Sunday, sources said the government's top managers decided that the PM should immediately reply Anna's letter so that right message is sent across to the people before the Independence Day.
Standing firm on the decision to go ahead with his indefinite fast from August 16 for a "strong" Lokpal Bill in spite of riders attached by the police, Hazare made it clear that they were ready for any eventuality even if the government decides to crackdown on them and disrupt their protest.
"The fast will take place at the Jaiprakash Narain Park. We will continue with the protest beyond three days...The government is scared that its corruption will be exposed," said Hazare, whose fast in April forced the government to come out with a Lokpal Bill with which he is not satisfied.