Delhi set to make a flying start
Shaurya Karanbir Gurung
Tribune News Service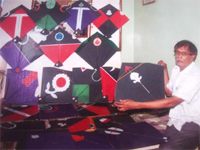 Ayyub Khan, a kite seller in Old Delhi, shows his collection. Tribune photo
New Delhi, August 13
The kite sellers at Lal Kuan in Chawri Bazaar have been catering to people's passion for kite-flying for years. Following in their forefathers' footsteps, kite sellers say that their love for kite-flying has become an expression of their happiness, especially during Independence Day, which they prefer to call a "festival of happiness".
Ayyub Khan, who owns a small shop in the bustling street of Lal Kuan, said that kite-flying on August 15 is a portrayal of one's happiness. He opened his shop 25 years ago, and nowadays his son, Mohim Khan, has been assisting him in this business.
Colourful handmade kites are made at Ayyub's home and then elegantly displayed at his shop. "My family supports my business and also helps me by making kites at home," he said, while pointing to the kites neatly placed in shelves at a corner of the shop.
Ayyub said that the price range of good kites is between Rs 15 and Rs 50, while some can be priced as Rs 250. The quality of the kites depends upon the handiwork of its creator. Most of the kites are made from a dull single-coloured thin paper. He showed this reporter his favourite kite, which had a wooden stick moulded into its shape, giving it a unique and durable structure.
"Besides the kite, the other important materials are the charkhi and the thread (maja) that needs to be strong," asserted Ayyub.
He sells a charkhi with the maja for a price of Rs 200 to Rs 1,500. The maja is made in Bareilly, Uttar Pradesh.
One of the helpers at the shop, S. Arshad, said that kite-flying tournaments are held every year. "The all-India kite-flying tournament conducted in Burari, Delhi, five months ago had teams participating from places such as Lucknow, Bareily, Jaipur, Chandigarh and Meerut. Each team has three members and can fly 12 kites against the competing team. The final match was between Delhi and Lucknow, wherein the former lost," he added.
Arshad said that Lal Kuan for the past 60 years has been the main market in Delhi for selling kites. He asserts that kite-flying has been his passion since his childhood.
This same passion is apparent in the throng of customers waiting outside Ayyub's shop and several others lined in Lal Kuan's narrow road.
"I have bought a hundred kites for a price of Rs 250 for myself and my family. We will celebrate Independence Day by flying these kites," said Akshay Sharma, a customer at one of the kite shops in Lal Kuan.
The kite sellers are not only passing their legacy to the next generation of their family, but are also instilling a passion for kite-flying in the customers, who arrive at their shops. The mere presence of the kite sellers and their shops nurtures this passion and the age-old tradition of kite-flying.