BJP slams Cong for defending Dikshit
Syed Ali Ahmed
Tribune News Service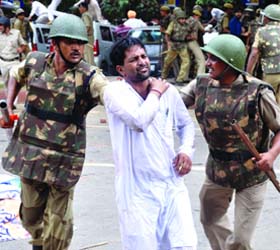 Policemen detain a protestor at the rally in New Delhi on Tuesday.
New Delhi, August 9
The UPA government not taking action against Chief Minister Sheila Dikshit over charges of financial irregularities in the Commonwealth Games (CWG) as pointed by the Comptroller Auditor-General (CAG) report shows that the government has double standards.
This was stated by BJP national president Nitin Gadkari while addressing a rally organised by the Bharatiya Janata Yuva Morcha (BJYM) in the Ramlila Maidan, here, today.
Thousands of youths from various states participated in the rally.
He said the CAG had pointed out a scam of Rs 30,000 crore in the CWG, but the government said the report had not indicted the Chief Minister and her ministers.
Gadkari said the UPA was not asking Dikshit to step down because then the Prime Minister would be next in line. If action is taken against the Prime Minsiter, the Sonia Gandhi family would be next in line, he said.
He said all leaders of the Congress were involved in the corruption and the party should be re-named "Lakshimi Darshan Party".
He said former union minister of sports Sunil Dutt and ManiShankar Aiyar resisted the PMOs decision to appoint Suresh Kalmadi as chairman of the organising committee of the CWG. But the Prime Minister appointed him to the coveted post, making it obvious that his appointment was made on the direction given by UPA chairperson Sonia Gandhi.
The Prime Minister does not speak on the financial irregularities in the Games pointed out by the CAG and the Shunglu Committee which indicates the PM is on silent mode.
The Himachal Pradesh government constructed a stadium in Dharmashala, Himachal Pradesh, with a cost of Rs 44 crore, but here in Delhi the government had spent Rs 980 crore to renovate Jawaharlal Nehru Stadium.
Appealing to the youth to come to the streets to overthrow the corrupt UPA government at the Centre, Gadkari said the UPA government was asking as to why the BJP was not taking action against the Karnataka Chief Minister. Now the Karnataka Chief Minister had resigned. What action was the UPA government taking to remove Sheila Dikshit, he asked.
LK Advani, a senior BJP leader, said the UPA government was the government of scams. Since 1947, 1,000 scams had come to light. Of them, the CWG and cash-for-votes were the biggest. The UPA government had proved that MPs could be purchased by giving hefty sums of money.
He appealed to the youth activists of the BJYM to be active and raise their voice to oust the corrupt government of Manmohan Singh who himself could not take any decision. It is the youth who can bring about a revolution, he said.