Adarsh Scam

CAG names Army top brass among beneficiaries
Ajay Banerjee
Tribune News Service


in the wrong hands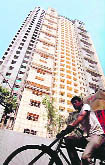 n Two Chiefs of Army Staff - General NC Vij, General Deepak Kapoor
n All officers except one, who held charge as General Officer Commanding, MG&G area, from Feb 1998 to July 2010
n Officers holding the post of General Officer Commanding-in-Chief (GOC-in-C), Southern Command, Pune, from Oct 2000 to Sep 2001 and from Oct 2001 to Feb 2004 were members of the Housing Society
New Delhi, August 9
Facts collated by the Comptroller and Auditor General (CAG) on the controversial Adarsh Housing Society in Colaba, south Mumbai, point at a shocking collusion between senior Army officers and civil authorities, who bent rules in the name of ex-servicemen and serving officers, besides using the guise of a noble cause of 'rehabilitating Kargil widows.'
The CAG in its report tabled in both Houses of Parliament today exposed how a few senior Army officers, civilian bureaucracy in Maharashtra and a few corrupt employees of the Defence Estates Department of the Ministry of Defence used the system to get the 3,824 sq m of public land allotted only to use it for their private good.
Notable among the beneficiary service officers were two former Chiefs of Army Staff - General NC Vij and General Deepak Kapoor. Gen Kapoor become a member when he was a serving chief.
"They were allowed as 'one-time special case' keeping in view their noteworthy service in the Indian Army and their social status," CAG said. "In the name of welfare, it was the select elite belonging to the services and civilian administration, politicians and individuals connected with them who benefited from the misappropriation," the report said.
Terming it as "dereliction of duty and severe lack of probity and accountability which needs very serious investigation," the CAG observed "not taking exemplary remedial and punitive action...will erode the credibility of the government and encourage similar attempts in the future".
The report in an unusual advice calls on Parliament and the government to ensure that "public trust is not betrayed."
"From the very beginning, the welfare of servicemen and ex-servicemen in one form or the other was used as a ruse to grab this piece of public land," the CAG said in its severe indictment. At different points of time, relaxations were sought from the Maharashtra Government under the following claims: "Girls' hostel for wards of Army officers posted in far-flung areas", "welfare of Kargil war heroes", "welfare of widows of servicemen", "welfare of soldiers who have served their motherland".
The auditor said that from the records of the Government of Maharashtra and the Defence Estates Office, it has been "conclusively proved" that the land was in the possession of the Army, a fact that officials of the Government of Maharashtra, HQ Maharashtra Gujarat and Goa (MG&G) area, and the Defence Estates Office should have been aware of, but probably chose to ignore.
The February 2000 letter to the Maharashtra Chief Minister given by the chief promoter of the Society Ramchandra Sonelal Thakur, a official in the Defence Estates Office (DEO), clearly indicates that the land was in the possession of the Army. The title of the land was never, however, transferred to the Ministry of Defence.
The hurried 'no-objection' by the Army and the Defence Estates Office in April 2000 - within two months of the application by Thakur - assumes significance.
The auditor pointed out a serious lapse that could lead to a re-think among the military top brass. It said: "All officers except one, who held charge as General Officer Commanding, MG&G area, from February 1998 to July 2010, became beneficiaries".
It further said that officers holding the post of General Officer Commanding-in-Chief (GOC-in-C), Southern Command, Pune, from October 2000 to September 2001 and from October 2001 to February 2004 also became members of the Housing Society."