Tarn Taran villages deluged
Tarn Taran, August 9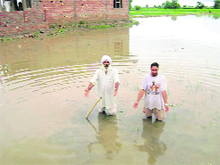 Heavy rainfall on Monday led to the inundation of crops on hundreds of acres of land spread over various villages in the district.Other affected area are Kakka Kandiala, Behla, Rataul,Varpal, Wanchari, Gohalwar, Tharu, Mattewal, Noordi, Johal Raju Singh, Pandori Ran Singh, Pandori Rehmana, Kot Dosandi Mall, Kot Dharam Chand Kalan, Kot Dharam Chand Khurd, Teja Singh Wala, Manochahal Kalan, Manochahal Khurd, Noorpur, Chamke Khurd, Chabal, Swargapur, Mannan, Baba Budha Sahib, and Sarai Amanat Khan.

Villagers in knee-deep water at a field in Tarn Taran. Tribune photo

Collapsed buildings were not on MC's unsafe list
Amritsar, August 9
The collapse of five old structures following yesterday's downpour in the city has exposed lapses on the part of the Amritsar Municipal Corporation (AMC) in getting such dilapidated structures vacated.
4 of family killed in car-truck collision
Kapurthala, August 9
Five persons were killed, including four of a family, and two others wounded in a head-on collision between a car and a truck near Dogranwal village between Subhanpur and Hamira on the Jalandhar-Amritsar National Highway today.
Remove Gill, Guru, Congress tells CEC
Chandigarh, August 9
A Congress delegation led by Rajinder Kaur Bhattal, Leader of the Opposition in the Vidhan Sabha, that met Chief Election Commissioner Dr SY Quraishi here today, demanded that only IPS officers above the rank of IG should be appointed as law and order observers.


Rajinder Kaur Bhattal
Charanjit Brar joins SAD
Chandigarh, August 9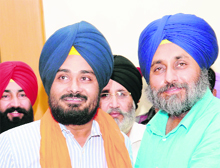 a confidant of Punjab People's Party chief Manpreet Singh Badal, Charanjit Singh Brar, today joined the SAD with his supporters at a function here today. Brar, a former officer on special duty (OSD) with Manpreet, claimed that the party's core committee was full of Manpreet's kin. This was against the very essence of forming a new party, which was supposed to be a democratic movement.


Charanjit Singh Brar with Deputy CM Sukhbir Badal in Chandigarh. Tribune photo: Manoj Mahajan

PPP leaders lambast Bajwa
Hoshiarpur, August 9
The Punjab People's Party (PPP) will not participate in the forthcoming elections of the SGPC.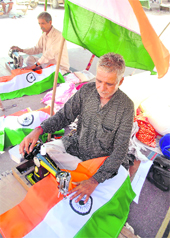 colours of Freedom: A tailor stitches a National Flag for the Independence Day celebrations, in Patiala on Tuesday. Tribune photo: Rajesh Sachar
SAD fields Sekhwan, Langah for SGPC poll
Chandigarh, August 9
The SAD today allocated the SGPC ticket to two cabinet ministers setting off speculation that one of them might not make the grade for the Assembly ticket due to reduction of one constituency in Gurdaspur district post-delimitation.
Sant Samaj to contest 30 seats
Amritsar, August 9
For the first time ever, the Sant Samaj will be contesting on a sizable number of seats in the SGPC elections, as the ruling SAD has forged an alliance with it and allotted it 30 out of the total 170 seats.
Capt tells Khangura to woo NRIs
Chandigarh, August 9
Pradesh Congress Committee (PPCC) president Capt Amarinder Singh has appointed Kila Raipur MLA Jassi Khangura, a former NRI, to initiate interaction with various NRIs, groups and organisations in the USA, Canada and Europe to set an agenda for his trip to these places later this year.
PSEB fails to provide info under RTI Act
Mohali, August 9
Punjab School Education Board (PSEB) authorities are defeating the very purpose of the Right to Information (RTI) Act by denying or delaying information sought regarding conduct of the annual examination or appointments made in the board.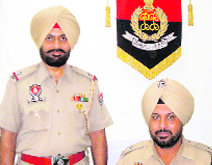 Two cops honoured
Patiala, August 9
Two Fatehgarh Sahib cops were awarded by the Punjab Police chief for their distinguished services in their respective domains for the year 2010. The Director-General of Police (DGP), Punjab, P.S. Gill, awarded DGP Commendation Disk to Fatehgarh Sahib SP (Headquarters) Jaspreet Singh Sidhu and Assistant Sub Inspector Shamsher Singh.

Fatehgarh Sahib SP (headquarters) Jaspreet Singh Sidhu (right) and ASI Shamsher Singh. A Tribune photograph

3% quota for differently abled teachers
Patiala, August 9
In order to facilitate differently abled employees, the Education Department has reserved 3 per cent quota for these employees for promotion. This reservation will be applicable during the promotion of all employees, right from a peon to a gazetted officer.
Youths recount travails in Iraq
Jalandhar, August 9
More facts have begun emerging in the case of 40 youths from Punjab and Haryana trapped in a remote area of Iraq with three of them returning from there. They had allegedly been detained in a secluded farm house in a town in Iraq for the past more than five months.
Embassy in touch with duped youths
New Delhi, August 9
The Indian Embassy in Baghdad is in touch with nearly 30 Indians from Punjab and Himachal Pradesh who are desperate to return home, having been duped by travel agents.
Met forecasts more rainfall, alert sounded
Patiala, August 9
Following the weather forecast issued by the Indian Meteorological Department of heavy rain in Punjab and Haryana, the Department of Revenue, Rehabilitation and Disaster Management, Punjab, has asked all the Divisional Commissioners of the state to remain alert.
A clarification
The picture with the caption "CM Parkash Singh Badal lays the foundation stone of Rajpura thermal plant at Nilas on Monday" carried in these columns of The Tribune was a file photograph. The caption was misleading as the event did not take place on August 8, 2011. The error is regretted.



Two of four suspects move bail pleas in Gurkirat case
Jalandhar, August 9
Two of the four suspects in the murder case of hotelier Gurkirat Singh Sekhon today moved bail applications in the trial court. Maintaining that co-suspects Jasdeep Jassu and Prince Narula, were innocent and were not 'actively' involved in the murder, their lawyer today moved the bail applications in the court of District and Sessions Judge Inderjit Singh Walia.
Appointment of lambardar
HC overrules Financial Commissioner's order
Chandigarh, August 9
democracy at the grassroots level, the Punjab and Haryana High Court has overruled the Punjab Financial Commissioner's order to hold that having a PCO or a small shop in a village could not be construed as disqualification for the lambardar's post.