Unwanted pregnancy: Use of contraceptives
Dr Meenal Kumar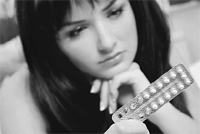 When Rimple, 23, a newly married woman, missed her periods, she decided to try out the 'I-Pill, an emergency contraceptive (EC)', widely advertised on television. After repeated use of the pill failed to restore her periods she consulted a doctor who found she was six weeks pregnant.
She had to undergo an MTP as the overdose of EC pills she took could have harmed her foetus. Typically, users of the 'emergency contraceptive' (EC) confuse it with the abortion pill that is to be taken after a woman misses her periods. EC pill cannot be a substitute for regular oral or injectible contraceptives and should only be used in "emergency" —- after accidental unprotected sex. Long-term use or overuse can be harmful and cause irregular menstrual cycles and side-effects like nausea and vomiting.
No less than 78 per cent of the pregnancies in India are unplanned and at least 25 per cent are unwanted despite the availability of contraceptives. Married or unmarried, if you don't want a child, contraceptives can come to your rescue. The large majority of women need to rely on modern methods, including female sterilization, the IUD, and the pill. Oral contraceptives are the most commonly prescribed form of birth control; advantages include reversibility as well as a good tolerance and safety profile. Long-term contraceptives like sub-dermal depot compounds or hormone-releasing pessaries in the uterus have been used on a regular basis and seem a convenient alternative for birth control for longer periods. Copper IUDs will be widely used in the future since copper IUDs are effective in preventing a pregnancy for as long as five days after unprotected coitus. Hormonal tablets are less effective and should be taken as soon as possible after coitus.  
Side-effects of contraceptives
The time period of when to start taking a pill is important as every woman's menstrual cycle is different. Also, some women may be allergic to certain kinds of drugs. Issues such as weight gain, weight loss, acne increase or decrease, and nausea are common with many types of contraception. Irregular bleeding or spotting may occur while you are taking birth control pills. Hormonal changes like acne, nausea, depression and dizziness may also occur. Deep vein thrombosis (DVT)  or  blood clot is diagnosed through a host of symptoms that includes pain in the chest, swelling and pain in muscles and legs, and pulmonary or heart-related complications. Alarm bells start ringing; if you experience sharp chest pain, heaviness in the chest, sudden severe headache, sudden partial or complete vision loss, contact your doctor immediately.
Middle-aged women
Intrauterine devices (IUD) are an excellent method of contraception in older women as they are long-lasting and effective. Specific contraindications include abnormal menstrual bleeding and the presence of fibroids distorting the uterine cavity. Condoms and spermicidal creams can also be considered as an alternative. Spermicidal creams help lubricate the dry vagina in older women; whereas condoms provide the advantage of protecting against STDs and HIV infection. Estrogen-progesterone combined low-dose pills have been found to be safe for middle aged and pre-menopausal, non-smoking women, who do not have other risk factors such as smoking, obesity, hypertension, diabetes and familial history of cardiovascular diseases.
Adolescents' contraception
In general, sexually active unmarried adolescents are not seeking to become pregnant, and married adolescents do not wish to become pregnant early or, if they have already had a child, wish to delay a second pregnancy. Unplanned pregnancies among adolescents happen despite the best of contraceptive intentions, and the effectiveness of adolescent contraception remains below desired levels. However, low dose contraceptive pills and barrier methods like condoms are recommended for this group. In case of accidental encounter, EC pills taken soon after contact but not later than 72 hours of the episode can help in most cases.
The writer is a Chandigarh-based senior gynaecologist.