Support swells for Anna in Doon
Tribune Reporters



Dehradun/Mussoorie, August 17
People in Dehradun and Mussoorie today came forward to support Anna Hazare's movement against corruption. Some held marches and demonstrations while others like senior citizen and former roller skating champion Gopal Bhardwaj came up with some novel ideas to lend support to the movement.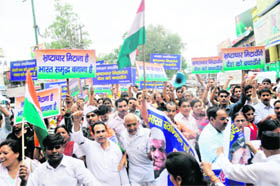 Members of the Bharat Swabhiman Manch hold a protest in Dehradun on Wednesday. A Tribune photograph
The members of the Bhrashtachar Mitao Uttarakhand Bachao Sangathan tried to stop the Link Express in Dehradun.
They staged a demonstration at a platform of Dehradun Railway station and lay down on the track in front of the train, raising slogans against the Centre for arresting Anna Hazare.
However, as the train started leaving the platform, the protesters moved aside. Earlier, the police tried to convince them not to obstruct the way but they did not budge.
Meanwhile, Gopal Bhardwaj, aged 60, used his roller skating wheels after a gap of 30 years at Jhoola Ghar, Mussoorie, with a placard on his chest stating "Say No To Corruption" in support of the ongoing tirade by Anna Hazare in New Delhi.
Bhardwaj began his journey from Jhoola Ghar and wheeled all along the Mall Road to Library Bazar where he paid obeisance at the statue of Mahatma Gandhi and prayed for the well-being of Anna Hazare.
Bhardwaj said if Anna Hazare could sit on fast and fight against corruption at the age of 74, people like him could contribute in supporting him in every way possible. Therefore, he thought of raising awareness for the issue by travelling on wheels today. He was cheered all along the way by tourists visiting the hill town. Supporting a strong Lokpal Bill, Bhardwaj said till the time bureaucracy and the political class was not made accountable, the issue of corruption would remain. Therefore, it was imperative to support Anna Hazare in his campaign.
In another such campaign in support of Anna Hazare, various organisations took out a march from Shaheed Sthal to Gandhi Chowk, Mussoorie. Vishal Sharma, director of the Society for Civil Opinion, Reform and Empowerment, addressing a gathering, said the corruption had become a bane for the country and to remove it permanently, concerted and united efforts were needed. He also suggested to form an apolitical Sanyukt Sangharsh Samiti soon so that more people from all walks of life could join in the movement against corruption. Bharatiya Janta Morcha workers also took out a separate march in support of Anna Hazare today.