Anna 'brigade' continues march
Tribune Reporters
Jalandhar, August 17
The various social and political organisations today continued their protest here expressing their solidarity with activist Anna Hazare on the issue of Jan Lokpal Bill. The protests had started yesterday with Anna's arrest. The local representatives of India Against Corruption, Art of Living, Bharat Gaurav Sanstha and Punjab Human Rights Organisation held protests across various important intersections in the city.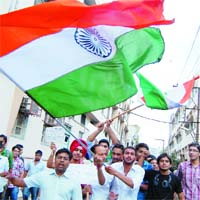 ABVP activists rally in support of Anna Hazare in Amritsar on Wednesday. Photo: Sameer Sehgal
Several youth visited the site in front of DC office where the local chapter of India Against Corruption has been holding a relay fast. The youth had brought interesting quotes penned on charts. They moved out on motorcycles taking out rally in important areas of the city. The members even held a meeting at Desh Bhagat Yadgar Hall.
Bharat Gaurav Sanstha led by BJP leaders, including Punjab Khadi Board chairman Vijay Sampla and councillor Kamal Sharma, held a protest outside the office of Municipal Corporation. The members of the organisation also held protests in front of the DC office and outside DAV College. The PHRO representatives held demonstration at Jyoti Chowk.
The BJP leaders, including Chief Parliamentary Secretary KD Bhandari and former minister Manoranjan Kalia, gave a memorandum to the DC addressed to President of India where in they termed the arrest of Anna Hazare as undemocratic. "It reminds us of the days of Emergency when fundamental rights of the citizens had been frozen," they mentioned.
Nawanshahr: People from all walks of life, including representatives of different political, religious, trade organisations, Indian Medical Association, Rotary Club, Art of Living, Osho Dhara, All India
Federation of Trade Unions, Istri Jagriti Manch, Punjab Students Union etc took out a candle march to express solidarity with Anna Hazare's campaign against corruption here for the second day today.
The march began from the local Old Grain Market and culminated at Ambedkar Chowk here after passing through the main bazars of the town.
Kulwinder Singh Warraich, state vice-president, AIFTU, Gurbaksh Kaur Sangha, state president, Istri Jagriti Manch, Dr Paramjit Mann, president, Rotary Club, Dr SK Sukhi, state general secretary of the BSP, Satnam Gulati, Balbir Singh Jadla (CPM), Pandit Manish Vasudev, Shanker Duggal, Varinder Sareen, Mohinder Singh Bajaj, Ashwani Ballagan, Davinder Kumar, Baljinder Mangat, Pardep Sharda, Manoj Kanda addressed the dharna.
Kapurthala: Members of District Bar Association (DBA) in Jalandhar and Kapurthala observed a strike today to express their solidarity with the Anna Hazare team. GK Agnihotri and Ashok Kumar Sabharwal, presidents of Jalandhar and Kapurthala District Bar Associations (DBAs), respectively, claimed that the strike was complete and no lawyer attended the courts.
Members of the Bar associations of Hoshiarpur, Mukerian and Dasuya observed a strike in support of Anna Hazare here today. Shopkeepers of the city also took out a motorcycle rally in the main bazaars of the city. Shopkeepers also took out protest march in Garhdiwala town.
The activists of the CPM burnt effigies of the UPA government at Mukerian, Dasuya and Chabbewal towns. Reports of protest by BJP workers at Hoshiarpur, Dasuya, Garhdiwala and Mukerian towns were also received.
Phagwara: Several social, traders' and political organisations, including the BJP, Laghu Udhyog Bharti, BJP, BJYM, Shiv Sena, Purshuram Sena held a protest march here in support of the agitation being launched by social activist Anna Hazare today. The protest was held at Hargobind Nagar ground. Later, the agitators also submitted a memorandum to the SDM.
Batala: Local Bharatiya Janata Party (BJP) activists took out a torch march to protest against the alleged undemocratic, uncalled for and illegal arrest of social activist Anna Hazare here on Wednesday evening.