The REAL association!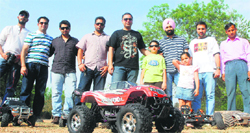 Did we start expecting too much from the virtual world? Could networking online be as fulfilling an experience as real-life clubbing, chatting with friends, meeting with like-minded people? Let the Facebook flaunt its multi-million members, but it still stands no chance against 'real' networking.

SMALL WONDERS: Owning an RC car is a privelege for the club members

Turn Table
Music show meant Chitrahaar, television channel stood for Doordarshan, CD's were unheard of, audio cassettes, vinyl records, no music channels as we know of today, there was a time when being a disc jockey was a bold thing rather than a big thing.
Being SALMAN KHAN
Salman Khan is all set for his movie Bodyguard to release. Salman attributes his long lasting success to his fans, who have given him unconditional love. He speaks to us about his upcoming film and costars.
Men don't have it easy
Hot hunks with loads of attitude. Or unpretentious boys trying to make it big in a girls' world? It's a tough trapeze for these young men, though they love their share of glamour in the modelling industry.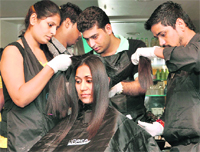 Mane matters
Education about hair in terms of styling, colour and basic care was the aim of neo technical team of L'Oreal professional (Paris) from Delhi which organised a two days Hair Festival at the Grace Beauty Parlor. In this event, the professional team from L'Oreal is personally encountering and solving the hair problems of women.

Hair care: L'Oreal professionals give hair treatment to a customer

Now, learn Chef-o-Logy
The Metro Cash and Carry India is organising the first Chef-o-logy, a customer connect programme for hotels, restaurants and caterers of Punjab. It is an interactive platform for chefs and food consultants, aimed at providing complete value-added services to customers, on areas like thematic cuisine creation, food festivals and menu merchandising.
warning signs
A new study by Ohio State University has revealed that couples who argue on their honeymoon are more likely to have a stormy marriage over the long term compared with newlyweds that get on well. The study of almost 1,000 husbands and wives found little change in the rate of rows between them over the course of 20 years.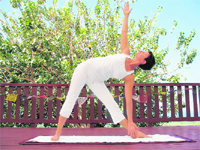 GET PHYSICAL
Lock your energy
There are three bandhas - Mula Bandha, Uddiyana Bandha and Jhalandara Bandha. Each bandha is a lock, meaning a closing off of part of the interior body. These locks are used in various pranayama and asana practices to tone, cleanse and energise the interior body and organs.

striking a pose: The right posture can make a world of difference to your health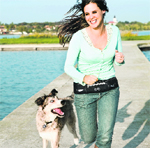 stress buster
Live life with a pet
"Woof ! Woof !" my wonderful Alsatian came running to meet me when I returned from a month long work trip - "Dog tired" as I could say and yet my dog was the one who picked me up on the tiredness factor.



Friends forever: A pet can be your best companion

Astro turf
The year ahead
Chatter box



Mixed FAIR

: (Left) A model walks the ramp displaying the collection of designer Neeta Lulla on the fourth day of Lakme Fashion Week in Mumbai. Bollywood actress Neha Dhupia walks the ramp displaying the collection of designer Pam and Arch London during the Lakme Fashion Week in Mumbai.(Right) Photo: PTI