A woman's desire to look beautiful and desirable is as natural as any other womanly instinct. However, societies all over the world have issues with it and impose strictures on what she should and should not wear. Many women continue to defy these norms and dress as they please.
No dressing down, please
Nonika Singh
Women and clothes… never the twain shall break. Actually, a woman's obsession for clothes finds a match only in the attention paid by all and sundry to her wardrobe. Be it the fully clothed Pakistan's first woman Foreign Minister Hina Rabbani lauded for her immaculate dressing style or Sarah Palin's politically incorrect expenses on her wardrobe during her Vice Presidential campaign, women's attire — yes those of mighty and powerful too — is always under scrutiny. A subject of endless discussion and debate, it triggers a response almost bordering on frenzy.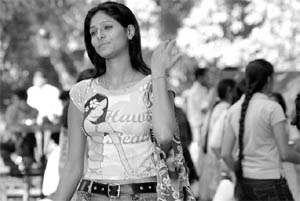 But if you thought clothes maketh a woman… well more like marred and mauled by it. The famous science fiction writer Robert A Heinlein may profess: "I don't see how an article of clothing can be indecent. A person, yes.", a majority of men, however, feel clothes do decide whether women are indecent or not.
So men and other members of society in convoluted twist of reasoning attribute sexual harassment meted out to her to her choice of dress or undress. The world may have entered 21st century and women's rights to equality may be a given… they have yet to earn the right to dress as they please. Somehow, somewhere nay everywhere and always a woman's manner of dressing finds a correlation with her desire to please / provoke/ tease men. Women dress up for men, goes the popular conception and thus by default they acquire a moral right to give her a dressing down on how to dress up. Father, brother husband, why even a passer-by, takes it upon himself to offer a sartorial guide (read sermons) to women.
Thus a seemingly private, and one would dare say a trivial; issue is often used as an alibi and ruse to justify sexual violence. Small wonder, Vicky Simister, a SlutWalk supporter and founder of the London Anti-Street Harassment campaign says, "Why is the focus always not on don't rape but how not to get raped."
Indeed, the attention paid to women's clothes hasn't started with SlutWalks. Around the globe women have faced punitive action for not only their dare-to-bare attitude but simply for defying diktats imposed on women's dress. Dress codes for women are a routine affair and in every society varying degrees of strictures are passed on what she can and can't wear. No wonder a statement on women's right to choose their dress free of coercion was submitted by Amnesty International on 55th Session of the Commission on the Status of Women in March.
Perhaps, how women dress isn't as simplistic and mundane matter as gender correct feminists would like to believe and propagate. Sensibilities, too, vary from culture to culture. In Sudan a woman is fined for wearing a trouser and in Germany a court orders that employers have the right to ask women employees to wear underwear.
The power of dress and the reaction it evokes can't be underestimated. Women are indeed judged according to it and even a fashion stylist admitted that a dress gives a lot of information about the person who is wearing it. May be, some women do dress provocatively to attract attention which again ought to be their business, even when few cross the line of decency. But modesty vs vulgarity…who will be the judge? Moral policing has reprehensible ramifications.
Different societies have different yardsticks. What is provocative to one may be sensuous to another and vice versa. In Islamic nations baring of an arm or even neck is considered unacceptable. So how much skin show is deemed proper in the so-called liberal societies? According to a study, 40 per cent skin show is alluring and attractive.
Does that mean women's natural prerogative and desire to look good is not disputed here? On the contrary as the policeman's remark in Canada that has found an echo in some other male voices too has proved, globally too, hackles are easily raised. Women who revel in their femininity and sensuality are looked at with suspicion if not outright condemnation. Why even the debates on SlutWalks mostly in the West have missed the point that SlutWalk campaigners were making: "Being in charge of our sexual lives should not mean that we are opening ourselves to an expectation of violence, regardless of if we participate in sex for work or pleasure."
Strangely, its not men alone, even women thinkers in the West seem to have got the whole objective of SlutWalks upside down. Ironically, it's in India that court judgments have ruled that a woman's character, howsoever, licentious is no excuse for rape. Yet it was in India again that SlutWalk was postponed for organisers couldn't decide on the dress code and finally held one in respectable clothing.
SlutWalk campaigners in Canada rightly say, "Being assaulted isn't about what you wear; it's not even about sex; but using a pejorative term to rationalise inexcusable behaviour creates an environment in which it's okay to blame the victim." And its this blame game that women — SlutWalk participants or not— have issues with.
Sexual freedom, liberty to dress and body integrity are not disparate ends of the continuum. While women must have the right to exercise freedom over all issues personal, society must provide an enabling mechanism to protect them physically. In the meanwhile majority of women around the world will bear in mind Susan Catherine's thoughts: "Remember that always dressing in understated good taste is the same as playing dead." And would rather be alive and continue to dress, sensuously, sexily even at the risk of being labelled sluts.

Decent or not, judge ye not
Reicha Tanwar
On January 24, 2011 Constable Michael Sanguinetti spoke on crime prevention at a York University safety forum. He said that women should avoid dressing like 'sluts' in order not to be victimised sexually or physically. The result was that over 3,000 women gathered at Queens Park, Toronto, (April 2011) and then moved towards the Toronto Police Headquarters protesting against the statement. The issue soon snowballed and protestors in more than 25 countries joined the movement SlutWalk, now branded as a 'social movement', which has seen the participation of women from all walks of life. On June 25, 2011 Delhi hosted the country's first SlutWalk renamed 'Besharmi morcha'.
The issue is -- what is 'decent dress? Do we have the right to prescribe dress codes? A college in Haryana recently prescribed that girl students should not wear jeans. Another institution of higher education in Punjab enforced a dress code of salwar kameej for its girl students. A militant group in the Kashmir Valley insisted that all women were to wear veils. Messages insisting that women wear the veil or face death had been posted outside girls' schools and colleges and as a result attendance in schools and colleges dropped drastically in the Kashmir Valley. Another girls college in Chennai had a workshop in the college where the authorities insisted that a 'decent' dress code is important for women's own good. We are all aware of how the Taliban insists that even the toes of women should not be visible under the 'burqa' because this attracts the attention of men and could lead to sexual violence. What to speak of Afghanistan even in a country like Sri Lanka where women have a high level of literacy and commonly hold important jobs, a school ruled that mothers coming to collect their children from school must wear sarees.
Are we taken to believe that violence against women takes place because women are provocatively dressed and therefore men are 'forced' to make sexually coloured remarks or even commit rape. If yes, the more important question that emerges is where does the problem lie? Is something wrong with the mindset of men who treat women as sex objects or with women's dress?
Behind this diktat or concern lies a device to control. The fear arises out of the belief that if women are not 'appropriately dressed', they will invite sexual violence. This despite the fact that there is no data or study which establishes the fact that the victims of rape or sexual violence dressed in a particular manner. Let us take 'saree' as an example; the most respectable Indian dress can be considered as the most seductive and provocative dress as well. Is it not an issue of dress but basically the mindset of the men who view a woman only as a 'sexual object' rather than an individual to be respected?
I am reminded of a conversation that I had recently with a senior (almost 78 years old) brilliant woman writer and scholar who also happens to be an exceptionally beautiful woman. Her observations on how men view women are extremely pertinent. She noted that although she had made path breaking intellectual contributions in her field of work, but all her life she was always admired more for her beauty rather than for her brains by her male colleagues.
To quote the organisers of SlutWalk in Toronto from Facebook, "when we began Slutwalk, we wanted to loudly and fiercely fight victim-blaming and slut shaming mentalities and ideas that circulate around sexual assault in our city and our country." Whether it is Toronto or Delhi is this too much to expect from those who are expected to govern the state. The other day we had a senior police officer in Delhi advising women not to go out alone at night without being accompanied by a male member of the family.
My daughter never wore a saree while living in Manhattan, (New York). She said that walking down the streets of Manhattan wearing a saree would attract as much attention as wearing shorts or a miniskirt in a sabzi mandi in Delhi. Many of us may have been victims of sexual harassment on the street, in the buses and trains or even in our workplaces or educational institutions despite the fact that we are 'appropriately' and 'decently' dressed. Is it not a common sight to see a group of girls or a girl walking down the road being followed by boys or men passing lewd remarks? I believe that most women and girls have the required sensibility to dress according to the occasion and if some do not, it is their choice. But the notion that 'provocatively' dressed women are to blame for sexual assaults and the victim rather than the abuser is to be blamed is completely off the mark and has to be changed.
However, I am not comfortable with the choice of words SlutWalk because the word slut has historically a negative connotation. But may be a more subtle word would not have caught the attention of the world to the extent required on this important question of women's right to dress as much as 'slut' has.
The issue under discussion is — should society prescribe a 'decent dress code' for women so that our streets are safe for them? Discussions and definitions of sexual harassment are important because it can then educate society and promote conscientious evaluation of behaviour and experience.
(The writer is a Professor of women's studies and director Women Studies Research Centre, Kurukshetra University)