Sant Harchand Singh Longowal was gunned down on August 20, 1985, a few days after signing the historic accord with Rajiv Gandhi. Capt Amarinder Singh, who watched closely the circumstances before and after the accord, shares his views on an important phase in Punjab's history
THE shy, soft-spoken SANT who DIED FOR

PEACE in punjab
Capt Amarinder Singh
Operation Bluestar was over. The detained Akali leaders were released in March and April, 1985, after 14 months of detention. The time was ripe for peace. The state had been under President's rule for seventeen months since October 6, 1983. The president of the Shiromani Akali Dal, Sant Harchand Singh Longowal, received a letter from Prime Minister Rajiv Gandhi on the 17th of July inviting him for talks on the 23rd of July in Delhi.
Negotiations had been going on with the detained Akali leaders even while they were under detention. The parameters under which the talks were to be held were announced by the Prime Minister when he visited the Martyrs' Memorial at Hussainiwala on the 24th of March. They were specific: "We are prepared to do anything within the ambit of the Constitution".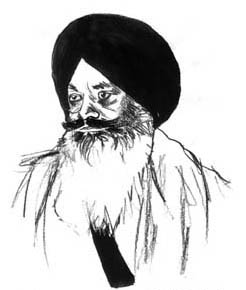 Sant Harchand Singh Longowal, as was his nature, conferred with Parkash Singh Badal and Gurcharan Singh Tohra. Both refused to accompany him for the talks. Surjit Singh Barnala and Balwant Singh were the two senior Akali leaders who agreed.
How the dilemma over talks was resolved
Unsure of whether he should go without the two, the Sant spent an uneasy night. In the morning when he went to his Gurdwara Sahib and took a "waak", the first lines were "Hoye ikkattar, milo mere bhai/Duvida chhadh, karam liv layee" (Come and gather together, O my brothers/Dispel your dilemma, and give yourself to the task at hand). He immediately wrote back to the Prime Minister accepting his invitation for talks.
The meeting took place at 10 in the morning of 23rd July, 1985, and the Rajiv-Longowal accord, covering eleven points, was signed the following day, the 24th. Those who opposed the accord continue to harp on the fact that it has not been implemented in full, thereby justifying their action. That is true as events overtook the accord.
However had Badal, Tohra and their factions stood by Longowal, a fully unified Akali Dal backing its president, in all probability the implementation would have been complete. What came instead was terror for ten years and social and economic misery for the state with over 35,000 Punjabis being killed.
Sant Harchand Singh was a soft-spoken and peace-loving man. He was shy and spoke very reservedly. He was not known to be decisive and relied on Gurcharan Singh Tohra and Parkash Singh Badal for consensus on an issue. He belonged to Gidariani village in Sangrur district, which at one time belonged to my maternal grandfather. He called my mother "Bhuaji".
As a young man he shifted to Longowal to look after the "Chulas" of Baba Ala Singh, the founder of Patiala state, which is perhaps why he was more free with me. His views about Tohra were that he was sly and mischievous and that Badal was a coward, a trait which made him indecisive.
Dithering and politics of survival
Before Operation Bluestar, while I was in the negotiating loop, many a time issues were on the verge of being resolved till Badal characteristically dithered. On some occasions even Tohra could not make him change his mind. His primary concern was always his life, and secondary, that a solution should emerge which ensured his return as Chief Minister of the state. This had been his modus-operandi throughout his political life.
Close to an election, "morchas" were announced, on any pretext. Successive governments then resorted to maintaining peace, and in the ensuing clash Badal would spend a couple of months in detention in some peaceable surroundings, while thousands of simple people from our towns and villages would be subjected to police firing, severe lathi-charge and incarceration in jail for long periods. He would then come out as a hero to take up the post of Chief Minister.
"Punjabi Suba", of which Badal was one of the architects in 1966, destroyed Punjab. It was perhaps the first time in history that a political party would demolish its own state to achieve a communal majority, a Sikh majority, solely with a political objective – to enable the Akalis, on occasions, to form a government.
What did people gain from Punjabi suba?
This myopic approach reached a crescendo and the Government of India gave the Akalis what they wanted. With the creation of "Punjabi Suba" Punjab lost its mountains to Himachal Pradesh, and with it our forest wealth, hydro-electric and tourist potential. We lost our industrial belt of Faridabad and Gurgaon to the new state called Haryana, which was carved out of Punjab along with 80 lakh acres of prime agricultural land.
In 1973 the Anandpur Sahib resolution was drafted and it dictated Akali Dal policy in 1978. The salient demands mentioned in the resolution were a higher allocation of river waters and the transfer of Chandigarh and Punjabi-speaking areas of Haryana to Punjab.
The first water agreement, the Indira Gandhi award, came about in 1976 simply because there was nothing to disagree about as everything earlier belonged to Punjab. The Sutlej river enters India form Tibet through the Shipki La gorge, which was in Punjab. The Beas has its origin in Kulu district and the Chenab in the Lahul and Spiti district, both belonged to Punjab. If the Akalis now want more river waters, why were these given away by them in the first place?
Chandigarh belonged to Punjab. Why was a situation created which took the city and all the villages of the Union Territory away from us? The Punjabi-speaking areas of the entire Punjab were ours as also the rest of Haryana and Himachal Pradesh. Was it worth giving these all away? The political ambitions of Mr Badal and the SAD prevailed over the interests of the state and the future of our people.
Between 2007-8 and 2009-10 Punjab's economy grew at an average of 6.6 per cent, that of Haryana at 8.03 per cent. In 2010-11 the Haryana growth rate touched 9 per cent. In per capita income the growth rate of Haryana grew at 11 per cent while that of Punjab lagged behind at 5.9 per cent. We have no industry worth the name. There is no future for the 47 lakh unemployed young boys and girls as Punjab's economy remains stagnant and mired in economic distress.
Punjab, once so very carefully planned and developed by the visionary Chief Minister, Partap Singh Kairon, who wanted a "Maha Punjab", is in ruins today. What did we get in return? The dubious distinction of having Badal four times as Chief Minister? And each time to head a non-performing government!
If today Punjab stands on the abyss of economic ruin with non-existent industry, a stagnant agriculture and 47 lakh youth unemployed out of a population of 2.72 crore, and a government and guaranteed debt burden of Rs 1.7 lakh crore, someone has to answer for it.
Political instability over these four decades since the Punjabi Suba agitation in 1965 has taken the state, a solvent and growth-oriented Punjab, to the brink of insolvency. This is the result of Mr Badal's 40-year dominance of the leadership of the SAD, and as a consequence, his contribution to the present state of affairs.
A number of books have recorded these events, and when a dispassionate history of that period is finally recorded, it would certainly indict these two, as have contemporary historians done so far, by passing a harsh judgement.
History won't forgive those who let down punjab
Sant Longowal died what he stood for – peace. He was shot dead on the 20th of August at Sherpur village in Sangrur district. A simple man, a good man, who died in an attempt to stop bloodshed in the state! The irony is that those who showed courage are gone, while others who opposed him live to prosper politically and otherwise in the era of peace that finally came to the state to which they contributed nothing.
After Sant Harchand Singh, former Finance Minister Balwant Singh, who showed both courage and foresight, succumbed to an assassin's bullet some years later. Mr Surjit Singh Barnala, deeply involved with the late Sant Longowal, is well aware of the role played by these two small men in high places. The last to die for peace in Punjab was our Chief Minister Beant Singh.
Had Badal possessed the quality of leadership required at the critical moment in our history, had he risen above fear and supported Longowal in his attempt to bring about peace in Punjab, perhaps Santji would have been with us today, perhaps peace would have come much earlier and the ten years of terror and bloodshed that brought the state to its knees would have been avoided. The legacy of Sant Longowal will live on in a peaceful Punjab. It is not for the Badals of this world to make an attempt to usurp it.
The writer is the president of the Punjab Pradesh Congress Committee and a former Chief Minister of Punjab