No single step can eradicate corruption: PM
In his address to the nation on the 64th anniversary of Independence of the country the Prime Minister, Dr. Manmohan Singh, spoke on the latest challenges, including corruption, Lokpal, price rise, land acquisition law and terrorism. Excerpts from the speech: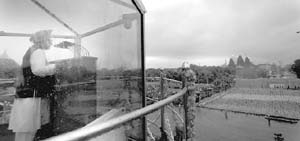 I have been addressing you from the historic Red Fort for the last seven years. In these seven years, our country has achieved much. During this period, we have travelled rapidly on the path of development and have seen success in many areas. However, I am also well aware that a lot remains to be done. We have to banish poverty and illiteracy from our country. We have to provide the common man with access to improved health services. We have to provide employment opportunities to each one of our youth.
The road ahead is long and arduous. Particularly, the prevailing situation both inside and outside the country is such that if we do not act with understanding and restraint, our security and prosperity can get adversely affected. The world economy is slowing down. The developed countries, especially America and countries of Western Europe, are facing economic problems. There is unrest in many Arab countries of the Middle East. There are some people who want to create disturbances in the country so that our progress gets stalled. All this can have a negative impact on us. But we will not let this happen. I know that if we work together, we can face any challenge. However, it is necessary that we rise above personal or political interests and build a consensus on issues of vital national importance.
In these seven years, the pace of our economic development has been rapid. We have achieved this success despite the global economic slowdown of 2008 and rising prices of energy and commodities in world markets.
We have strived for reducing inequalities in the country. We have enacted laws which would guarantee our people their basic entitlements. After the rights to education, employment and information, we will soon enact legislation for providing food security to the people.
Strictest possible action against the corrupt
In the last few months many instances of corruption have come to light. In some cases, functionaries of the Central government face allegations of corruption. In other cases, it is the functionaries of various state governments.
We are taking the strictest possible action in cases of corruption that have surfaced. These cases are sub-judice and hence I will say nothing more on this subject.
It is essential that when we consider these issues, we do not create an atmosphere in which the country's progress comes into question. Any debate on these matters should reflect the confidence that we can overcome these challenges.
Corruption manifests itself in many forms. In some instances, funds meant for schemes for the welfare of the common man end up in the pocket of government officials. In some other instances government discretion is used to favour a selected few. There are also cases where government contracts are wrongfully awarded to the wrong people. We cannot let such activities continue unchecked.
I believe that there is no single big step which we can take to eradicate corruption. In fact, we will have to act simultaneously on many fronts.
We will have to improve our justice delivery system. Everyone should know that quick action will be taken against the corrupt and punishment meted out to them. If our system delivers justice in an effective manner, government officials would think twice before committing a wrong act out of greed or under political pressure.
We want a strong Lokpal to prevent corruption in high places. We have recently introduced a Bill in Parliament to achieve this. Now only Parliament can decide what type of Lokpal legislation should be enacted. I am aware of the differences of opinion on some aspects of the Bill. Those who don't agree with this Bill can put forward their views to Parliament, political parties and even the press. However, I also believe that they should not resort to hunger strikes and fasts-unto-death.
Judiciary can't be under Lokpal
It is not appropriate to bring the judiciary under the ambit of Lokpal. We believe that any such provision would go against the independence of the judiciary. However, we do need a framework in which the judiciary becomes more accountable. It is with this aim that we have introduced the Judicial Accountability Bill in Parliament. I am confident that this Bill will be passed soon.
An alert Press and an aware citizenry can be very helpful in the fight against corruption. The Indian Press is known for its independence and activism throughout the world. The Right to Information legislation that we have enacted has enabled our Press and people to keep a strict watch on the work of the government.
Today many government decisions, which in the absence of this Act would escape public scrutiny, are coming to light. I believe that this is a big step forward in eradicating corruption.
Many times, government discretion is misused in the allocation of scarce resources and in the grant of clearances. We have examined this issue. We will put an end to such discretionary powers wherever possible.
Any government awards contracts worth thousands of crores every year. There are frequent complaints of corruption in these decisions. We had constituted a committee to suggest measures to reduce corruption in government purchases. The committee has recommended that, like many other countries, we should also have public procurement legislation which lays down the principles and practice with regard to government purchases. We will introduce a Bill in Parliament by the end of this year to enact such a law.
Law to make regulators accountable
In recent years, we have established independent regulatory authorities in many areas. These authorities discharge many responsibilities which were earlier in the domain of the government itself. We have no legislation which would enable monitoring of the work of these regulatory authorities and make them more accountable, without, however, compromising their independence. We are also considering enactment of such a law.
I have said so much on corruption because I know that this problem is a matter of deep concern for all of us. However, this is a difficulty for which no government has a magic wand. We are taking simultaneous action on many fronts in our fight against corruption. We want all political parties to stand shoulder to shoulder with us in this fight. To eradicate corruption, we have introduced, and will introduce, many Bills in Parliament. I hope that all political parties will cooperate in the process of converting these Bills into statutes. On the issue of corruption, I would like to say in the end that we can win the fight against corruption only when each and every citizen of India cooperates in it.
Our country is passing through a phase of sustained high inflation. Controlling rising prices is a primary responsibility of any government. Our government fully understands this responsibility. We have continuously taken steps to rein in prices. Some time we have been confronted with a situation in which the reasons for rising prices lay outside the country. The prices of petroleum products, foodgrains and edible oil have risen steeply in international markets in recent times. Since we import these products in large quantities, any rise in their prices adds to inflationary pressure in our country.
Sometimes we have been successful too in controlling inflation. But this success has not proved lasting. A few days back, the people's concern at rising prices was also reflected in a discussion in Parliament. I wish to assure you today that we are continuously monitoring the situation to find out what new steps can be taken to arrest rising prices. Finding a solution to this problem will be our top-most priority in the coming months.
Land acquisition should be transparent
I am fully aware of the tensions caused in some parts of the country because of acquisition of land for industry, infrastructure and urbanisation. Our farmers have been especially affected by such acquisition. Land acquisition is no doubt necessary for projects of public interest. But it should take place in a transparent and fair manner. The interests of those whose livelihoods are dependent on the land being acquired should be fully protected. We will ensure that no injustice is done to anyone in the process of land acquisition. Our government wants to replace the 117-year-old land acquisition law by a new land acquisition and rehabilitation law which is forward looking and balanced. We have already prepared draft legislation and have initiated steps to build a consensus on it. We will soon introduce a Bill in Parliament to this end.
Last month's terrorist attacks in Mumbai warn us that there cannot be any slip-up in our vigilance as far as the fight against terrorism is concerned. This is a long battle to be fought jointly by the Central Government, the state governments and the common man. We have been steadily strengthening our intelligence and security agencies and will continue to do so in the future also.
We are also taking all possible steps to overcome the challenge of Naxalism. We want to eradicate the very reasons which give rise to this problem. Therefore, we have started a new scheme for the accelerated development of 60 backward and tribal dominated districts. An amount of Rs. 3,300 crore will be spent on this scheme in a period of two years.