Make students good citizens
D. S. Cheema
WHAT is the purpose of education? This question agitates the minds of all thoughtful persons. The conventional answer is that the purpose of education is the acquisition of knowledge and skills by students, so that they can earn their livelihood. More recently, one hears that function of education is to create a quest for knowledge in the students and help them realise their full potential. However, no one lays emphasis on the fact that the true purpose of education is to produce good citizens. If this is the goal, which becomes all the more vital in a democratic set-up, then there is an urgent need to have a re-look at our education system from a fresh point of view.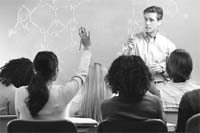 The personality of a teacher plays an important role in the learning process of a student and in becoming a good citizen
Most of us feel that our citizenship means no more than the privilege of living in a country where we can criticize the government and its policies and enjoy certain advantages which the nation can offer, or at the most dying for her in a war. In fact, each man and woman owes something to his or her motherland all the time, whether in peace or in times of war. The blame for all the ills plaguing the country must really be shared by its citizens, because they are too indifferent to exert themselves to elect better leaders.
In the present society, making of a good citizen is a major challenge. Basic responsibility for preparing good citizens rests with our education system, teachers and parents. It is well known that they have miserably failed in this primary and vital task. India is a land of contradictions; we have one of the best "governability" in the world but very poor governance; we produce so much of food grain that we can't store it and let it rot, yet many Indians die of hunger; our workforce possesses good quality of hard or functional skills, but is very poor in "soft" skills; we are proud of our great cultural heritage, but are not good citizens. If India is to meet its tryst with destiny, i.e., find its rightful place as the third largest economic power after the US and China, it must produce good citizens. Improving GDP figures alone cannot achieve what we want. We have to have citizens with knowledge, skills, integrity, empathy and desire to excel in diverse fields. The need for preparing good Indians has never been more than today. "Right" education can contribute a lot towards this "soft" aspect.
First, let us understand what makes a good citizen. There are five basic qualities of good citizenship, namely honesty, compassion, respect, responsibility and courage. Honesty with self and others is perhaps the most basic; unless one is true to oneself, it is difficult to perceive that he or she will be true to others. Compassion is related to caring for human beings and other living beings. This creates the emotional bond of individuals with the outside world. Respect includes respect for self, i.e., self-esteem, respect for the laws of the land, respect for human dignity and so on. Responsibility is directly related with action, for example, responsibility of a student is to learn; one should take responsibility of one's actions, etc. Courage is to stand up to some thing wrong or courage to do the right things even when majority of people oppose it. It means the courage of people like Mahatma Gandhi, Abraham Lincoln and King Martin Luther.
A good citizen must have the following traits: Having concern for society uppermost in one's mind and sacrificing for society at large, if need arises; developing oneself as a person to realise full potential; voicing opinion on issues of common good and as such influencing policy at whatever level possible; contributing in a constructive manner by supporting government/other agencies engaged in the well-being of society; sharing knowledge and skill with the community for its betterment; conserving resources and helping others to do the same; empathy for other living beings; being responsible for one's own actions; and any other actions which help in making this planet a better place to live in.
There are no areas out of the above in which education system cannot contribute substantially. However, our education system lays more emphasis on teaching the Battle of Panipat rather than on the obligations of citizenship, which the children will assume when they leave educational institutions. At secondary school level, apart from the core subjects, syllabus for all streams must include courses in civics, government, economics, management, current events, etc. History of other nations and of our own country should be taught, but it should not remain mere recital of facts and mugging up of dates of events (as is the case today) by the students.
Social activities and sports are also helpful in the making of a good citizen, as they develop team spirit, cooperation and coordination and concern for others. The personality and character of the teacher play an important role in the learning process of the student and hence in becoming a good citizen. Teachers who make conscious effort to relate the subject to the purpose of living can make all the difference. Unfortunately, our teachers have lost the enthusiasm. They cannot arouse enthusiasm among student to work hard if they have lost it themselves. That is why our education system does not prepare employable professionals and responsible citizens.
The 21st century citizens of the world, especially those of developing countries like India, face enormous challenges. Our democratic system is on trial, we are living in the most dangerous neighborhood which breeds terror. Like the rest of the world, we are also facing the brunt of potentially devastating impact of global climate change. The growing gap between the rich and the poor is nowhere more visible than in our country and we are witnessing the profound impact of religious intolerance. Such challenges pose complex and difficult choices before us. Only a truly educated person can make a rational and reasonable choice. Students should be perfectly groomed by the education system, so that they can participate as enlightened citizens in addressing the threats to our very existence.