Simply Sunny
Some players taking India cap for granted
By Sunil Gavaskar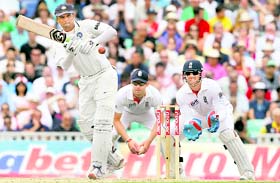 Rahul Dravid was the only one in the Indian team who stood out for application and dedication.
In the end it was no surprise that India were whitewashed for even conceding that England were superior in all departments of the game, it was quite clear that they were also hungrier to win and wanted to go the extra mile to get to that coveted number one spot.
It will be interesting to see if the England and Wales Cricket Board announce a bonus for the team just like the BCCI did when India got to the number one spot. That announcement of a bonus came at the function where the C.K Nayudu lifetime achievement award was presented to Mohinder Amarnath for his services to Indian cricket. While there is absolutely nothing wrong in giving a bonus for a wonderful achievement, the irony was that the share of even those who had played just a couple of Tests in that season was going to be almost double that of the award that Mohinder got for the lifetime achievement award.
Surely the announcement of the bonus could have been done earlier that morning or the next day but not at the function where the difference between a year's performance and a lifetime of service would be so glaringly highlighted.
Be that as it may how much this loss has hurt India's players will be debatable for quite clearly there are some in the team who are taking Indian cricket and the India cap for granted, and the earlier they are told that they cannot get away with it the better for Indian cricket.
Turning a blind eye is not going to help Indian cricket and nothing that happens in the one day series that is now going to be played should obscure the fact that some deliberately or otherwise gave off less than their best.
When you pull on the India cap you need to show some commitment and courage or 'bottle' to fight it out especially after a player not known for his batting can stick around , take blows on the body , play and miss occasionally and still hang on and not surrender his wicket. If his and Rahul Dravid's application and dedication to the team cannot be followed then there is little hope of regaining the number one spot.
If only some of the batsmen had shown the big hearts that Praveen Kumar, Ishant Sharma and Sreesanth showed then India would not be in the sorry position that it is in now. Losing to a superior team is no shame but surrendering without much of a fight is, and that too when you are the number one team.
Not many outside India really believed that India were the number one team. They had not won in South Africa and Australia, two of the most competitive teams in the game and so plenty thought that it was an undeserved ranking. The rankings system was not in India's hand and cannot be faulted, but India's attitude certainly can and unless it changes dramatically there will be more embarrassment awaiting down under. — PMG