Mohar Jamsher residents evacuated
Fazilka, August 23
Following an increase in the level of the Sutlej, about 25 members of five families have been shifted from flood-affected Mohar Jamsher village of this border district to safer places. However, the evacuees refused to shift to a nearby relief camp set up at Government High School in Mauzam village despite being persuaded by Additional Deputy Commissioner Charnadev Singh Mann to do so.
4 Panthic Morcha candidates join SAD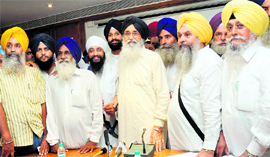 Chandigarh, August 23
After winning over SAD (Amritsar) leaders earlier, Chief Minister Parkash Singh Badal today paraded SGPC candidates of the Panthic Morcha and announced that the SAD would win 99 per cent of the seats in the forthcoming elections.


Chief Minister PS Badal with Panthic Morcha leaders in Chandigarh on Tuesday. Tribune photo: Manoj Mahajan

Opposition says SAD luring candidates
Amritsar, August 23
With only three days left for the withdrawal of nominations for the SGPC poll, the SAD has gone all out to win over the support of the Panthic Morcha candidates and Independents to ensure a smooth-sailing for its nominees. Talking to mediapersons, Khalsa Action Committee chairman Bhai Mohkam Singh and Dal Khalsa leader Kanwar Pal Singh alleged that the SAD was trying to allure their candidates to withdraw their candidature in support of its nominees.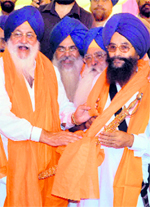 Makkar's rival pulls out of contest
Ludhiana, August 23
Surinder Singh, prime witness against Congress leader Sajjan Kumar in a riots case, who had filed his papers against SGPC chief Avtar Singh Makkar from Ludhiana West for the SGPC elections, today announced his support to Makkar as well as the SAD.






Surinder Singh (R) with AS Makkar in Ludhiana. Photo: Inderjeet Verma


Capt opposes move to close Bathinda plant
Patiala, August 23
After the engineers working with the power corporation, former Chief Minister and PCC president Capt Amarinder Singh has also condemned the move by the state government to close Guru Nanak Dev Thermal Plant (GNDTP) in Bathinda.





Two farmers on protest in Mansa hospitalised
Mansa, August 23
Two farmers, who came from villages of Barnala, to protest against the forceful land acquisition, fainted today, following which they were rushed to the Mansa Civil Hospital. They have been identified as Jagjit Singh of Khuddi and Angrez Singh of Dhaula village in Barnala.

Changing Times: Few Pak women seen in burqa at The Retreat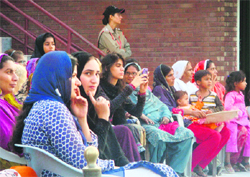 Hussainiwala border (Ferozepur), August 23
In contrast to earlier years when a majority of women attending The Retreat ceremony on the Indo-Pakistan border here would be clad in burqa, only a handful, occupying seats in the gallery reserved for them, were seen supporting the veil today. They did not hesitate removing the burqa when the ceremony started in the evening, this despite the growing influence of fundamentalists in Pakistan.


Pakistani women at The Retreat ceremony at the Hussainiwala border. A Tribune photograph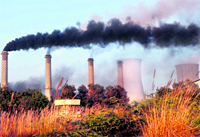 Post-renovation, thermal plant's life span will go up, says PSPCL
Bathinda, August 23
With engineers of Punjab State Power Corporation Ltd (PSPCL) mounting pressure on the Punjab Government, it might not be an easy task for Deputy CM Sukhbir Singh Badal to meet his commitment of dismantling the ash-spewing thermal plant here that is currently being modernised with an investment of Rs 657.36 crore.
Commuters demand lifting of toll barrier at Kurali
Mohali, August 23
Demanding lifting of toll plaza at Kurali bridge, commuters travelling on the Kurali-Ropar section of the national highway are questioning the wisdom of the National Highways Authority of India (NHAI) and the state government in allowing another toll barrier at Solkhian village, within a distance of 8 km of the Kurali barrier.
PCS exam likely to be postponed again
Patiala, August 23
With the Punjab Public Service Commission (PPSC) authorities likely to make a formal announcement for the postponement of main examination of the Punjab State Civil Services Combined Competitive Examination-2009 anytime now, the candidates are feeling perturbed. Though none of the candidates is ready to speak on record, many candidates, on the condition of anonymity, expressed resentment over the manner in which the PPSC was conducting recruitment process for 180 posts of PCS, PCS (allied) and DSP in the state police.
Sahitya Akademi Award for Dr Aasht


Chandigarh, August 23
The Sahitya Akademi Award-2011 for children's literature will be conferred on Patiala-based author Dr Darshan Singh Aasht for his anthology of Punjabi poetry "Bujho Bacheo Mein Haan Kaun" at a ceremony to be held in Kolkata in November. The award carries a cash prize of Rs 50,000, a plaque and a shawl. Credited with 50 books on children literature, Dr Aasht, an MA in Urdu and doctorate in Punjabi, is working as a senior stenographer at Punjabi University, Patiala.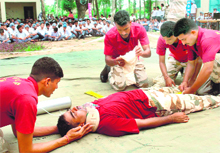 NDRF team trains students
Patiala, August 23
A team of 25 members of the National Disaster Response Force (NDRF) under Commandant Anil Kumar reached Rajpura today to train school students in order to prepare them to face any disastrous situation.



A National Disaster Response Force team gives training to students in Rajpura on Tuesday. Tribune photo: JS Virdi

Rajindra hospital starts geriatric clinic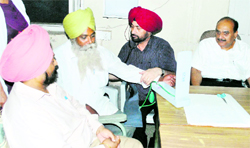 Patiala, August 23
In a unique initiative, Government Rajindra Hospital, Patiala, has started a geriatrics clinic in hospital's OPD number 4 in order to provide proper medical care to old-aged patients. The clinic will function every Tuesday from 9 am to 1 pm.


A doctor checks up an old patient at the newly opened geriatric clinic at Government Rajindra Hospital in Patiala on Tuesday. Tribune photo: Rajesh Sachar

Illegal Detention
HC orders relief of Rs 25,000 to Ludhiana resident
Chandigarh, August 23
Nearly six years after he was released from the prison after serving a jail sentence, a Ludhiana resident was again thrown behind bars by the Punjab Police in the same case.
Youth booked for'kidnapping' friend
Patiala, August 23
The police has registered an FIR following the sudden disappearance of a city youth, who is feared kidnapped by his own friend. The police is yet to trace the victim or the kidnappers.
4 held with poppy husk
Patiala, August 23
The police has recovered 35 kg of poppy husk and arrested four persons, including three women, in separate cases. The police has registered separate cases under the NDPS Act against the accused.