Ugly scuffle at Charak's meeting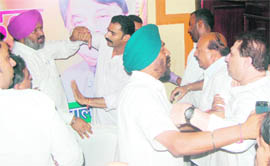 Jalandhar, August 18
Pandemonium prevailed at a meeting of Congress workers when a section of disgruntled party men raised slogans alleging rampant nepotism. They said "money bags" had been accomodated at important posts in the party.
Congress workers in a scuffle at a meeting of the Jalandhar District Congress Committee on Friday. Tribune photo: Malkiat Singh

Amarinder orders inquiry; report in 3 days
Chandigarh, August 18
Punjab Pradesh Congress president Capt Amarinder Singh today made it clear that he was firmly in the saddle, ordering an inquiry into incidents of indiscipline at party meetings addressed by general secretary incharge for the state Gulchain Singh Charak.
Manpreet: NRIs firmly with me
Chandigarh, August 18
For someone who saw his party going to pieces in his absence, People's Party of Punjab chief Manpreet Singh Badal says he has the Punjabi NRIs firmly on his side and that the people of Punjab will not heed the call of PPP leaders who have been coerced into walking away from the party.
Crowds abroad no indication of popularity — Sukhbir
Muktsar, August 18
Deputy Chief Minister Sukhbir Singh Badal today said the crowds at the meetings of PPP leader Manpreet Singh during his visit abroad did not reflect his popularity. Talking to mediapersons during a series of SAD workers' meetings in the Gidderbaha assembly segment in connection with the SGPC elections, Sukhbir said any other Punjabi leader, artist or social activist would have been welcomed by crowds of nostalgic Punjabis living far away from their motherland.
Six medical students suspended for ragging
Amritsar, August 18
The Government Medical College here today suspended six students after an inquiry found them guilty of indulging in ragging.
Chief Secy to head Right to Service Commission
Chandigarh, August 18
The Punjab Government has decided to appoint Chief Secretary SC Aggarwal as the first head of the Right to Service Commission that has been set up following the approval of the Right to Service Ordinance-2011 by the Cabinet.
Fazilka admn seeks Army help to strengthen bundhs


Fazilka, August 18
With the flood situation worsening in Fazilka sub-division, the Army has been called out by the administration for strengthening bundhs and conducting rescue operations whenever required.
Officials take stock of the situation at a village in Fazilka. A Tribune photograph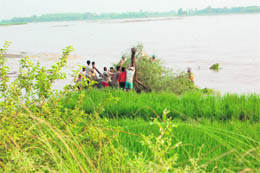 Villagers putting axed trees into the Sutlej near the dhussi bundh to control its flow at Baopur village in Shahkot. A Tribune photo
Pong dam level up, more water released by BBMB
Chandigarh, August 18
The Bhakra Beas Management Board (BBMB) authorities today increased the release of water from Pong dam following an increase in its level. But, the authorities might not have to go in for huge releases with inflows into the dam reducing for the first time in several days.
Nakodar villagers fear floods
Nakodar, August 18
Residents of Baopur village in Shahkot, Nakodar, continue to live amid flood fear as more than 150 feet of land along the dhussi bundh along the Sutlej melted into the river.
In Parliament
Govt to review capacity of NFL's Nangal plant
New Delhi, August 18
The Central Government today said it would review the production capacity of the Nangal plant of National Fertilizers Limited and would explore the possibility of enhanced production efficiency.
A model poses for the members of the Patiala Photographic Club and Patiala Photographer Association at a workshop organised on the eve of the Wolrd Photography Day, on Thursday. Tribune photo: Rajesh Sachar
FCI to procure 14 lakh tonnes of paddy
Chandigarh, August 18
Food Corporation of India (FCI), the premier procurement agency, is looking to procure 14 lakh metric tonnes (LMT) of paddy in Punjab during the coming kharif marketing season. This is almost two and a half times of the paddy that the agency procured in the state during the last season.
Punjab to file petition in Dhanda case: Sukhbir
Muktsar, August 18
The Punjab Government would file a petition against the order of the Punjab and Haryana High Court setting aside the appointment of Harish Rai Dhanda as chairman of the Punjab Public Service Commission (PPSC).
Recovery of country-made arms sends Punjab cops in a tizzy
Patiala, August 18
The Punjab Police top brass is in a tizzy following revelations in recent cases where the accused arrested for involvement in heinous crimes have been found with country-made weapons.
Members of an NGO take out a candlelight march in support of Anna Hazare at the Mall road in Patiala on Thursday. Tribune photo: Rajesh Sachar
PSEB engineers want supercritical power plant at Bathinda in public sector
Bathinda, August 18
Condemning the proposed closure of the Guru Nanak Dev Thermal Plant (GNDTP) and suggesting the setting up of a supercritical power plant in Bathinda, the PSEB Engineers Association today said vested interests were working behind it.
Cong to observe Rajiv Gandhi's anniversary
Patiala, August 18
To mark the 67th birth anniversary of former Prime Minister Rajiv Gandhi, the Patiala District Congress will hold a rally at New Grain Market, Sirhind Road, here on August 20.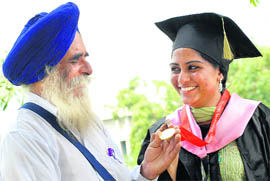 A man sees his daughter's gold medal after the annual convocation of the Punjab Technical University in Jalandhar on Thursday. Dr Vijay P Bhatkar, chairman of ETH Research Lab, Pune, was the chief guest. About 145 students received degrees and awards on the occasion. Tribune photo: Malkiat Singh
ETT Question Paper Leak Case
School assn protests against suspension of three officials
Patiala, August 18
In the wake of suspension of three officials in the ETT question paper leakage case in May, Senior School Officers Association, along with various social organisations, staged a dharna outside the DC Office here today.
10 trucks get challans for overloading iron pipes
Patiala, August 18
Launching a drive against the overloaded and haphazardly parked trucks in the city, the district police has arrested the accused drivers. As many as 10 challans and FIRs have been issued against the trucks for overloading iron pipes.
High Court raps state for harassing farmers
Chandigarh, August 18
Rapping the State of Punjab for its "lethargic attitude" and harassing "poor farmers" in a land acquisition case, the Punjab and Haryana High Court has imposed a cost of Rs 1 lakh on the government.