SAD campaign to focus on social evils
Tribune News Service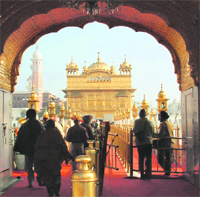 Chandigarh/Sangrur, Aug 20
Shiromani Akali Dal (SAD) has released its poll manifesto for the September 18 Shiromani Gurdwara Parbandhak Committee (SGPC) elections. The patron of the party and Punjab Chief Minister Parkash Singh Badal said the SAD-Sant Samaj candidates would contest the poll on the agenda of maintaining the supremacy of the Akal Takht and targeting social evils.
Releasing the 20-page panthic agenda in Sangrur on the 26th death anniversary of Sant Harchand Singh Longowal, Badal appealed to the voters to vote for his party candidates so that once elected, the SGPC could maintain the supremacy of the Akal Takht Sahib, manage Sikh shrines efficiently, upgrade Sikh educational institutions and defeat the forces inimical to the panth.
Describing SGPC as the "Parliament of Sikhs", the SAD patron said that Shiromani Akali Dal had the honour to claim that right from the time of its inception in 1920 till today, the Sikh masses had always trusted the SAD for the management of Sikh shrines.
The SAD leader expressed "satisfaction" over the performance of all 110 educational institutions run by the SGPC and informed that 74,745 students were getting quality education at a cheaper rate in these institutions.
The Panthic Agenda begins with the three-page appeal of SAD president Sukhbir Singh Badal. Sukhbir stressed that there should be a quality school, a well equipped hospital and a playground along with each and every gurdwara being managed by the SGPC.
Sukhbir said apart from establishment and up-gradation of educational institutions, a campaign against drug abuse, female foeticide and social reform would be a launched by the SGPC. He also said that Institute of Advanced Studies in Sikhism in the name of former president of SGPC Panth Ratan Jathedar Gurcharan Singh Tohra would be completed on time.
Similarly, the most important job of authentic translation of Sri Guru Granth Sahib, which is under progress, will be completed in the shortest possible time and it would further be translated to different languages so as to spread the message of social equality and universal brotherhood enshrined in Sri Guru Granth Sahib to whole of mankind.
He said the SGPC would establish a museum at a cost of Rs 100 crore at Akali Market in Amritsar and Rs 25 crore would be spent on the construction of 'sarai' (inn) at Saragarhi site. He said the langar building at Sri Harmandir Sahib was being upgraded with Rs 20 crore.
Earlier, Parkash Singh Badal paid tribute to Longowal and accused the Congress of betraying him by not implementing the Rajiv Longowal Accord.
Poll promises
l Setting up new and up-gradation of existing educational institutions
l Campaign against drug abuse, female foeticide and taking up social reforms
l Timely completion of Institute of Advanced Studies in Sikhism
l Accurate translation of Sri Guru Granth Sahib and that too as early as possible
Pending issues
l Evolving consensus regarding authenticity of certain portions of Dasam Granth, penned by Guru Gobind Singh
l Finalising norms for appointment, removal, tenure and working sphere of Akal Takht Jathedar
l Making structural changes in Golden Temple look-alike Gurdwara Mastuana in Sangrur district
l Implementing Akal Takht edict issued on May 17, 2007, for the closure of branches of Dera Sacha Sauda, Sirsa
l Seeking return of manuscripts, religious books allegedly taken away from Sikh Reference Library in June 1984

What makkar says
There were various issues before the community in the previous years, which have been sorted out.
Some issues remain unresolved, and if elected again, we will try to resolve them as per the Sikh traditions