Get into a trance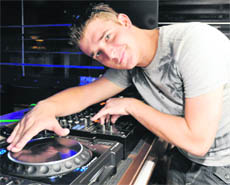 He's currently on his fourth tour to India and he's been all across the world playing music but 'he's never toured anywhere else four times'. So, do we have yet another international artiste in love with India here? Yes, but expect no political correctness. DJ Ashley Wallbridge hasn't rehearsed any clichéd lines before taking his, The Energy of Sound—India tour. Throw Bollywood music into the conversation and he says, "It's cool, I have heard it for sure, but do not know any artiste."
DJ Ashley Wallbridge

Musical high

UK we've heard of, Canada's done too, so is the US. When it comes to Punjabi music, it has been here, there, everywhere and done all that. Bhangra beats in Birmingham is no big deal, not anymore. Dhol in Denmark perhaps still is. On a recent visit to the city Bombay Rockers attracted our attention with the statement, "It was such a pleasure to watch white people singing Teri Toh Teri Toh," on their expletive sounding hit single Rock The Party. "Normally everyone's heard of Punjabi music being a hit in the UK or places where we have a significant population of Indian origin, but to have your music appreciated in a place like Denmark gave an altogether different high."
Bombay Rockers

Gem of a show!
In Chandigarh we discover that a fashion show can virtually unite the entire women fraternity! So, on a humid Tuesday afternoon, ladies, who had sacrificed their never-ending sob, oops soap operas, on television made a beeline for the Avon Fashion Tour 2011 at Taj-17, which marked the celebration of one successful year of international jewellery collection.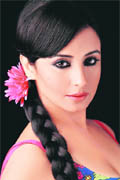 Celeb point
Going Anna's way
Some one wrote me a message, 'I would love to be honest if I m not forced into corruption'. I saw a point there. We all would love to be honest if we are not sucked into a system which is tainted with some kind of corruption. You have no choice if you don't want to face harassment. And don't we all say, "Chalo, if this helps to get my work done, so be it. Even though we all crib about the system. Corruption, bribes—willingly or unwillingly— either we are corrupt or are being forced to be part of corruption by situations.
Green thumb


Don't plant the bulb
You must be wondering why we are discussing bulbous ornithogalum as this is not the time for its flowering. There are reasons for it. This is the time when the gardeners start planning winter bulbs and annuals. We want them to think before they do so. Writing about bulbs at this time is for two reasons. First and the foremost is to inform that it is not yet the time to plant them. Normally the gardeners find these in nurseries and start putting them in the soil. It is too early to plant bulbs. The prevailing temperature and humidity are not yet conducive.
Dress rehearsal
Fashion in India is headed in a new direction - the male closet. The market is at a nascent state and dominated by traditional wear like sherwanis and bandhgalas, but it is growing very fast, say designers.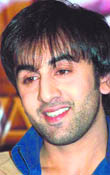 Star track
Ranbir's football connection
Bollywood heartthrob Ranbir Kapoor is shooting currently in Kolkatta for Anurag Basu's Barfee.  He takes time off to discuss his movie, costars, football and granduncle Shammi Kapoor.

Close-up: Ranbir Kapoor

n Playing along
n It's a mixed fare!
n Kirsten's Mr Right
n Anne Not an emotional fool
Chatter box
Lyrical journey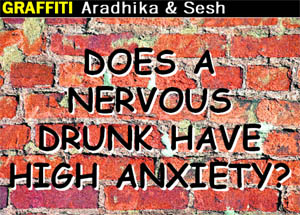 Recently, married couple Riddhi Dogra and Raquesh Vashisth, are set to shoot a music video for the famous singer Javed Ali's debut untitled venture. The duo play lead roles in Maryaada Lekin Kab Tak on Star Plus. This video will be Riddhi Dogra and Raquesh Vashisht first video together. The theme of the video is a guy falling in love with a banjaran girl.

n Stork's visit!
n Surprise, surprise
n Right entry
n Following the lead
n Return act
n Cine magic
Zooming in on Madhuri…
We take a look at how Madhuri Dixit fares when it comes to style…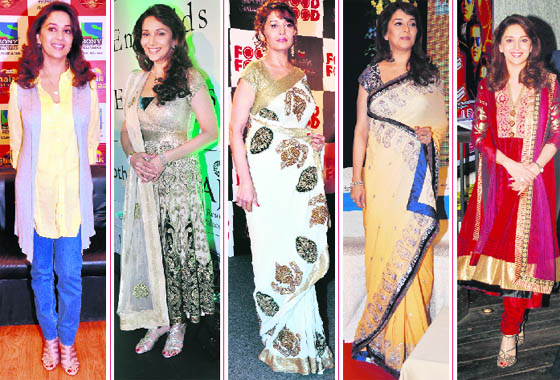 Wannabe journo

All that's missing from this outfit is a pair of glasses. The pretty actor fails so badly when it comes to western wear that it makes her look dowdy beyond her years.

Bold and bedazzling!

Head to toe glitter is not a good look. The outfit takes away from her natural beauty and is rather heavy. We love the subtle makeup though.

Glittering in gold

We love the detailed sari. The motifs on the saree are rather unusual. The drop earrings complement her looks. A true star!

Something's amiss

We pity the person who's at the receiving end of this cold stare. The make-up is a tad over the top for the demure star and please smile, we miss it!

Lady in red

The vibrant colours complement her skin tone and her hair and makeup are done perfectly. We love it when the clothes don't distract from her gorgeous face.