Moving along…Chupke Chupke
Legendary ghazal singer Ghulam Ali, in Chandigarh for a music launch, shares notes from the diary called life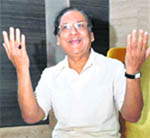 Attired in a simple safari suit, ghazal maestro Ghulam Ali, in Chandigarh at JW Marriot for the launch of singer-turned-actor Jasbir Jassi's album of Punjabi film Khushiyan, may not look like the quintessential ghazal singer, but there is no denying the fact that ghazal and Ghulam Ali are synonymous with each other. And that is not only in Pakistan but also in his second home, India, where ghazal aficionados continue to envy the neighboring nation for this inimitable talent!


Culture bound
Well, the music launch of a movie can't get bigger than this - ghazal maestro Ghulam Ali present at the event! In Chandigarh for the launch of Punjabi flick Khushiyan, at JW Marriott-35, Ghulam Ali enamoured his fans. "Everything needs to be in rhythm for one to appreciate life," says Ghulam Ali, who remembered his mother at the launch. "Remembering her blesses everything and everyone, so I make it a point to mention her name at the launch," says Ghulam Ali, who appreciated the assembled singers, lyricists and film-makers on Wednesday.


Singer Ghulam Ali with Jasbir Jassi


First step in Pollywood!
Each time Bollywood steps into Punjabi cinema; it surely is a subject that sets several tongues rolling. That is exactly what Sirphire does. After his period films like Baba Banda Bahadhur and Kirpan-The Honour, film director Harjit Singh Ricky brings together Monica Bedi, Priyanshu Chatterjee, Preet Harpal, Gurleen Chopra and Rimpy Prince in a youth-oriented Punjabi film.


head turners: The cast of Sirphire

Punjab'
Sandeep Joshi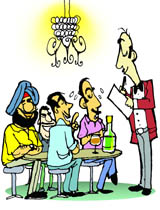 Driving force: Get him one nimboo-pani. He is the man who'll drive us home tonight.
B-town pays tribute through tweets
What a ride!
What a Kodak moment it was - 5,000 cycles dotted Chandigarh roads during the first edition of the Cyclothon last year. Also in the frame were volunteers, competitors, celebrities and cheerleaders. This year will be a repeat of the last, but with more action, more participants and more fun!
Climbing beauties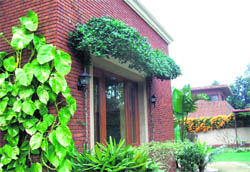 You built a good house with lots of planning to make the house most livable. But at times, things go wrong. For example, if the windows are directly facing the sun, in the winter, when it is required, the sun changes its direction but the summer becomes a nightmare. What to do then? The only answer to this is growing of plants. But there are two problems. One, we don't want to hide the beauty of the architectural features and two; we also do not want to block the view of the outside garden from inside the house.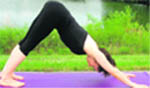 Balancing Act
Let's look for the meaning of this asana first. Adho Mukh means facing downwards and Svana implies a dog. This pose equates to a dog that stretches himself with its front and back legs. Therefore this name has been correlated to this position.
Dressed to chill
She worships style and is a 'brandaholic'. She makes heads turn, not twice but more than that. Ashima Chhabra, the young lady who is pursuing her master's degree in mass communication and journalism from Panjab University, definitely has a style mantra of her own.
Recipe-rich generation
Today's mothers are actually better cooks than their own and don't just rely on fast food and ready meals to feed their families as is believed, says a new survey. Modern women know 25 per cent more recipes than mothers of the 1970s and '80s did, and also like experimenting with exotic foreign meals.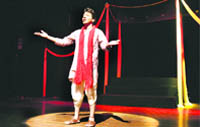 Tribute to a genius
As a tribute to legendary Punjabi theatre artiste Gursharan Singh, the Suchetak Rang Manch is organising the annual three-day Gursharan Singh Naat Utsav from September 15 to 17, which also coincides with his 82nd birthday on September 16.