Sehajdhari Row
Hearing delayed, Justice Nijjar opts out of case
New Delhi, September 14
The Sehajdhari Sikhs, who were trying to get back their right to vote before the September 18 SGPC poll, suffered another setback today. The Supreme Court could not take up their plea with the withdrawal of Justice SS Nijjar from the case.

World War-II hero dies
Ludhiana, September 14
Lt. Col. Chanan Singh Dhillon, famous Punjabi Indian Sikh World War-II hero and veteran, passed away after a prolonged illness here today. He was 91. Lt. Col. Dhillon fought in World War II in the British Indian Army. Lt. Col Dhillon was an NCO when he was taken a POW in 1943 and remained confided to POW Camp XII in Limburg near Frankfurt in Germany. He was rescued by Americans in December 1944 and taken to Paris from where he was brought to London and sent back to India.
Nawanshahr legislator JS Kariha dead


Nawanshahr, September 14
The local SAD legislator, Jatinder Singh Kariha, died of cardiac arrest early this morning. He is survived by his wife and four daughters. His only son Major Hira Singh Sandhu died in January this year. Born on March 2, 1948, Jathedar Kariha inherited the political legacy of his father Hardev Singh Kariha. When his father died in a road accident in March 1977, the young Kariha was fielded by the SAD and he became an MLA, defeating Congress stalwart Dilbagh Singh.
Sukhbir announces Rs 25 lakh for hockey players
Malerkotla, September 14


Deputy Chief Minister Sukhbir Singh Badal today announced a reward of Rs 25 lakh for the Indian hockey team that returned home from China after winning the Asian Champions Trophy. With the announcement, the Deputy CM may have violated the SGPC election code of conduct. He was here to address an election rally in favour of SGPC candidate Jaipal Singh Mandian.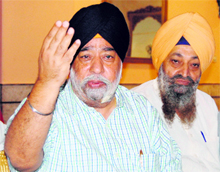 Amritsar, September 14
DSGMC Chief and Panthic Morcha leader Paramjeet Singh Sarna today threw an open challenge to Chief Minister Parkash Singh Badal and Deputy CM Sukhbir Badal to enter into a debate with him on a TV channel on the eve of the SGPC elections and let the electorate decide whom it wants to reign in the mini parliament of Sikhs.


DSGMC chief Paramjeet Singh Sarna (L) in Amritsar on Wednesday. Tribune photo: Vishal Kumar


Gabria skips CM's Ludhiana poll rally
Ludhiana, September 14
Senior Akali leaders, including minister Hira Singh Gabria stayed away from a rally addressed by Badal in favour of party candidate for the SGPC poll Balwinder Singh Bains here today.


The CM at Ludhiana rally. A Tribune photo
It's smooth sailing for Bhaur in Nawanshahr
Nawanshahr, September 14


The rumble and tumble of politics is second nature to Jathedar Sukhdev Singh Bhaur, who is the secretary-general of the SGPC for the past nine years.

Pakhoke depending on one-to-one contact
Tarn Taran, September 14
Alwinder Pal Singh Pakhoke, who had a brief stint as the SGPC chief, is no stranger to politics. He remained the SGPC chief from April 2004 to September 2004, and is a nephew of Ranjit Singh Brahmpura, Minister for Rural Development and Panchayats. He has represented this seat in the committee since 1996.

Amarinder's allegations on fuel expenses baseless: Makkar
Ludhiana, September 14
SGPC president Avtar Singh Makkar has claimed that the amount of Rs 1.62 crore was spent on petrol for his official car as well as two escort gypsies in last six years time.




Hansi Butana: Women join indefinite fast
Patiala, September 14
Annoyed with the ignorant attitude of the Punjab Government and the Congress-led UPA government towards the demand of resolving the contentious issue pertaining to the construction of 3.75-km concrete wall alongside the Hansi-Butana canal by Haryana, about 50 women from the flood-prone villages of Patiala district on the Patiala-Kaithal state highway, today joined the ongoing chain hunger strike by the agitating farmers at Dharmheri village, 45 km from here.
Chandigarh, September 14
The BBMB is discharging water from the spillway gates of the Bhakra dam but despite these measures the water level has increased by half a feet to 1,680.65 feet.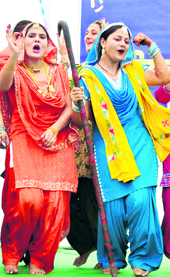 Girls perform gidha during a talent hunt competition for Punjabi University Zonal Youth Festival at Multani MaL Modi college in Patiala on Tuesday. Tribune photo: Rajesh Sachar

SSP meets agitating SGPC member Panjoli
Fatehgarh Sahib, September 14
The police today pacified agitating SGPC executive member of the SAD (B) Karnail Singh Panjoli, on a dharna outside the SSP's office here for the past two days following the police refusal to book his son's assailants for attempted murder.
JEs to boycott Engineers Day celebrations
Patiala, September 14
In protest against the non-acceptance of their demands, the Junior Engineers, working with the Punjab State Power Corporation Limited (PSPCL), have announced to boycott the Engineers Day celebrations on September 15. Making an announcement in this regard, president of the Council of Junior Engineers, PSEB, Sawarn Lal said, "We have decided not to attend the programme being organised by the state government to mark the 44th Engineers Day at Ludhiana."
Mansa MC fails to recover Rs 1.75 cr house tax
Mansa, September 14
The Mansa MC has failed to recover the house tax of nearly Rs 1.75 crore from various private and government buildings for the past more than a decade. The amount is increasing as rate of interest keeps on adding each year. As per information procured under Right to Information Act by Vinod Kumar, a resident of Mansa, the amount to be recovered from the government buildings has crossed Rs 70 lakh and more than Rs 1 crore from private buildings.
Baby boy found abandoned
Bathinda, September 14
A newly born baby boy was found abandoned on Monday in an Ambala-bound train at the Bathinda railway station. Some passengers boarding the train noticed the child wrapped in a towel. The matter was brought to the notice of volunteers of Sahara Jan Sewa by the railway police officials.
Closure of liquor shops in wake of SGPC poll
Wine contractors approach HC, seek compensation
Chandigarh, September 14
The State of Punjab was today put on notice by the Punjab and Haryana High Court on a petition claiming the wine contractors were entitled to claim compensation for the closure of liquor shops for three days in the wake of the SGPC elections. The amount runs into several lakhs for each vend.