Politicians forget Saragarhi martyrs
Ferozepur, September 11
Saragarhi Day is celebrated every year on September 12 to mark the sacrifice of the 22 soldiers belonging to the 36 Sikh Regiment who died while defending the post of Saragarhi at Lockhart Fort from a group of around 10,000 tribesmen.
Bhakra's spillway gates opened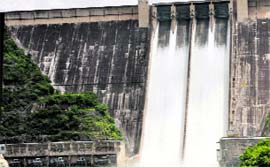 Chandigarh, September 11
The Bhakra Beas Management Board (BBMB) today opened the spillway gates of the Bhakra dam following a heavy inflow, which has taken the water level in the dam to 1680 ft, the maximum level fixed by the authorities.




A file picture of the Bhakra Dam
Green fodder price up, milk production down
Bathinda, September 11
Following heavy rainfall in the region, farmers in Malwa are unable to cope up with the soaring prices of green fodder. The shortage of green fodder has led to a drop in milk production by more than 40 per cent.


Chandigarh ex-Mayor Harjinder Kaur working hard to repeat success story

Chandigarh, September 11
A veteran of rough and tumble of the electoral politics, former Mayor of the Municipal Corporation of Chandigarh (MCC) Harjinder Kaur is banking on her past performance and service to the Sikh community to enter the SGPC, popularly known as "mini Parliament" of the Sikhs, from the Chandigarh seat.

Harjinder Kaur campaigns in Chandigarh. A Tribune photo
SAD (B) veteran Cheema locked in triangular contest
Bassi Pathana, September 11
Randhir Singh Cheema, SAD (B) candidate from Bassi Pathana (general) constituency in Fatehgarh Sahib district, has been a staunch Akali all through his life. And has been aptly honoured for his loyalty from time to time: He has served as a Cabinet minister in the Punjab Government almost three decades ago.


Govt orders girdawari in flood-hit areas
Bathinda, September 11
The Punjab Government today ordered a special girdawari to assess the damage to the cotton, paddy and fodder crops, and that also to the houses, due to the recent rain and floods.
Gobindpura row: Talks with CM now on Sept 19
Ludhiana, September 11
The second round of talks between 17 organisations of farmers and Chief Minister Parkash Singh Badal to end the deadlock over the land acquisition in Gobindpura will now be held at Chandigarh on September 19 instead of September 13.
BJP loses out on urban package funds again
Chandigarh, September 11
The Punjab Government has decided to spend Rs 317 crore in 109 municipal committees of the state where the Shiromani Akali Dal (SAD) has a sizeable vote bank.
Live cartridges found in Wadali's bag at airport
Amritsar, September 11
As many as 14 cartridges of .32 bore pistol were today seized from the baggage of famous Sufi singer Pyare Lal Wadali before he boarded a flight to New Delhi from the Guru Ram Das International Airport here today.
Tributes paid to those killed in Phillora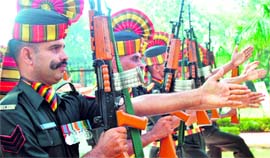 Patiala, September 11
The 46th anniversary of the 'Battle of Phillora' in the 1965 Indo-Pak war was commemorated in a solemn ceremony held at the Black Elephant Cenotaph in Patiala, near Raja Bhalendra Singh Sports Complex here today.

Army personal during the commemoration ceremony at the Black Elephant Cenotaph in Patiala on Sunday. Tribune photo: Rajesh Sachar

14 industries found violating norms
Patiala, September 11
As many as 14 industries in Mandi Gobindgarh have been found violating air pollution norms. According to information, the Punjab Pollution Control Board (PPCB) officials raided 20 industries in Mandi Gobindgarh yesterday, out of which 14 were found flouting the pollution norms.
Residents protest against contaminated water supply
Malerkotla, September 11
Residents of Jujhar Singh Nagar, Ajit Nagar, Grewal Chowk and Defence Colony blockade the road for two hours at the Grewal Chowk here today to protest against contaminated water supply.
9,950 addicts in Punjab: RTI
Mansa, September 8
There are 9,950 drug addicts in Punjab using the needle to inject drugs. This information was obtained under the RTI Act by Mansa resident Vinod Kumar. Replying to his query, the Punjab State AIDS Control Society, Chandigarh, revealed that there are 13,850 sex workers in Punjab and 2,550 homosexuals.
IG tells SSPs to keep tabs on travel agents
Patiala, September 11
Following a report in The Tribune in August pertaining to travel agents continue opening offices unabated, the Patiala IG has shot letters to various SSPs, urging them to ensure that SHOs act strictly against all such fraudsters.
Ban on use of calculators in PPSC exams
Ludhiana, September 11
The aspirants of main examination of the Punjab Public Service Commission, Patiala, are a harried lot due to the instructions issued by the commission. The candidates who have opted commerce as optional subject are upset and have shown their resentment over ban on use of calculators in the exam.


Appointment of consumer panel member challenged
Chandigarh, September 11
Just about two months after a Single Judge of the Punjab and Haryana HC upheld the appointment of Amarpreet Sharma as "whole time lady member" of the Punjab State Consumer Disputes Redressal Commission, a Division bench issued notice of motion on an appeal challenging the order.


BJP leader, cop arrested in NRI's murder case
Batala, September 11
In a major breakthrough, the Batala police today arrested two key accused in the high-profile murder case of Canada-based NRI Gurinder Singh Gill who was done to death on Friday.
Moga salesman booked for embezzlement
Moga, September 11
Fraud in distribution of fertilisers, pesticides/insecticides, wheat, cooking oil and other essential commodities has come to light in the cooperative society at Karyal village in Dharamkot subdivision of Moga district.
Barnala man arrested for making fake certificates
Barnala, September 11
The police has arrested a suspended employee of the Punjab School Education Board for making fake certificates in Bhadaur area here.
Debt-ridden farmer of Barnala ends life
Barnala, September 11
Upset over rising debt on him, a 45-year-old farmer ended his life by hanging himself in the Bhadaur area of Barnala. Sukhpal Kaur, the wife of the deceased farmer Bhola Singh of Bhadaur, said her late mother-in-law mostly remained ill and Bhola had taken money on debt by selling his farmland. "Besides, the future of his three daughters was also worrying him," she said.