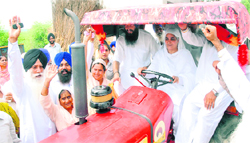 Ex-chief Jagir Kaur toiling to get back in driving seat
Nadali, September 8
Former SGPC chief Bibi Jagir Kaur appears to be at ease amid the hustle and bustle of electoral politics. And this impression also comes across seeing the way she meets her electorate like long-lost family members.
Jagir Kaur tries her hand at a tractor. Tribune photo: Malkiat Singh

Kuldeep Kaur hardsells her Tohra link to voters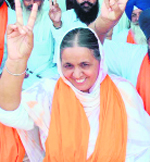 Sanaur (Patiala), September 8
Carrying forward the legacy of her foster father the late Panth Rattan Gurcharan Singh Tohra, his daughter Kuldeep Kaur Tohra (58) is contesting the SGPC elections for the first time. He seat: Sanaur (General). She is pitted against Jasbir Kaur of SAD (Amritsar). With over 221 villages to be covered under her constituency and almost 10 days left for the voting, Kuldeep Kaur's daily schedule starts as early as 7 am. She tries to reach villages early so as to meet the villagers at their homes.
Sikh delegation meets Khursheed on Anand Marriage Act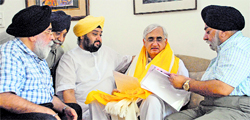 Chandigarh, September 8
If assurances given by Union Law Minister Salman Khursheed to a delegation of the Delhi Sikh Gurdwara Management Committee is any indication, the Anand Marriage Act may become a reality soon.

DSGMC chief PS Sarna with Union Law Minister Salman Khursheed in Delhi. A Tribune photograph

Capt: Badals behaving like mahants
Chandigarh, September 8
Describing the Badals as second-generation mahants misusing the SGPC, Punjab Congress chief Capt Amarinder Singh today asked Deputy Chief Minister Sukhbir Badal not to divert the people's attention from the real issues by trying to exploit their religious sentiments.
Amarinder is playing divisive games: Sukhbir
Kalanaur (Gurdaspur), September 8
The election campaign of Agriculture Minister Sucha Singh Langah to retain the Dhariwal SGPC seat was put on the backburner with Deputy Chief Minister Sukhbir Singh Badal preferring to train his guns on former Chief Minister Capt Amarinder Singh at most of the meetings addressed by him at various places in Gurdaspur district.
CM, Sukhbir looking for safe seats: Manpreet


Bathinda, September 8
Claiming that during the past 10 months the People's Party of Punjab (PPP) had emerged as the third political force in Punjab, PPP supremo Manpreet Singh Badal said the police was filing filing cases against his party workers at the instance of the government. This, he sais, showed that the SAD leadership was in a state of panic over the people's response to the PPP.
Heavy rain causes major damage to cotton crop
Chandigarh, September 8
Heavy rain over the past four days have caused extensive damage to cotton crop in the Malwa region, thus hitting the cotton growing farmers hard.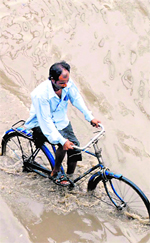 A man cycles his way through a waterlogged road after rain lashed Patiala on Thursday. Tribune photo: Rajesh Sachar

28 villages inundated in Lambi
Chandigarh, September 8
Crop in at least 28 villages in CM Parkash S Badal's constituency Lambi (Muktsar) has been completely destroyed with fields getting submerged due to rise in subsoil water and heavy rain. The entire area is waterlogged and over the years drains have been dug up without much application of mind which has further complicated the problem.
Disputed Rajindra Hospital gate opened again
Patiala, September 8
Controversy pertaining to the opening of an illegal gate in Rajindra Hospital, Patiala, refuses to die down with chemists opening the gate again.
Junior engineers hold statewide protest
Patiala, September 8
The junior engineers working with the two power utilities of the state- Punjab State Power Corporation Limited (PSPCL) and Punjab State Transmission Corporation Limited (PSTCL)- staged demonstrations in all parts of the state today.
Man held for creating fake Facebook profile
Mohali, September 8
The cyber crime wing of the Punjab State Crime Branch, Mohali, has arrested a man for allegedly creating a fake profile of a woman from Sultanpur Lodhi, Kapurthala, on Facebook.