More Fazilka villages marooned
Link bridge submerged; Army to regulate evacuation process
Praful Chander Nagpal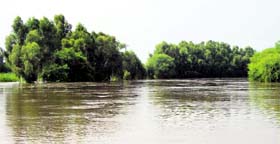 Flooded fields in Mauzam village. Photos: Praful Chander Nagpal
Fazilka, August 29
The only road connecting 11 border villages with the Fazilka city via a concrete bridge, popularly known as Badal Pul (near Kanwanwali Patta), across the Sutlej has been submerged in the overflowing Sutlej. The villagers have been treading on the inundated road by approximation.
Badal Pul, known so as it was constructed during the 1997-2002 tenure of the Badal government, has just been touched by the flood water. The Army has taken control of the bridge to regulate the evacuation process and to prevent any untoward incident.
The 11 villages that have been cut off from the mainland are Teja Rohela, Dona Nanka, Mahatam Nagar, Ram Singh Bhaini, Retewali Bhaini, Hasta Kalan, Mauzam Forward, Jhangar Bhaini, Walleshah Uttar, Walleshah Hithar and Ghurka. The rising water entered the relatively high altitude residential areas of Dona Nanaka and Teja Rohela villages today.
"We are afraid that if the bridge, too, is inundated, we will be trapped in flood water across the river," says Kala Singh of Retewali Bhaini village.
Hundreds of panic-stricken villagers have been making a beeline to safer places with their belongings and livestock. While the elderly, women and children were being shifted, adult male members were staying put in their respective village
to take care of immovable property.
Also, the seven border observation posts of the BSF along the zero line have been surrounded by flood water. The BSF personnel have been reaching the posts through boats. "However tough the circumstances, intrusion from across the border will not be allowed," said GL Meena, Commandant of BSF's 51 Battalion.
The water level is constantly increasing. The administration maintains that around 70,000 cusecs of water had been released from the catchment area. A senior official of the civil administration, on anonymity, revealed that the rising level was not in accordance with the quantity of water released officially in the Sutlej from the dam upstream. The actual water released might have been more than the figures provided by the government, he said.
Not only officials, the villagers, too, were perturbed at the government decision to release more water. "We have been left at the mercy of God as we do not know what is happening. The water is rapidly rising… we will be ruined. No official came to enquire our well being today," rued Harbans Singh, sarpanch of Dona Nanka, Dholla Bhaini and Mahatam Nagar villages. He demanded that at least 500 bags of wheat flour should be provided to the marooned people.
With the Sutlej breached, more water had flowed into the already flood-affected Dona Nanka, Jhangar Bhaini, Mahatam Nagar, Dona Sikandari, Kanwanwali, Mansa Bhiwani, Ganjuana Hasta and Teja Rohela villages and Gatti No 3 area yesterday.
Today, the water flowed into the Mauzam defence bundh, which was strengthened only a few days back in view of the flood threat.
Marooned
n The only road connecting 11 border villages with the Fazilka city has been submerged in the overflowing Sutlej
n Badal Pul (near Kanwanwali Patta), on the Sutlej has just been touched by the flood water. The Army has taken control of the bridge to regulate the evacuation process and to prevent any untoward incident
n The 11 villages cut off from the mainland are Teja Rohela, Dona Nanka, Mahatam Nagar, Ram Singh Bhaini, Retewali Bhaini, Hasta Kalan, Mauzam Forward, Jhangar Bhaini, Walleshah Uttar, Walleshah Hithar and Ghurka
n The 7 border observation posts of the BSF have been surrounded by flood water
n The water level is constantly increasing. The administration maintains that around 70,000 cusecs of water had been released from the catchment area