Five monuments in state set to enter Unesco heritage list
Kuldeep Chauhan
Tribune News Service
Manali/Spiti, August 29
Five rare monuments - the rocket-shaped wooden Hidimba Devi temple in Manali, the Tabo monastery in the cold desert of Spiti, the historical Kangra Fort, the rock-cut Masroor temples near Baijnath and the Indian Institute of Advanced Study (Viceregal Lodge), Shimla - being protected by the Archaeological Survey of India (ASI), are set to enter the prestigious world heritage list of Unesco.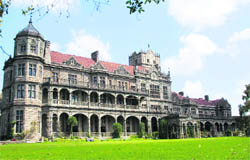 The Indian Institute of Advanced Study, Shimla
This will put the five major tourist circuits of the state on the world tourism map after a team of the Unesco re-inspects these five sites in April next year before including these on the world heritage list of monuments.
The Unesco team conducted a preliminary inspection recently and asked the Ministry of Cultural Affairs and the ASI to address its 25 points before these sites could be declared as world heritage sites.
There are 40 protected national monuments under the ASI in Himachal Pradesh and the ministry has selected five sites for the world heritage list.
The 123-year-old Viceregal Lodge, an Elizabethan monument that used to be the official residence of the then British viceroy, has been restored and "meets the conditions of Unesco".
The Viceregal Lodge was witness to the freedom struggle as the roundtable conference was held there. It also served as the Rashtrapati Niwas, but the then President, Dr S Radhakrishan, gifted this building to house the Indian Institute of Advanced Study.
The 1,015-year-old Tabo monastery at the dizzying height of 10,000 ft is a rare mud brick wall Buddhist monument, famous for its ancient cave meditation centres, statues, frescos and mural paintings.
Its setting in the cold desolate desert of Spiti on the Samdoh-Kaza road makes it a fit case for the world heritage site of Unesco as it is popular among foreigners.
The 458-year-old rocket-shaped Hidimba Devi cave temple has been built on a huge rock amid thick deodar trees in Manali. The place finds reference in the Mahabharata.
In Kangra, the 7th-century Masroor rock-cut temples near Baijnath are "nagara style" Indo-Aryan temples of rare antiquity carved out on a 2,500-foot-high hill. The Department of Tourism and Civil Aviation has prepared a plan under funds from Asian Development Bank to improve its connectivity as desired by the Unesco team.
The Kangra Fort, Himachal's oldest fort, is a storehouse of arts related to the Katoch rulers, the Jains, the Mughals and the Sikhs, and is spread on a 4-km area.
ASI's superintending archaeologist, Himachal, TR Sharma, said, "The Unesco team has conducted a preliminary survey of the five sites. We are working with the Tourism Department to initiate measures to address to the 25 points of Unesco. The team is expected to inspect the five sites in April next year.