Padyatra a political gimmick: BJP
Shimla, August 22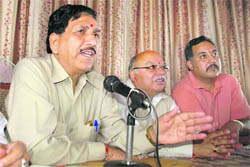 State BJP chief Khimi Ram today termed the Congress padyatra as a political gimmick and said if the party was so concerned for the state, they should undertake a march to Delhi to get Himachal its due from the Centre, which had been discriminating with the hill state in all spheres.

State BJP chief Khimi Ram addresses mediapersons in Shimla on Monday. Photo: Amit Kanwar
Cabinet to decide on taking back land
Shimla, August 22
The issue of taking back valuable land given to Indage India Ltd for setting up two wineries at Pragatinagar in Shimla and Nagwain in Mandi district will be placed before the Cabinet as it not only failed to set up the wineries but also faltered in making payments towards the land lease given to it.
Samiti: Ban animal sacrifice in Chamba
Chamba, August 22
The Himachal Pradesh Sri Sanatan Dharma Math Mandir Suraksha Samiti has sought a complete ban on the slaughter of animals in Chamba Chowgan in particular and en route Manimahesh as a whole. It has also demanded restriction on beggars during the pilgrimage besides a ban on polythenes.
Youth drowned
Solan, August 22
Youth Sanjay Kumar (23), hailing from Chamba, drowned in a nullah at Kotla near Barotiwala last night when the bike he was riding skid on the bridge and fell into the nullah while he was crossing it around 8 pm last evening.
'Direct purchase' leaves apple growers richer
Shimla, August 22
A lean apple crop and high inflation is giving rise to a new phenomenon of direct purchase by "ladanis" (wholesalers) and retailers from growers, eliminating arhtiyas (commission agents) and the market fee.
Over one lakh pilgrims take dip in Manimahesh Lake
Chamba, August 22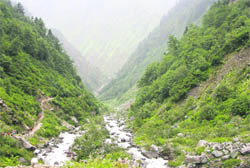 Over one lakh pilgrims and devotees of Lord Shiva hailing from within and outside the state took a dip in the Manimahesh Lake at an altitude of 4,170 m nestled down below the Kailash Mount (5,858 m), the abode of Lord Shiva, till today on the occasion of Janmashtami as pilgrims have been continuously thronging the lake for the past one month.
Pilgrims on their way to the Manimahesh Lake.
Plan to wipe out illiteracy in Chamba district ready
Chamba, August 22
With a view to wiping out illiteracy in Chamba district under the Saakshar Bharat Mission-2012, literacy classes will commence on Gandhi Jayanti (October 2) relating to which an action plan has been prepared. Giving this information here, Zila Saaksharta Samiti district coordinator Suman Minhas said under the mission a basic literacy exam would be conducted.
Rs 15.65 lakh embezzlement detected in taxation office
Palampur, August 22
An embezzlement of Rs 15.65 lakh has been detected in the office of the Deputy Excise and Taxation Commissioner (DETC), Flying Squad (NZ), Palampur. A clerk of the DETC office is reported to be involved in the scam.
6 tourists hurt as vehicle falls into river
Mandi, August 22
Six tourists from Gujarat were injured when the Tavera vehicle (DL1YA 5719) they were travelling in plunged 35 m down into the Suketi river near a rain shelter on the Mandi bypass at 10.45 pm on Sunday night.
Institute observes Youth Day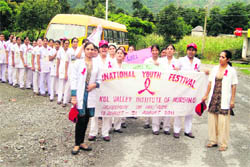 Bilaspur, August 22
International Youth Day was celebrated at the Kol Valley Nursing Institute in Nehar Harnoda, 35 km from here, this morning. It was inaugurated by Subha Bhardwaj, Principal of the institute.


Participants at an International Youth Day rally at Nehar Harnoda near Bilaspur on Monday.
State NGO gets award
Bilaspur, August 22
Dr Mallika Nadda, general secretary of Chetna, an NGO with its headquarters here in town, has been conferred with the prestigious Rajiv Gandhi Manav Seva Award for 2010.
100 examined at plastic surgery camp

Kangra, August 22
More than a 100 patients were examined and some of them selected for plastic surgery during a plastic surgery camp organised at the DRPGMC Tanda today by the Confederation of International Plastic Reconstruction and Aesthetic Surgeons in association with the Lions Club, Dharamsala.
Dr Fong Poh Him, Chairman, Institute of Plastic Surgery, Singapore, examines a child at a camp at the Tanda medical college on Monday. Photo: Ashok Raina
Des Raj continues fast from hospital
Mandi, August 22
Des Raj, who has been sitting here on a fast unto death for the past seven days, continued his indefinite fast from a hospital here today while members of the Art of Living and other organisations also staged a candlelight protest in support of Anna Hazare.