CME on urology
The Patiala Chapter of the Indian Medical Association (IMA), led by its president Dr Jatinder Kansal, organised a continuous medical education (CME) programme on "Newer Horizons in Urology" for its members here on Monday. Dr Varinder Dhankar, a specialist in urology, highlighted modern medical and surgical approach to treat various types of kidney, urinary bladder and urinary system disorders.
Pedestrian killed
Lalru, August 22
One person was killed in a road accident near here last night. According to sources, Phool Singh, a resident of Sarangpur village, was killed on the link road near Handesra when a speeding truck (HR 37A 5812) hit him from behind around 10.30 pm.
16 get trapped in swollen Kaushalya
Kalka, August 22
Sixteen persons, including three children and three women, had a narrow escape when the water level of the Kaushalya rose suddenly here today.
Ambala doctor held on rape charge
Ambala, August 22
The police arrested an Ambala City doctor, Dr Ashok Kumar, for allegedly raping a widow belonging to Barara last late evening.
NAAC team visits SD College
Ambala, August 22
A three-member peer team constituted by the National Assessment and Accreditation Council (NAAC), Bangalore, for re-accreditation concluded its three-day visit to the local Sanatan Dharma College today.
Principal honoured
Charles J Osta, principal, Indian Public School, Ambala Cantonment, was honoured with the "Best Educationist Award" and a "Certificate of Excellence" during a ceremony at Krishna Menon Bhawan, New Delhi, on August 12. The award was given by Dr GVG Krishnamurthy, former Chief Election Commissioner of India, for his achievements and role in the field of education.
Statue unveiled
A statue of Kargil martyr GD Dhindsa was unveiled by Ram Kishan Foji, Chief Parliamentary Secretary, Haryana, on the premises of Government Senior Secondary School, Pinjore, here. In his address, Foji stressed the need for curbing female foeticide.


Man dies as SUV rams into truck
Mohali, August 22
Vijay Sharma, a resident of Ratanpur, was killed and another received injuries in a road accident near Khanpur in Kharar, near here, on August 21.
Servant nabbed from Bihar
Panchkula, August 22
In a major breakthrough, the local police today arrested the servant accused of killing an old woman on Saturday night, from his home in Bihar.

Robberies on autos: Man held
Chandigarh, August 22
The UT police today arrested a member of the gang involved in three robberies in auto-rickshaws in the city.

The accused in police custody in Chandigarh. Tribune photo: Manoj mahajan
Youth threatens to end life
Chandigarh, August 22
High drama was witnessed in Sector 56 when a "drug addict" threatened to commit suicide by jumping from the second floor of his house. Barinder Singh (28) sent the cops and fire brigade into a tizzy during the drama. Singh became furious after he was slapped by his elder brother Balbir Singh and locked himself.


Tall ask for Sidhu's XI
Chandigarh, August 22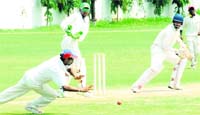 After losing quick wickets on the second day of the Emerging Players Tournament for the Umesh Kumar Cricket Trophy, Navjot Singh Sidhu's XI managed 279 for 8 in 79.3 overs in their first innings during the match against IS Bindra's XI here today.
Himanshu Chawla of IS Bindra's XI plays a shot through the covers during the match against Navjot Singh Sidhu's XI at the Government Model School cricket ground in Sector 26 of Chandigarh on Monday. tribune photo: pradeep tewari
Aashima, Nikita blank opponents
Chandigarh, August 22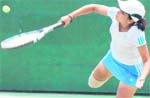 In an exciting match of the girls U-14 category, Tanvi Bhathatan defeated Shrishty Dhanda during the CLTA-AITA Talent Series Tennis Tournament for Boys and Girls (U-14 and U-18), being held at the CLTA Sports Complex and the Lake Sports Complex, here today.
Ayushi Gupta plays a shot in her girls' under-14 match against Saryana Khanna during the CLTA-AITA Talent Series Tennis Tournament at Sector 10 of Chandigarh on Monday. Tribune photo: Manoj Mahajan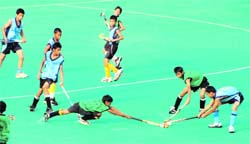 Delhi XI give Jaipur team a pounding
Chandigarh, August 22
Shivalik Public School, Mohali, and Delhi XI won their matches in the 10th ONGC SN Vohra Memorial Hockey Tournament for Boys (U-14).
Players of Delhi XI and SVM School, Jaipur, vie for the ball during their match in the 10th ONGC SN Vohra Memorial Hockey Tournament for Boys (U-14) at Sector 42 in Chandigarh on Monday. tribune photo: vinay malik
Jaipreet, Vijay lift I-Day Cup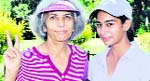 Chandigarh, August 22
Jaipreet Ghuman and Vijay Wadhawan clinched the Ladies Independence Day Cup defeating the duo of Binny Bath and Ekam J Singh in a keenly contested final on the greens of the Chandigarh Golf Club.
Ladies Independence Day Cup winners Jaipreet Ghuman and Vijay Wadhawan. A Tribune photograph