Schoolkids, autorickshaw pullers hold rally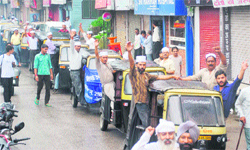 Mandi, August 27
Even as Des Raj, an engineer, continued his fast for the 12th day today, Anna Hazare supporters, including schoolchildren, autorickshaw pullers and traders, staged a protest rally here.



Autorickshaw pullers hold a rally in support of Anna Hazare in Mandi on Saturday. Photo: Kuldeep Chauhan
IAF pays tributes to Kargil martyrs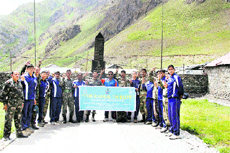 Dalhousie, August 27
The first-ever trekking expedition, The Kargil Tribute, by the Indian Air Force (IAF) to the Drass Sector was undertaken by a team of 10 Air Warriors of the Air Force Station, Dalhousie, from July 20 to 30.



Air Warriors of the Air Force Station, Dalhousie, at the Drass War Memorial.

Rains cause extensive damage in Nurpur
Nurpur, August 27
Incessant rains in the area over the past fortnight have caused extensive damage to public and private property in Nurpur. Apart from this, a large number of link roads in the sub-division have been damaged and some have developed big potholes.
ATM tampering: Two get police custody
Kangra, August 27
Judicial Magistrate First Class (II) here today remanded two persons to police remand till August 30, 2011. They were arrested by the Kangra police for tampering with an ATM machine of the State Bank of Patiala (SBoP) main branch and had withdrawn money fraudulently from ATMs here earlier, the police said here today.
JP Cements agree to enhance rates
Solan, August 27
With the management of JP Cements agreeing to enhance the freight to Rs 7.12 per tonne per km from the earlier Rs 6.53 for clinker, the 18-day-long stalemate between the management and truckers finally came to an end last evening.
Check industrial units performance: HC
Shimla , August 27
HP High Court has directed the Chief Judicial Magistrate, Solan, to conduct inspection of industrial units and submit a report to the High Court as to whether these complied with the provisions of Labour Laws, particularly with regard to the welfare of labourers.
Cyber espionage real threat to economic growth,
Shimla, August 27
"Global recession is only a transient phase, the real threat to India's economic growth comes from the increasing cyber espionage, which is exposing Indian corporates to unfair competition," said R Bhaskar, a leading cyber security expert from the USA.
50 cr skilled workforce in industries by 2022: Minister
Baddi, August 27
With paucity of skilled labour being an issue of major concern in the nation, the Ministry of Labour and Employment has planned to provide 50 crore skilled workforce in industries by 2022.
Govt hasn't followed a uniform policy
Shimla, August 27
The government has not followed a uniform policy in granting permission under Section 118 of the Land Reforms and Tenancy Act to private universities for acquiring land.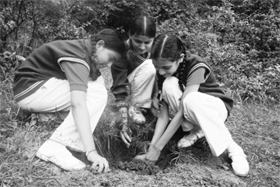 Schoolchildren plant a sapling at Summerhill near Shimla on Saturday. Photo: Amit Kanwar
Hamir Utsav from Sept 1
Hamirpur, August 27
CM PK Dhumal will inaugurate the three-day Hamir Utsav here on September 1. Giving this information after holding a preparatory committee meeting of the utsav here recently, Deputy Commissioner Rajinder Singh Thakur said the Chief Minister would inaugurate the festival and MP Anurag Thakur would be the chief guest on the concluding day function.
Kullu Dasehra from Oct 6
Shimla, August 27
Chief Minister PK Dhumal while presiding over a state-level meeting here today said elaborative arrangements had already been started for a smooth conduct of the International Kullu Dasehra Festival to be organised from October 6 to 12, this year.
Cong to oppose Land Ceiling Act amendment
Shimla, August 27
The Congress today said since it was opposed to any amendment in the HP Ceilings on Land Holding Act, it would not present its viewpoint before the select committee of the Assembly to whom the Bill had been referred.
Shimla to get new ISBT
Shimla, August 27
In order to provide proper connectivity to commuters, the government has drawn out a new traffic plan for operation of buses from the Inter State Bus Terminus (ISBT), Tutikandi, which will be inaugurated here on August 29.