SGPC elections
Poor response to baptisation call
Amritsar, August 27
Akal Takht Jathedar's call to the candidates in the SGPC poll fray to get their family members baptised by August 25 has evoked poor response from them.
Denied ticket, Ramgarhias to oppose SAD
Chandigarh, August 27
The Ramgarhia community, a dominant faction of Sikhs in the Ludhiana area, has announced an open revolt against the Shiromani Akali Dal (SAD) for not giving any representation to the community in the Shiromani Gurdwara Parbandhak Committee (SGPC) elections.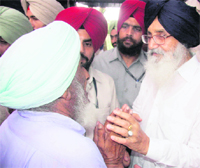 Badal campaigns in Gidderbaha
Dodha (Muktsar), August 27
Chief Minister Parkash Singh Badal today accused the PPCC president Capt Amarinder Singh and People's Party of Punjab chief Manpreet of trying to instigate the farmers on the Gobindpura land acquisition issue and creating hurdles in the development of the state.


Chief Minister Parkash Singh Badal at Dodha village in Gidderbaha. A Tribune photo

PPP for HC stay, wants six-fold relief for farmers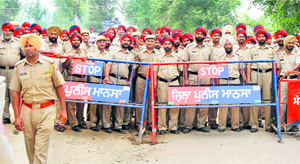 Bareta (Mansa), August 27
The People's Party of Punjab (PPP), led by Manpreet Badal, will file a public interest litigation (PIL) in the Punjab and Haryana High Court on Monday seeking a stay on the land acquisition process for some months.



Police personnel hold their fort during Manpreet Badal's rally in Mansa on Saturday. Tribune photo: Pawan Sharma

Capt questions Badal's scruples
Chandigarh, August 27
Punjab Pradesh Congress Committee president Capt Amarinder Singh today asked Chief Minister Parkash Singh Badal that with what face he was meeting Union ministers and begging aid from them when he had always been accusing the Centre of discriminating against his government.
Pollution to be burning issue when all thermal plants get going
Bathinda, August 27
With new thermal power plants coming up in the Malwa region, residents of the area are bound to witness the air pollution level further going up as more than 80,000 tonnes of coal would be burnt every day to generate electricity. While two thermal plants here are functional, four others in the private and public sector have been sanctioned by the state government.
Scheduled Caste panel takes up Sarabjit's case
Amritsar, August 27
After the apex court, the National Commission of Scheduled Caste (NCSC) has now taken up the issue of Sarabjit, an Indian prisoner facing death row in Pakistan.
Pong Dam almost full
Chandigarh, August 27
The Beas and Sutlej rivers in Punjab have witnessed increased discharge from Pong Dam. The water level in the Pong Dam today was 1,383.42 ft against its maximum capacity of 1,390 feet. On this day last year, it was 1380.47 ft.
'58 farmers yet to receive cheques'
Mansa, August 27
Fifty-eight families of village Gobindpura in Mansa, whose land has been acquired for setting up thermal power plant, have allegedly not got any cheques as compensation.
RTI activists seek action against 35 candidates for hiding poll expenses
Chandigarh, August 27
The Action Group Against Corruption (AGAC), a group of RTI and social activists, has asked Punjab's Chief Electoral Officer Kusumjit Sidhu to get an enquiry conducted to verify the election expenses of various candidates in the last parliamentary and Vidhan Sabha elections.
Christians call off hunger strike
Jalandhar, August 27
Yet another 'hunger strike' came to an end here on Saturday when a section of the Christian community ended their six-day long fast with a black flag flag demonstration. But the 'struggle', said speakers, would continue.
Rain hampers rescue operation in Fazilka
Fazilka, August 27
The 200-ft breach in Dona Sikandari bundh, near Defence bundh, in Fazilka area on Friday evening has thrown the life of 10,000 residents in 12 villages out of gear. The basic infrastructure has collapsed and the villagers stand deprived of basic amenities - potable water, power supply and green fodder for cattle heads. Even their lives and belongings are at risk. Some link roads have also gone under water.
Shun mercury-based devices: PPCB to docs
Patiala, August 27
Punjab Pollution Control Board (PPCB) chairman Kahan Singh Pannu has written a letter to the medical fraternity in the state to replace mercury-based thermometers, blood pressure measuring devices and mercury-laden amalgam for dental treatment with non-mercury-based equipment.
NRHM strike to affect polio campaign: Govt
Ludhiana, August 27


Owing to the ongoing strike by the employees working under the National Rural Health Mission, the three-day-long pulse polio migratory round will be affected. Principal Secretary (Health) Satish Chandra said this after he got to know that today's meeting between the NRHM employees and their Managing Director SK Sharma failed at the Circuit House, Ludhiana.

Patiala advocate's suggestions on Lokpal Bill chosen for discussion by Parliament panel
Patiala, August 27
After getting two bills introduced in the Rajya Sabha, Patiala-based advocate Gurjit Singh, who is working as a guest faculty with the Rajiv Gandhi National Institute of Law, Patiala, has submitted certain suggestions pertaining to the Lokpal Bill.





HC: Prosecution sanction must for retd employees
Chandigarh, August 27
The Punjab and Haryana High Court has ruled that prosecution could not be launched against a taxation inspector after his retirement, once the sanction stood declined.

Harpreet murder case: CBI puts forth 60 queries
Patiala, August 27
The hearing in the murder case of Harpreet Kaur, daughter of former SGPC president Bibi Jagir Kaur, resumed in the court of Special Judge (CBI Cases), Patiala, Balbir Singh, here today.