Jubilation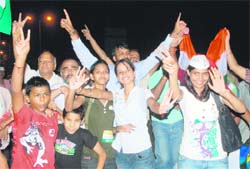 Thrilled supporters of Anna Hazare celebrate after Parliament agreed, in principle, to his key demands, in Chandigarh on Saturday night. Tribune photo: S Chandan
Fate of 86 Senior Residents hangs fire at GMCH-32
Chandigarh, August 27
Recruitments seem to be jinxed in the UT administration. While recently 144 selections of bus conductors in the Chandigarh Transport Undertaking (CTU) were scrapped and the teachers' recruitment scam is pending in the High Court, the fate of 86 senior residents (SRs) continues to hang fire as even after one and a half months of their selection at the GMCH-32, the UT administration is yet to clear their appointments.
1 ITBP jawan killed, 6 hurt in mishap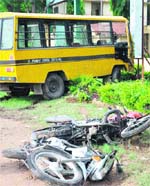 Panchkula, August 27
A jawan of the Indo Tibetan Border Police (ITBP) was killed while seven others were seriously injured when a speeding school van hit them on the killer stretch of National Highway-73 near Sector 26 today.






The school van and the motorcycle that were involved in an accident on the Panchkula-Ramgarh road, resulting in the death of an ITBP jawan on Saturday. Tribune photo: Nitin Mittal



Where amenities are a dream
Chandigarh, August 27
Though the problems regarding lack of basic amenities in southern sectors is not new, but the most neglected are colonies developed by Chandigarh Housing Board (CHB) at Sectors 48, 49, 50, 51, 52, 56 and 61.
| | |
| --- | --- |
| Garbage littered near the road separating Phase 6 of Mohali and Sector 56 of Chandigarh. A Tribune photograph | Wild growth around Chandigarh Housing Board flats at Sector 51, Chandigarh. A Tribune photograph |
Residents of Sector 21 oppose installation of security gates
Chandigarh, August 27
Though the Municipal Corporation has initiated the process of installing security gates in various sectors of the city, the Resident Welfare Association, Sector 21, has decided to oppose the installation of the gates claiming that the gates installed in one of the sectors are not good enough to act as security gates as they are very short in height.
UT fisheries dept in 'deep waters'
Chandigarh, August 27
The UT Fisheries Department, the only fish seed farm for Sukhna Lake, is in absolute shambles. Dirty rooms, broken furniture, stinking toilets and wild growth all around the department's building, which is located just a few yards from the Chandigarh Administration's innovative project, "Garden of Silence" at the regulatory end of Sukhna, welcome the visitors here. The visitors to the place mainly consist of fishing licence seekers.



A view of a room of the local fisheries department in a dilapidated condition.
and The area around the ponds at the UT Fisheries Department near Sukhna Lake is infested with the thick wild growth.Tribune photos: Manoj Mahajan
Cataract catching young too
Chandigarh, August 27
It seems that most cataracts are a result of aging, but young people may also develop the condition. Doctors say that cataract, clouding of the eye's natural lens and the main cause of blindness in the world, which earlier affected those above 60 years, is now being witnessed even among those who are in their late-30s.
Entrances to Mohali Phase III appalling
Mohali, August 27


Broken roads, liquor vends, illegally parked rehris by slum dwellers and heaps of garbage welcome visitors to Phase III-A of Mohali.
The entrance to the Nehru Colony in Sector 52, which is often crowded with rehris of the colony residents, is located right next to the residential area; and (right) garbage and plastic bags strewn on the entrance of of Phase III-A in Mohali. Tribune photos: Vinay Malik
Two deaths from electrocution
Panchkula, August 27
A 13-year-old student of Class VII was today electrocuted at his home in Abhayapur village in Panchkula. The victim, Neeraj, was a student of Government School, Sector 19, Panchkula.
32 bags of unclaimed bodies' ashes immersed
Mohali, August 27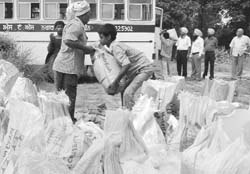 At last, the Mohali civic body had woken up from its deep slumber and immersed the ashes of unclaimed bodies at Kiratpur Sahib yesterday, which had been lying in bags over the past many years in a store.





Ashes of unclaimed bodies being loaded in a funeral van for immersion at Kiratpur Sahib. Tribune photo: Vicky Gharu
Haryana govt issues directions to civic body
Panchkula, August 27
Fifteen days after the Supreme Court's order of according the status of a corporation to Panchkula, the Haryana government finally issued directions to the municipal corporation (MC) to start working as a corporation.
Only 12,000 voters for SGPC polls
Chandigarh, August 27
Though the city has witnessed manifold increase in its population in recent years, the number of voters will still be almost the same in the forthcoming SGPC elections after its last election in 2004.


PU finalises voters list
Chandigarh, August 27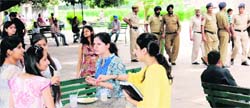 Even as student organisations are yet to decide on the name of their presidential candidates, Panjab University has finalised its voters list, according to which the next student council president will represent demands, aspirations and point of view of 13,294 students.
Police officials take a round of the Student Centre to maintain peace during election time in Panjab University on Saturday. Tribune photo: Manoj Mahajan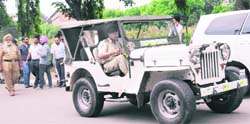 Four open jeeps impounded
Chandigarh, August 27
In a bid to tighten the noose on "hooligans" at the time of student council elections, the UT Police impounded four open jeeps from the Panjab University (PU) campus today for negligent and rash driving during car rallies organised yesterday.
A police official drives off in a jeep impounded at Panjab University. Tribune photo: Manoj Mahajan
SD College witnesses scuffle between student bodies
Chandigarh, August 27
With the election fever catching up fast in the city colleges, a scuffle was reported last evening at GGDSD College, Sector 32, boys' hostel, where members of two rival organisations entered into fisticuffs and heated arguments.
New parties add flavour to college poll
Chandigarh, August 27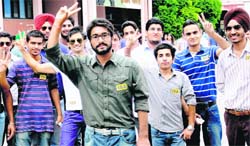 Emergence of new student bodies in city colleges in the last few years has added a fresh flavour to the student council poll, which was dominated by old timers since decades.



Balkaran Singh (in front), president of the Indian Students Association, with his supporters at DAV College in Chandigarh on Saturday. Tribune photo: PRADEEP tEWARI
Drama prevails over cancellation of readmission
Chandigarh, August 27
High drama prevailed at Sri Guru Gobind Singh College (SGGS College), Sector 26, today when the college principal cancelled readmission of a failed candidate over his alleged involvement in suspected student activities in the past.
Anjani is Miss Fresher
Chandigarh, August 27
A cultural extravaganza marked the fresher's party at the Dev Samaj College for Women, Sector 45-B. Seniors presented dance numbers to entertain the freshers.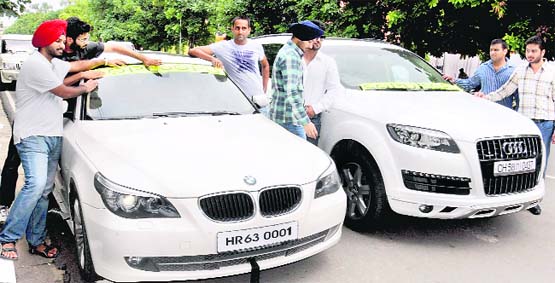 Pomp and Show: Use of luxury cars continues to add glamour to the student body polls at Panjab University. Tribune photo: Manoj Mahajan