People hail debate on bill
New Delhi, August 27
After a day of high-powered action and theatrics on the part of political parties, Anna Hazare's agitation finally came out vindicated, with the government bowing to the will of the people and holding a debate in Parliament on the Jan Lokpal Bill.
Jan Lokpal not sacrosanct: Dikshit
New Delhi, August 27
In the Congress Legislative Party meeting held two days before the monsoon session, Chief Minister Sheila Dikshit distributed notes among the party MLAs to counter opposition's attack on CWG scam. The session will start on August 29.
Aamir sings Anna's praises
New Delhi, August 27
With the Ramlila Maidan becoming a hub for celebrities showing up at the venue to announce their solidarity with Anna Hazare's anti-corruption campaign, actor Aamir Khan, along with director Raju Hirani, today met the Gandhian and appealed to him to break his fast.


Anna stable but weak, loses 7.5 kg
New Delhi, August 27
Anna Hazare, whose fast for a strong Lokpal bill continued for the 12th day today, is stable but getting weaker and has lost 7.5 kg of weight, his doctors said. "According to the details of medical checkup of Anna Hazare being done every hour, he still seems to be fine but has lost 7.5 kg of weight and getting weaker," said Naresh Trehan, who is leading the team of doctors monitoring Hazare's health.
Anna is a tough man, say docs
New Delhi, August 27
Doctors, attending Anna Hazare, term the 74-year-old a "rare man" and are flummoxed at how the social activist has been subsisting on plain water for the past 12 days and though visibly weak, still manages to infuse enthusiasm into thousands of his supporters.
Wear Anna cap to fight graft, says Bedi
New Delhi, August 27
Team Anna member Kiran Bedi has a novel idea to uproot corruption from Indian society - wear the 'I am Anna' cap when someone asks you for a bribe! As Anna Hazare's fast entered the 12th day today, Bedi took on the stage at the Ramlila Maidan and spoke animatedly, drawing cheers and some laughs too.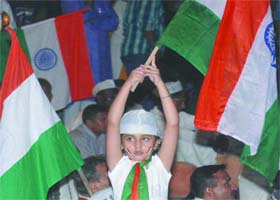 A child carries a Tricolour during the anti-corruption campaign at the Ramlila Maidan in New Delhi on Saturday. Tribune photo: Manas Ranjan Bhui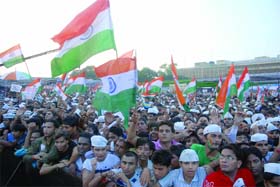 Supporters of Anna Hazare celebrate the victory at the Ramlila Maidan in New Delhi on Saturday. Tribune photo: Manas Ranjan Bhui
Hooda backs Rahul on lokpal
New Delhi, August 27
Haryana Chief Minister Bhupinder Singh Hooda has welcomed the suggestions made by AICC general secretary Rahul Gandhi in the Lok Sabha on the issue of Anna Hazare's movement against corruption and said that these were the need of the hour.
Vande Mataram translator joins Anna
New Delhi, August 27
Nominated for the Padma Shri as many as seven times, this anti-corruption crusader joins Anna. "I have been a victim of corruption. I was nominated for the Padma Shri seven times for translating Vande Mataram and there was the President's enquiry about it, but I didn't receive it," claimed Satish Solanki, a resident of Yamuna Vihar, Delhi.
Face painters make quick buck
New Delhi, August 27
Punit Singh (names changed on request) has taken a 10-day leave from his job as he visits the Ramlila Maidan daily, not to participate in Anna Hazare's agitation but to make a quick buck — by painting the Tricolour on people's faces.
3 Metro stations near Parliament shut
New Delhi, August 27
Taking precautionary measures, the Delhi Police today suggested that the Metrostations close to the Parliament be shut as the discussion on the Jan lokpal Bill was scheduled and Anna supporters were expected to reach Parliament.
Sonu Nigam sings
New Delhi, August 27 Singer Sonu Nigam expressed his support for Anna Hazare and his fight against corruption by singing the hymn "Vaishnav jan to" at the Ramlila Maidan here today. Sonu touched Hazare's cheeks and also took the 74-year-old's blessings by touching his feet.
CM justifies tariff hike
New Delhi, August 27
Though citizens of the Capital and political parties have criticized the government for hike in power tariff, Delhi Chief Minister Sheila Dikhsit today justified it, saying that it is still less than other states.
Brainwave of CBSE to boost reading habits
The CBSE has recently introduced an exhaustive reading list of English books for students between classes V and XII. The idea behind the list is to inculcate reading habits in students.