China overtakes india in sudan
There is enormous goodwill for India in the newly independent nation of South Sudan; and enormous opportunities as well. But can India make the most of it in a country, which is bigger than Kenya, Burundi, Rwanda and Uganada combined—is the question.
Ashish Kumar Sen writes from juba(south sudan)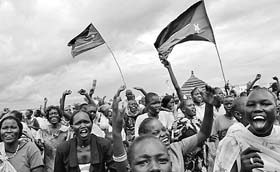 'Hello? Namaste ?" a voice called out from a mass of sweaty onlookers pressed up against each other to get a better look at the smartly attired military band that belted out South Sudan's new anthem.
Thousands of southerners had gathered at Juba to celebrate the south's independence from Sudan under a blazing sun. With growing excitement they pushed toward the narrow strip of road that separated them from dignitaries and those lucky enough to have received personal invitations.
"Namaste! Mera naam Joseph hai. Aapka naam kya hai ," the voice called out again. Then, as if to drive home the point, it added, "I love India!"
Joseph's affection for India is echoed by many in South Sudan. As younger men and women they were forced to flee the civil war that wracked their country. Those who got the opportunity left Sudan to study in India. Many have since returned with fond memories of their time in India. India now has the perfect opportunity to capitalise on this trove of goodwill. As South Sudan takes its first tentative steps as an independent country,it is looking to other nations for help. Indian expertise in agriculture, health care and infrastructure make it a perfect partner.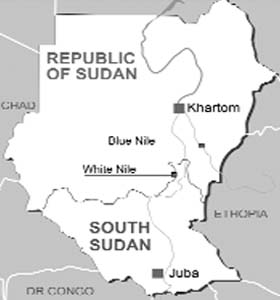 "We are open to India," Barnaba Marial Benjamin, South Sudan's minister of information told The Tribune in a recent interview. Seated at the head of a long table that spans the length of his office in Juba, Benjamin is bespectacled, smartly attired in a suit and tie, and fluent in English. He eloquently narrates a brief history of his country that weaves its way through the lows of the civil war, the highs of independence and wraps up with a plea for international assistance.
Acknowledging the tremendous challenges faced by the south, he said: "South Sudan is bigger than Kenya, Uganda, Rwanda and Burundi combined. It has been destroyed over 50 years of war and so it is a real ground zero, and to have a ground zero of this size means that there are many challenges in infrastructure and development."
This is where Benjamin believes India can help. "With India, we have a tremendous relationship which we are building up into a very strong cooperation agreement," said Benjamin. The South Sudanese government is in discussions with the government of India on securing assistance in areas such as agriculture, mining, water resources, wildlife, tourism, hydropower, solar power, building roads and bridges. The list goes on and on.
Access to proper health care is crucial in a country with the highest maternal mortality rate in the world. "A girl has a higher chance of dying in child birth than finishing school," said R. Barrie Walkley, the U.S. charge d'affaires in Juba.
The Indian consulate in Juba has issued around 500 visas over the past few years. A majority of these are either for educational or medical reasons. Many government ministers are among those who have sought treatment in India. "Most of our patients with complicated diseases go to India for treatment," said Benjamin. It is only natural then that South Sudan is also looking to India for help setting up health care facilities. India is building a hospital in South Sudan and has pledged $5 million in development assistance. In a village in Central Equatoria state it is setting up a solar electrification project — a gift from India.
Abundance of opportunities
From the moment the aircraft banks and swoops toward Juba's stunted skyline — a hodgepodge of circular mud huts capped with conical thatched roofs, tents, prefabricated structures and shipping containers that serve as accommodation, and sprawling mansions — one can't help but be struck by the abundance of opportunity.
The southern opposition — the Sudan People's Liberation Movement (SPLM) and its armed wing the Sudan People's Liberation Army (SPLA) — never controlled Juba during the civil war. The city was an island of terrorisd residents ruled by the Sudanese armed forces. The northern forces controlled the airport and the port on the White Nile, both of which were key supply lines for their troops.
Memories of the war are still raw for those who stayed on in Juba. "People were taken up in planes, their hands and feet bound, and thrown into the river. Many were slaughtered in the streets," said Betty Achan Ogwaro, a member of the South Sudan Legislative Assembly. Recollections of a gruesome past send a shiver through her and she hurriedly changes the subject.
"Juba was intended by our enemies to be a dust city," said Anthony Lino Makana, South Sudan's minister of roads and transport. More than two million people were killed over two decades of conflict that ended with a Comprehensive Peace Agreement in 2005. "Six years ago we inherited a very dilapidated infrastructure. Now, in less than three years, we have 7,000 kilometres of roads across South Sudan," Makana said.
Miles of rutted mud tracks quickly transform from dusty pathways into rushing muddy streams in the rainy season. The fact that Juba now has 30 kilometres of tarmac road is a statistic that is often cited as an example of progress.
But where most see a lack of roads, scarcity of electricity and water, absence of health care services and schools, investors see opportunity. India's engagement with South Sudan is driven in part by China's growing influence in Africa. Judging by China's expanding presence — especially infrastructure projects and the oil fields that dot the south — India has a lot of catching up to do. The Indian government is awaiting a formal proposal from the government of South Sudan on the kind of assistance it requires, according to a diplomatic source.
ONGC (Videsh) Ltd. is exploring oil fields in both South Sudan and Sudan. It has the biggest presence among all Indian companies in Sudan. Bharat Heavy Electricals Ltd. (BHEL) has a power plant in the north.
Even as India seeks to do more in South Sudan, there are some who worry that the government in Juba is moving toward a closer embrace with China. They are concerned that South Sudan under the SPLM may be on the path to single-party democracy at best and a dictatorship at worst.
A Western official based in South Sudan, speaking on the condition of anonymity, said there is a "huge drop in capabilities from the top tier of the government to the lower level" and referred to an urgent need for capacity building. He described this task as a generational one, adding, "It won't happen overnight." India is involved in training government officials in an effort aimed at reducing this gap. More than 50 people have benefited from this programme so far.
India is also looking to export essential and non-essential goods to South Sudan, which imports much of what it consumes. Goods are transferred by road, especially from neighbouring Uganda and Kenya, which means they cost a lot more by the time they reach markets in the south. Indian officials are touting cheaper alternatives and import of pharmaceuticals, food, auto parts and motorcycles to South Sudan.  
There is a small Indian community in South Sudan. The majority of them — around 300 — live in Juba. There were many Indians in the south before the civil war broke out in the 1980s. Some were professors at Juba University and are still recalled with fondness by their former students. Most of the Indians in Juba now are entrepreneurs who have started up small businesses or run restaurants. Indian officials are hopeful that bigger investments will start flowing soon.
Uncertainty over land ownership has in part been a deterrent to investment. Land is required to set up industries, however, the government has yet to clarify complicated land ownership issues in a country in which a piece of land has multiple claimants.
Before independence, southerners blamed the government in Khartoum, mostly correctly, for the lack of development in the south. Post-independence, they have high, and perhaps unrealistic, expectations of their government. In the months and years ahead, the government in Juba will need all the help it can get. It is counting on India