While no one would deny that something needs to be done to root out corruption, the methodology adopted by the Civil Society team for doing it is questionable. To voice aspirations of the common man is one thing. But to ask that every rule, every system in place should be bent or broken is another
Anna stir: where is it all headed?
Point
B.N.Goswamy
The Anna Hazare movement - I am reluctant to call it the Civil Society Movement, for civil society is much larger than this - is a remarkable phenomenon. The stir is slickly timed and finely orchestrated, and the pulling in of so many disparate elements into its vortex is, purely in 'marketing' terms, an achievement in itself. What one is witnessing day after day on the television is in some ways energizing: such a sense of commitment, such crowds, such enthusiasm. And all seemingly Gandhian; at least without any signs of violence, so far.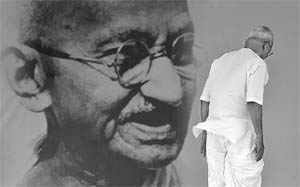 The cause is laudable: undoubtedly corruption in public life is a looming issue and there is a growing feeling - ably articulated by Anna himself - of there being lack of justice for the common man. The question, however, is: where is it all headed? How will it end? What would have been achieved at the end of it? If the 'demands' of the Anna Team - not so civilly raised, one would have to add, certainly not without a touch of arrogance at times - are met and a victory for the civil society is declared, would it be a pyrrhic victory where one would have to sit down afterwards and compute with care and sorrow the losses suffered?
Conflicting voices
There can be little doubt that on the part of the government - the other party, so to speak - the stir has not been handled well. There have been conflicting voices, too many heavy-handed statements, too much of incremental 'giving in' or 'yielding of ground', too little preparation for meeting the challenges posed by the scale of the movement and for gauging the mood of the nation. The Opposition is also not covering itself with glory: there is lack of clarity in its views; the impression is gaining ground that they are in it simply for gaining points; there is greater interest on their part in enjoying the present discomfiture of the government rather than in giving cogent thought to the long-term implications of a movement such as this.
At the other end, for the common people, this is all a great spectacle, a perfect opportunity for venting their anger and their frustration. How many among the agitators or the sympathisers, however, truly understand what the intricacies of the issues involved are? The ambit of the Lokpal or the Jan Lokpal bill, the reservations about keeping some offices or institutions out and the virtual impossibility of implementing some of the ambitious provisions will always remain a question. A panacea is what everyone is looking for and hoping to get. But there is no panacea. All around, there is a welter of confusion.
In search of a panacea
From all this, however, one thing is emerging with clarity. Whatever the merits of the agitation, in the manner in which it is shaping it is questioning the very fabric of our Constitution, for that document and Parliament, which is so fundamental an institution of our democratic system, are being truly challenged. While no one would deny that something, something even drastic, needs to be done as far as rooting out corruption from our public, and private lives goes, the point is whether the methodology being adopted by the Civil Society team for doing it is right.
To try and raise the level of our conscience and to voice the aspirations of the common man is one thing. But to ask that every rule, every system in place, should be bent or broken is another. What is the government being told, not asked, to do? Withdraw your bill and substitute it with the Bill that the 'Team' has cobbled together; this must be done by the end of this month; bypass the Standing Committee of Parliament; pass the Bill - not present or debate, but to pass it as it is - before the present session of Parliament runs out. And so on. These are diktats, not recommendations or prescriptions. And to agree to them, as has been pointed out in clear and cogent terms, is to subvert the processes established by our Constitution. There is need, therefore, to pull back a bit, I believe. And to reflect about long-term implications.
In the energy that has been released by Anna Hazare's stir, especially among youth, there are great signs of hope. But that energy needs to be channelled, watchfully and constructively. Poet Faiz Ahmed Faiz once sang beautifully of the 'crop of hope' - yeh fasl ummeedon ki humdum - but then hinted darkly that it could also wither away as quickly as it grew: 'ghaarat jaayegi' were his words. Before that happens, there is need to nurture that crop with care and to help it turn into a harvest of gold. Perhaps Anna himself will think of ways of doing it, for he does have the ear of the young, it seems.