She moved the rich and the powerful but served the poorest of the poor, remembers the biographer on the 101st birth anniversary of the remarkable nun who embraced poverty and made India her home
COMPASSION BEYOND BOUNDARIES
Navin B Chawla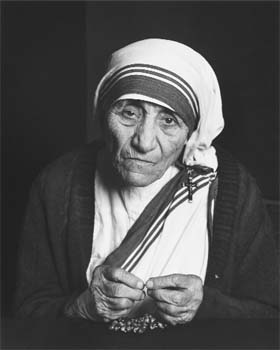 Mother Teresa (1910- 1997): saint, pioneer and legend
A few weeks ago I visited one of Mother Teresa's Sisters who was admitted for surgery in the PGI hospital in Chandigarh. The Chief Secretary of Haryana Smt. Urvashi Gulati and the Secretary to the Governor Mohinder Kumar accompanied me that morning to Sister Ann Vinita's bedside. Attending to her in the hospital were two companion Sisters of the Missionaries of Charity. In the course of conversation, one of them said that she was really happy to meet me. She went on to explain that as a young woman in Kerala, she had admired Mother Teresa's work , but it was when she chanced to read my biography of Mother Teresa that she decided to join the Order. That a young Catholic woman should have read a book written by one, who while he was unmistakably close to Mother Teresa, yet did not share her faith stunned me into silence. It made me reflect on a number of issues related and unrelated: of the strength of secular values; and of true compassion knowing no religious, ethnic, caste or geographical boundaries, and indeed being able to transcend altogether the formal contours of religious practice.
Goodness
Mother Teresa was a tiny figure who strode her century like a colossus, and in the process made her name a synonym for goodness and compassion the world over. She was invariably received in the halls of power, but her mission lay in the meanest streets and slums over all the continents. She built brick by brick, a global infrastructure with the help of five thousand Sisters and Brothers of her Order, and also had the capacity to enjoin millions of ordinary people, who came forward to help her in her mission to alleviate loneliness, hunger and suffering. By the time she passed away in 1997, she had established a multinational organisation that operated in over 123 countries and served her special constituency of the destitute, the abandoned, homeless, hungry and dying. In the process she became one of the principal conscience-keepers of her time.
Although she herself remained true to her religion, her brand of faith was not exclusive. Convinced that each person she ministered to was Christ in suffering, she reached out to people of all religions. The very faith that sustained her infuriated her detractors, who saw her as a symbol of a right-wing conspiracy and, worse, the principal mouthpiece of the Vatican's well-known views against abortion. Interestingly, such criticism went largely unnoticed in India, where she was widely revered. I once called her the most powerful woman in the world. Mother Teresa replied: "Where? If I was, I would bring peace to the world." I asked her why she did not use her undeniable influence to lessen war. She replied: "War is the fruit of politics. If I get stuck in politics, I will stop loving because I will have to stand by one, not by all."
Loving & sharing
I first met Mother Teresa, 36 years ago in 1975. That meeting remains indelibly printed on my mind. That morning I had accompanied Delhi's Lieutenant Governor, with whom I was then attached, to her home for the destitute. I was taken aback when I came face to face with her. She was smaller than I had imagined, dressed in her trademark, hand-woven sari with three blue stripes that was neatly darned in several places. I noticed her back was bent even then. Her feet were twisted and her hands were gnarled, testimony to her arduous life in the slums.
That morning, as on many other occasions where I heard her, she spoke of simple things: of loving, caring and sharing. She seemed at many levels a very ordinary woman. Yet she was a powerful communicator who reached the hearts of those who listened to her. My overwhelming thought that morning was that there was very little difference between the poor whom she and her Sisters served, and their own vow of poverty.
As I reflect on her life, I find there were several mysteries that lend themselves to no easy answers. Mother Teresa was hardly qualified in academic terms. She never went to a university and her studies were largely confined to the scriptures. And yet she set up hundreds of schools that lifted poor children from a desolate life on the streets. She provided a safety net for the homeless by opening centres and soup kitchens. She started Shishu Bhavans for abandoned infants. There were homes for the terminally ill, so that they were not alone when they died. Not all these centres were in the poorer parts of the world; many were in the affluent west where loneliness and despair were a sickness she likened to leprosy.
Serving London's poor
The early faltering steps, too, were a mystery. What a strange sight she would have presented on the streets of Kolkata in 1948. A European nun not clad in a familiar religious habit, but in a cheap sari similar to those worn by the municipal sweepresses, her feet encased in a pair of rough leather sandals: a nun in her belief and vows, but not in appearance. She was alone. She had no helper, no companion and carried no money to speak of. She stepped into a city in which she had taught long years but of which she knew nothing. She taught herself to beg, the ultimate humiliation for one whose life had been secure, though not even remotely luxurious. In her only diary, which I was privy to, she wrote of her struggle between her faith and the temptation to return to the security within the convent walls.
She proved to be an excellent administrator and soon discovered she could multi-task. She had the unerring instinct of realising who could help her in her task, in the shortest possible time. She started her first little school in a Kolkata slum in 1948, determined to teach the little children who ran out to greet this stranger in their midst. With no blackboard, nor table and chairs, she simply picked up a stick and inscribed the Bengali alphabet on the mud. Gradually more children gathered around her. People recognised her goodness; someone contributed a chair, another a desk. Teachers volunteered to teach; soon the little school became a reality. But this little school was good only for one slum. Soon she started another in a different locality. This was followed by a dispensary, another school in another slum of the city. She had discovered that she could multi-task.
She encouraged lay persons and community workers to join hands with her. Teachers volunteered, doctors came forward offering free service, chemists donated medicines. In this way, she formed a human chain of millions the world over.
Many years later, but in much the same spirit, I was to see the start of a soup kitchen in North London. The bishop had offered her a derelict church. Her Sisters went from shop to shop in the neighbourhood to beg for vegetables and food. Within a week shopkeepers themselves came forward to deliver their surplus. Cooks and helpers volunteered their services. Soon, on an average day, the Sisters fed 500 of London's poor their only hot meal of the day.
the Congregation
She founded her religious order with a special vow—to serve only the poorest of the poor. Having witnessed the growth of her congregation, I was anxious how the Missionaries of Charity, which had created a presence in 123 countries by the time she died, would survive after Mother Teresa passed on. She was charismatic and the funds flowed in plentifully, helping her to expand her work to over 600 branches for the destitute, orphans and children, old age homes, crèches, leprosy stations, AIDS hospices, feeding centres and schools all over the world. She once told me that as long as her Mission served only the poorest forms of destitution, the work would continue. Today, I notice no signs of its abating. In fact the Missionaries of Charity today have a presence in 135 countries, where poverty, destitution and loneliness are constant companions in rich and poor societies alike.
As a Hindu, armed only with a certain eclecticism, I found it took me longer than most to understand that Mother Teresa was with Christ in each conscious hour, whether at Mass or with each of those whom she tended. The Christ on his crucifix was no different from the one who lay dying at her hospice in Kalighat. There could be no contradiction in her oft-repeated words that one must reach out to one's neighbour. For Mother Teresa, to love one's neighbour was to love God. This was what was essential to her, not the size of her mission or the power others perceived in her. "We are called upon not to be successful, but to be faithful," she explained. Mother Teresa exemplified that faith—in prayer, in love, in service and in peace.
The last time I met Mother Teresa was in July 1997, two months before she died. She was briefly in Delhi on her way back from overseas to her beloved Kolkata. We spoke then of simple things, of loving, caring and sharing. She held my hand in hers and said, "You must always work for the poor and the good of all people. You must continue to touch the poor."
(Navin B Chawla is a former Chief Election Commissioner of India and is Mother Teresa's biographer.)


a life extraordinary
Born in Macedonia ( in former Yogoslavia) on August 26, 1910
Of Albania descent, she was christened Agnes Gonxha Bojaxhiu
At the age of 17-18, she joined Sisters of Loreto, an Irish community of nuns.
She was sent to India, where she took the initial vows as a nun in 1931
She taught Geography at St Mary's High School, Calcutta till 1948.
She was allowed to leave the Convent to work in slums.
An open-air school for slum children was the first project she took up
The Vatican allowed her to start her own order, The Missionaries of Charity, in 1950
The order was set up to love and care for those people whom nobody was prepared to look after
The first 'Home' for the dying was set up in 1952
The order today is to be found across the world
She set up the first hospice for AIDS patients in New York in 1985
When she was given the Nobel Peace Prize in 1979, she insisted that the formal banquet be dispensed with and the cost handed over to her so that she could feed the poor.
The order today takes care, among others, of drug addicts, prostitutes, battered women and orphans besides the beggars, lepers, destitutes and the old and the dying
Known simply as 'The Mother', she died on September 5, 1997