Chandani Kirinde in Colombo
The Sri Lankan Government on Thursday lifted harsh wartime emergency laws that have drawn criticism from the West and India, saying the advent of peace since the end of civil war in 2009 made them unnecessary.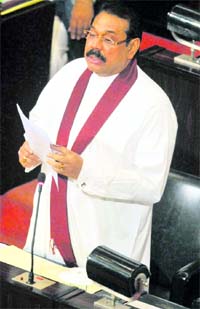 Mahinda Rajapaksa
President Mahinda Rajapaksa made the announcement in Parliament during a special address. Opposition legislators and civil society groups welcomed the move.
Opposition parties and human rights organisations were demanding the lifting of emergency laws since the war against the LTTE ended in May 2009. The emergency laws that supersede the normal laws in the country have been blamed for excesses on the part of security forces, which were given sweeping powers to make arrests without charge or detain people.
"To carry forward the day-to-day activities in a democratic way, I propose there is no need of emergency regulations anymore," Rajapaksa told Parliament. "There has been no terrorist activity since the end of the war in May 2009."
The regulations, put in place off and on since a Marxist insurgency erupted in 1971, have been continuously in force since August 2005 after an LTTE sniper assassinated Foreign Minister Lakshman Kadirgamar in the Capital, Colombo.
The government still has the powerful Prevention of Terrorism Act at its disposal, which allows warrant-less arrests and searches if a person is suspected of involvement in "terrorist activity."
"We appreciate the removal of the emergency," Opposition leader Ranil Wickremesignhe said. The government said Sri Lanka needed time to catch LTTE remnants and prosecute those arrested under the emergency laws.
Rights groups and Western governments have blamed the Lankan Government for using the laws to suppress media freedom and harass political opponents. "We should also hope that the expansion of freedom and democratic rights will not be restricted by other means such as adding new provisions to the Prevention of Terrorism Act," said Jehan Perera, head of the National Peace Council think-tank in Colombo, which has often criticised the government.
Sri Lanka is also under heavy pressure to probe alleged war crimes in the final months of the conflict in 2009.
(With inputs from Reuters)