Pro-farmer morcha pointless, says Cong MLA
Chandigarh, August 25
Even as the Punjab Congress is gearing up to launch an agitation to scrap the land acquisition for the thermal plant in Mansa district, Kotkapura legislator Ripjit Brar, brother of Congress CWC member Jagmeet Brar, today claimed the agitation would serve no purpose, as it had taken too long to come about.
Schools shut down in flood-affected Fazilka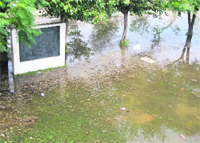 Fazilka, August 25
Deputy Commissioner Dr Basant Garg has ordered closure of all the five primary schools situated across the Kawanwali Pattan concrete bridge due to the grim flood situation there. The flood water has entered residential areas in several places.



The flooded premises of a school in Fazilka. A Tribune photo

No proposal from government to close Bathinda plant, says power corp chief
Patiala, August 25
The Punjab State Power Corporation Limited (PSPCL) top brass has categorically stated that so far it has received no proposal from the state government on closing the 440 MW Guru Nanak Dev Thermal Plant (GNDTP) in Bathinda.
Defections part of game: Manpreet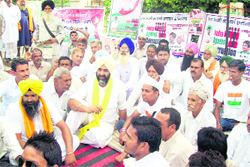 Abohar, August 25
People's Party of Punjab president Manpreet Badal today said SAD patron Parkash Singh Badal and president Sukhbir Badal should not undermine his party if the duo had managed a few defections through "coercive" tactics. Such desertions, said he, won't dampen the spirit of PPP workers, as the party was already "18-lakh strong".


PPP chief Manpreet Badal at an anti-graft protest in Abohar on Thursday. Photo: Raj Sadosh
Punjab Civil Services Exam
Candidates want exam to be held under HC supervision
Patiala, August 25
As many as 36 candidates, who are to appear in the Punjab State Civil Services Combined Competitive Examination-2009, have demanded that the examination should be conducted under the supervision of the Punjab and Haryana High Court.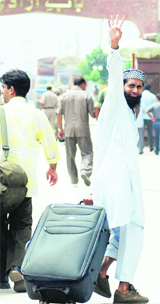 A Pakistani prisoner waves while crossing over to his homeland at Attari on Thursday. He was one of the seven prisoners repatriated to Pakistan by India. Of those let off, four were released from Jammu and Kashmir, two from Amritsar and one from Tihar Jail. Photo: Vishal Kumar
Govt seeks more time to submit report on Gill
Chandigarh, August 25
The Punjab Government has failed to furnish details of information sought from it by the Chief Electoral Officer (CEO) to be conveyed to the Election Commission of India (ECI). The state government has sought more time to implement the ECI directives issued through the CEO during its visit to Chandigarh on August 9.
Arms holders told to get their weapons verified
Patiala, August 25
Thousands of weapon holders in Punjab who have got a valid ammunition and arms licence will have to get a verification of their arms done at the police station concerned. The Deputy Commissioners and senior police officials have passed orders in this connection.
Govt schools made to pay charity for private NGO
Bathinda, August 25
A curious case of government senior secondary schools being asked to donate money to an NGO, purportedly working to create awareness on AIDS/HIV, has come to light in Bathinda.
Land record of 9k villages computerised
Jalandhar, August 25
September and chasing patwaris and greasing their palms for a copy of mutations will be a thing of the past. The farmers of Kapurthala and Shaheed Bhagat Singh Nagar will be able to obtain computerised mutations from special centres set up in both the districts.
Amritsar, Attari truckers at loggerheads again
Amritsar, August 25
Transporters based in Amritsar and the Attari truck union operating at the international Attari-Wagah joint check post here are once again at loggerheads following the beating up of the drivers of Amritsar-based transporters a couple of days back.
Another Morcha candidate pulls out
Amritsar, August 25
A day before the last date for withdrawal of nomination in the SGPC elections, more trouble seems to be brewing for the Panthic Morcha as Satbir Singh Bajaj, Morcha candidate from Amritsar (Central) seat, today withdrew from the contest in support of SAD candidate RS Mehta, who is also the SGPC executive member.
Complaint against teacher for sending lewd SMSs to student
Patiala, August 25
A student of the MBA Department of Punjabi University has complained against one of her teachers and alleged that the teacher sent her obscene messages. Sources informed that the girl had reported the matter to head of department after things got worse. He further informed that all the teachers in the department were also aware of the incident.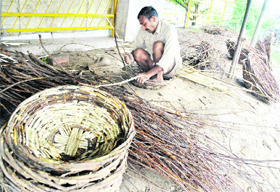 canecharged

: A craftsman makes cane baskets at the roadside in Bathinda. Tribune photo: Rajesh Sachar
Rural mission employees hold stir
Patiala, August 25
In the wake of non-acceptance of their demands, the NRHM Employee Union today took out a protest march in the city. They also burned an effigy of the Punjab Government at the Leela Bhawan Chowk here today.
34 dengue fever cases detected in Bathinda
Bathinda, August 25
The district has till date witnessed 34 dengue cases this season. Out of these cases, 22 cases are from Bathinda city, nine cases are from Talwandi Sabo, two from the Sangat block and one from the Goniana block, said District Health Officer Dr Raghubir Singh Randhawa.
Christian association threatens to step up stir
Jalandhar, August 25
As the protest dharna and hunger strike by the Punjab Christian Movement (PCM) in front of the DC complex, Jalandhar, reached its fourth day today, the leaders of the Punjab Christian Movement today met the Deputy Commissioner, stating that their demands, as mentioned in a letter submitted to him earlier, be met.
Develop software for medico-legal reports on computers: High Court
Chandigarh, August 25
Logging on to a transformation programme, the Punjab and Haryana High Court today directed Punjab, Haryana and Chandigarh to put their heads together to explore the feasibility of developing a software for preparing postmortem and medico-legal reports on computers.
Finally, justice for sister of Shaheed Bhagat Singh
Chandigarh, August 25
It's justice at last for 95-year-old Parkash Kaur, the younger sister of Shaheed Bhagat Singh. Nearly 22 years after her son-in-law Kuljeet Singh Dhatt was allegedly killed by five Punjab Police personnel in Hoshiarpur district, Justice Sabina of the Punjab and Haryana High Court today dismissed a petition filed by accused Jaspal Singh and others against the State of Punjab. Detailed judgement was not yet available.



Doc, tehsildar booked on forgery charges
Patiala, August 25
The Fatehgarh Sahib police has registered a case pertaining to cheating and forgery following a complaint by Director of Puri Promoters Pvt Limited, Sirhind, Ravinder Pal. The police has booked a Tehsildar, a doctor and a stamp vendor, including others, in this connection. The police said Tehsildar Harpool Singh Gill is presently posted at Amloh, while police arrested a Chandigarh resident, Dr Sohan Lal Arora, and stamp vendor Raj Kumar.