Dhumal justifies private varsities
Shimla, August 26


Chief Minister Prem Kumar Dhumal today dismissed the Congress criticism regarding opening of private universities in the state and said this would help in improving the quality of education and providing professional courses closer home.
Question Hour
3,334 have died in road mishaps in 3 years
Shimla, August 26
It is mainly on account of human error and drunken driving that 3,334 persons have lost their lives in road accidents in Himachal Pradesh during the past three years.
HP Public Services Guarantee Bill passed
Shimla, August 26
The state Assembly today approved the Himachal Pradesh Public Services Guarantee Bill, 2011, to ensure the delivery of services to the public in a time-bound manner.
Make Bilaspur smoke-free, says ADM
Bilaspur, August 26
Serious efforts should be made to make Bilaspur district smoke-free and all officers and heads of offices should ensure that none of their employees smokes in the office.
Hearing in CD case adjourned till Sept 2
Shimla, August 26
Union Minster Virbhadra Singh and his wife again approached the state high court for quashing the FIR registered against them in the CD case. The high court today adjourned the hearing in a petition filed by the former Chief Minister and his wife Pratibha Singh till September 2.
Priyanka's house to be rebuilt

Shimla, August 26
The dream house being sought by Priyanka Gandhi Vadra in the hills of Shimla could take a while to translate into reality as the near-complete structure has been razed to the ground and a new contractor and architects assigned the task to erect a cottage with local flavour.
DREAM HOME: A file photo of Priyanka Gandhi's under-construction house at Charabra near Shimla that has been razed to raise a new structure.
HC order may spell trouble for colleges
Dharamsala, August 26
The Himachal Pradesh High Court order directing the state against making ad hoc or temporary appointments in future is likely to spell trouble for government colleges and regional centre of Himachal Pradesh University (HPU) at Dharamsala.
Cong leader writes to Governor
Dharamsala, August 26
Congress leader from Shahpur, Kewal Singh Pathania, has written to the state Governor against the transfer of about 800 kanal of land in his area for establishment of a BSF training centre.
Students hail move on teachers' accountability
Mandi, August 26
Even as schoolteachers have termed the Education Department's move of making teachers accountable for the poor school results as "dictatorial step", but students and their wards hailed the government step and said the department should also make "officials from the director to the block level accountable for bad results and bad ratings of government schools in the state as well."
90 plastic surgeries performed at camp
Dharamsala, August 26
A free of cost plastic surgery camp was organised at Dr Rajender Prasad Government Medical College at Tanda. The camp has been organised under the aegis of the International Confederation for Plastic Reconstructive and Aesthetic Surgery (IPRAS) Asia Pacific section. The camp was started on August 21 and will culminate on August 28.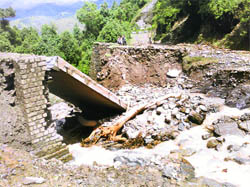 Rain wreaks havoc in Chamba
Chamba, August 26
Reports pertaining to the damage caused by incessant rain in far-flung areas of Chamba district have been continuously pouring in the district headquarter town of Chamba. The loss caused to the public and private property due to landslips and the fury of floods in streams and rivulets in the district following heavy rain for the past two months has so far been put at over Rs 10 crore.
A bridge on a road in the Sirhkund area in Chamba district that was damaged by the recent heavy rain. Photo by writer
One killed in mishap
Bilaspur, August 26
Dev Raj (27) was killed and Suresh Kumar (23) was seriously injured when their scooter was crushed by a truck near Jabbal bridge on the Hamirpur-