Agitation on Gobindpura off, next round of talks on Sept 13
Ludhiana, August 28
The 17 farmers' associations spearheading an agitation against "forcible" acquition of 850 acres of land in Gobindpura in Mansa district for a thermal power plant in the private sector, today agreed to suspend their stir after a long meeting with CM Parkash Singh Badal at the Circuit House here late in the evening.
Rajpura villagers reclaim land acquired in 1994
Patiala, August 28
Inhabitants of several villages in Rajpura have urged the Punjab Government to consider their request for reclaiming their land, which was acquired way back in 1994 for a private firm.
Water panel has changed stand: Capt
Chandigarh, August 28
Punjab Pradesh Congress Committee president Capt Amarinder Singh today questioned the changing stance of the Central Water Commission (CWC) on the issue of Hansi-Butana Canal. He said the commission's submission before the Supreme Court that the canal and the toe wall would not cause floods in Punjab was contrary to what it had found and observed in 2006.
Govt surviving on loans: Bhattal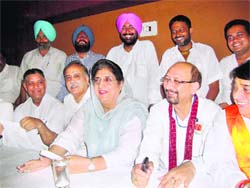 Phagwara, August 28
Leader of Opposition in Punjab assembly Rajinder Kaur Bhattal today alleged that the SAD-BJP government was in a financial mess and was taking loans from all possible sources to meet the financial costs of the state. Addressing mediapersons here today, Bhattal, former Chief Minister too, alleged the fiscal crisis continued despite tall claims being made by the government that the financial position of the state had improved.

Congress leader Rajinder K Bhattal in Phagwara. Tribune photo

SAD rebel Kaka riding the sympathy wave
Moga, August 28
Campaigning for the SGPC elections has picked up in the Dharamkot constituency with rebel SAD candidate and sitting SGPC member Sukhjeet Singh Kaka giving sleepless nights to Gurmail Singh, ruling party candidate.
Panthic Morcha yet to name its leader
Amritsar, August 28
Even as the campaigning for the SGPC polls has started gaining momentum, the Panthic Morcha is yet to announce the name of the leader who will head the alliance in the crucial elections.
Barnala set to return to active politics
Barnala, August 28
The 85-year-old former Governor of Tamil Nadu is all set to join active politics in Punjab. He is likely to return from Tamil Nadu in the next few days. Sources close to him said Barnala, through the Shiromani Akali Dal (Longowal) headed by his wife Surjeet Kaur Barnala, was all set to take on the Badals.
DGP keeping low key after Election Commission's directives
Moga, August 28
After the Election Commission asked the district administration to keep a watch on Punjab DGP PS Gill, the latter's activities in the district seem to have come to a halt. But his cousin Micky Gill continues to hold meetings with the local people to prepare the ground for the officer's political ambitions. Gill is believed to be an aspirant for the SAD ticket from Moga.
Maximum Hepatitis C cases reported from state
Bathinda, August 28
Punjab has earned dubious distinction of having highest number of cases of hepatitis C, the 10th worldwide cause of death. Dr Anil Arora from Sri Ganga Ram Hospital, Delhi, here today said, "Ratia in Haryana and districts of Punjab sharing border with Rajasthan and Haryana are the worst affected."
Robberies up by 14 pc in Doaba belt
Chandigarh, August 28
Crime in the state has come down substantially in the past seven months with state crime figures recording a reduction in the number of murder, dacoity, kidnapping and robbery cases even as opium seizures have increased.
Deadline for Punjab, AP students is September 23
Ludhiana, August 28
The Dental Council of India has given a deadline of September 23 to the governments of Punjab and Andhra Pradesh for sending their request to allow dental colleges students of 2007 batch for a six-month internship.
Colonisers pressurise MC for completion certificates
Bathinda, August 28
The colonisers, who have developed private residential colonies, are pressurising the Bathinda Municipal Corporation (BMC) to take over their projects.
Residents protest against pollution by meat plants
Dera Bassi, August 28
Residents of Bijanpur and other adjoining villages staged a protest against pollution by meat plants situated near Samgouli village yesterday. They raised slogans against pollution control board and the administration.
PSEB's Bathinda book depot cries for care
Bathinda, August 28
The Punjab School Education Board (PSEB) book depot in Civil Lines here is crying for attention. The building today is in a shambles as not even a penny has been spent on it in the past couple of decades. "The only repair we can remember is the re-plastering of the lower portions of the walls," said the PSEB employees posted here.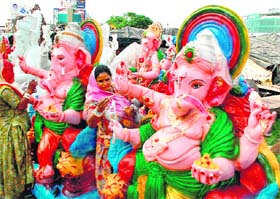 Brush with piety

: Women artists give the final touches to the statues of Lord Ganesha in Zirakpur ahead of the festival of Ganesha Chaturthi. Tribune photo: Nitin Mittal
Conclave on gastroenterology
Bathinda, August 28
Doctors discussed advancements in gastroenterology in relevance to primary care at the gastro conclave held at the Adesh Institute of Medical Sciences and Research here today.
Pbi varsity Dean part of CSIR project
Patiala, August 28
Dean (Faculty of Medicine), Punjabi University, Patiala, Dr AK Tiwary has been selected by the Council of Scientific and Industrial Research (CSIR), New Delhi, as a domain expert group member.
Study on role of women in freedom struggle
Patiala, August 28
Keeping in mind the role played by women in various spheres, Punjabi University, Patiala, will soon initiate an in-depth study on contribution of women in the freedom struggle and other areas.
3 thieves flee from custody
Moga, August 28
Three Ludhiana jail inmates, brought by the cops to Moga on production warrants in a theft case, fled from the Mehna police station of the district yesterday. The cops on duty were reportedly drunk.