As he breaks fast, Maidan breaks into song and dance
Jyoti Rai
Tribune News Service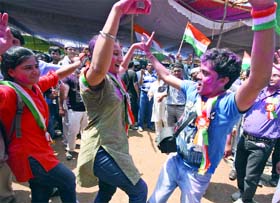 Anti-corruption campaigners break into a jig to express their happiness at the Ramlila Ground in New Delhi on Sunday. Tribune photo: Manas Ranjan Bhui
New Delhi, August 28
The national Capital erupted with celebrations as Anna Hazare's fast came to a spectacular end with the largest gathering of people at the Ramlila Maidan today, out of all the 13 days since he began his agitation.
Families, women, children and the young, everyone took to streets of the Capital waving the Tricolours up high and chanting "vande matram" slogans. The celebrations continued for hours after Anna broke his fast and left for Medicity in Gurgaon.
The crowd broke into dance on patriotic songs outside the Maidan. Dholwalas were a common sight with hundreds of supporters on roads donning Anna masks. People with instruments like 'chimtas', 'manjeeras' and 'dholaks' were singing songs and celebrating all around the Maidan.
There were some supporters inside the Maidan that celebrated a small holi with herbal colours and applied 'tilak' to all the Anna supporters they met along the way, signifying their victory.
"As per tradition, our mothers and sisters apply 'tilak' to any of the family member whenever we achieve something significant. This is the people's victory. Everyone should hold their heads high and flaunt their 'tilaks'. We have won," said a joyful Madhur Shukla, one of the supporters at the Miadan.
Moving towards the gates and the barricading areas, there were people approaching policemen and traffic personnel with 'mithai' boxes and congratulating them on their support in the movement.
Some of the other supporters outside the Ramlila Maidan gave a big 'jaadu ki jhappi" to policemen and thanked them.
"Without their round-the-clock efforts, all this couldn't have been possible. The police has shown tremendous restraint even when some of the hooligans in the crowd went out of control," said Vaibhav Mitra, a Delhi University student.
People said the movement had grown this big only because of non-violence.
"The government tried to repeat another Ramdev incident initially by arresting Anna.
However, when people came out in a full-blown support on the roads, everyone understood the power of this mass movement. And today, the movement has reached its goal. We have a long way to go, but still we are extremely happy," said Janvi Kapoor, a supporter at the Maidan.
School and college students were busy clicking photos and recording videos across the Maidan. Others were carefully folding their flags and banners and saying that they would preserve them for life.
"We want to preserve a memory of this movement. We will tell our families in the years to come that we were a part of this revolutionary movement and that we saw this crusader with our own eyes," Kirti Bhattal, a student from Indraprastha University.
With the scorching weather making it tough for people, endless queues at the water stand continued till late.
However, one could see young volunteers picking thrown water pouches to clean the ground. Consequently, people were seen using sacks for throwing pouches and wrappers. "Before cleaning India of corruption, we have to clean the garbage from the Ramlila Maidan. It is my message to every individual coming here," said Poonam Choudhary, a supporter.
"The Ramlila Maidan wouldn't have witnessed such a massive gathering even during Dussehra. This is the power of public. We have come to support Anna.
One should understand that our presence is not paid, not driven by personal benefits or political party or media. We are here because we listened to our hearts and came out in support," said 54-year-old Saroj Singh.