Critics often question the rationale of funding agricultural research on the ground that the outcome is slow and limited. The importance of agricultural research should be seen in a broader perspective. The net gain of only one technology during the decade after its inception was good enough to offset the PAU budget for four decades
Poor spending on farm research
Joginder Singh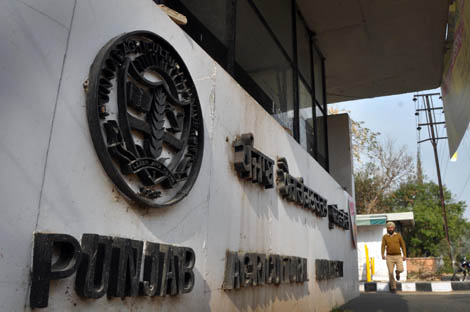 THE Green Revolution in Punjab was the outcome of a variety of factors. Obviously, the basic research innovation emerged from new strains of wheat and rice followed by a higher use of fertilizers, pesticides and water; standardisation of agronomic practices; and need-based mechanisation for uniformity of farm operations.
As a consequence of such efforts, a spectacular increase in crop yields, expansion of cultivated area, rising cropping intensity, shift in the crop pattern etc together led to an exemplary rise in production, particularly food grains in Punjab. The small state, apart from feeding the ever-growing population, generated a mountain of food grain surpluses by contributing 30 per cent rice and 60 per cent of wheat to the national pool.

In other words, with just 1.5 per cent of the geographical area and 2.3 per cent of the population of the nation, it is contributing about 12 per cent to the national output of food grains. From these facts, one can safely infer that but for such progress in this high-potential state, at least 10 per cent of the population of other states would have either faced a serious hunger situation or we would have to search for food with a heavy import bill.
However, the implication of such a fast agricultural growth was that the state was engulfed in a number of environmental problems. Heavy drain on water resources, rapidly exhausting soil health in terms of major and micro-nutrients, increasing pest resistance, falling bio-diversity, problems of crop residue management, a fast influx of labour from other states and declining work culture with the local population and over-investment in farm machinery have created doubts about the sustainability of the existing agricultural production system. Even the 33.5 per cent (10469 KWH) of the electricity consumption in Punjab diverted for agriculture free of cost in 2009-10 is a heavy drain on the public exchequer.
Govt levies heavy taxes on farm produce
In the absence of large-scale industry and lack of a strong tertiary set-up, the economy of the state continues to remain mainly agrarian. Thus about 40 per cent of the population is directly dependent on agriculture contributing 34% of the state income. To improve the state's financial health, the government imposed high mandi taxes made to be borne by the buyers of farm produce. It includes 5% of VAT, 2 % as market fee, 2% as the rural development cess and 3% as the infrastructure cess. Another 2.5% commission ad valorem is borne by the procurement agencies. This commission increased with every successive change of state government i.e. from 1.5% to 2% in 2002 and then to 2.5% in 2007.
Thus the commission agents thrived on three counts viz. increase in production and still faster increase in marketed surpluses, increase in market prices of farm products and commission on value of produce. Similarly, the earnings of the state government touched Rs 3,840 crore due to mandi taxes and commission agents' earnings are estimated at Rs 600 crore from wheat and paddy marketing only. The evidence of substantial economic gains of the Green Revolution to farmers has been authenticated by various studies.
Numerous agro-industrial and commercial concerns are some other direct beneficiaries of such development. For instance, cotton-based industries, rice shellers, flour mills, dal mills, fruit and vegetable processing units, cold storage, milk plants, sugar processing and alcoholic industry, oil mills etc have progressed on availability of raw materials. The increased demand for farm inputs led to the expansion of business concerns dealing with fertilizers, seed, feed, farm machinery, pesticides etc. A number of export houses also thrived on agricultural surpluses. Let us not forget the contribution of research and development for such a gigantic economic uplift of all sections of society.
Green Revolution wonders can't be repeated
Now, that the state agricultural universities are facing a serious financial crisis, carping critics, sour skeptics and professional pessimists commonly argue with the comment that the pace of agricultural research output has slowed down and is not coming up to the expectations. The expectation is that every year wonders of the type of the Green Revolution should be generated. Such comments are uncalled for because the incremental output of subsequent research diminishes as the ecological concerns are getting stronger hurdles to cross.
Notwithstanding these facts, severe questions about the rationale of funding of research are raised. To educate the general public, especially to those who are at the helm of affairs, there is perhaps need to have a strong socio-economic cell to examine the return to research in respect of cost involved to bring out the innovations and rapid adoption on one hand and spell out their contribution to society on the other. To quote an example, an analysis of PBW343 variety released in 1995 by Punjab Agricultural University was traced in terms of direct farm-level benefits from enhanced yield over the replaced HD2329 variety in Punjab and its neighbouring states without going in for secondary and tertiary impacts. It is startling to note that the net gain of only this one technology during the first decade of its inception was estimated at Rs 3350 crore, which was good enough to offset the entire budget of Punjab Agricultural University for four decades. The net indirect impact to other sections of the population, if traced, may be a multiple of this figure. There are a number of such glaring instances of technological innovation due to which significant benefits have percolated to society.
Therefore, we must not lose sight of the fact that human factor is of immense importance for the long-term socio-economic growth of the country. During the past couple of years, even the national expenditure on research and development (R&D) has continued to be 0.85 per cent of the gross domestic product, out of which almost 13% goes to the agricultural sector. In the event of fast-rising demand for basic necessary farm products, agricultural research is a vital input for planned growth and sustainable development of agriculture in the country.
Poor budgetary allocations for research
The Indian Council of Agricultural Research, being an apex scientific organisation at the national level, plays a crucial role in promoting and accelerating the use of science and technology relating to agricultural research and education. There are 43 state agricultural universities in India. The mandate of these institutions revolves around providing research, teaching and extension services. The broad break-up of the budget allocation is that about 63% is allocated for research, 19% for teaching, 10% for extension and 8% for administrative and miscellaneous activities. The pitiable situation of these institutions can be viewed from heads of expenditure which state that about 88% of the budget goes to salaries and allowances while only 11.3% goes to contingencies and wages and less than 0.5% goes to traveling allowances.
A cursory look at the overall expenditure budget of the five universities — Punjab Agricultural University and Guru Angad Dev Veterinary and Animal Sciences University in Punjab, Haryana Agricultural University and GSK Himachal Pradesh Krishi Vishav Vidyalya and Dr Y.S. Parmar University of Horticulture & Forestry for the year 2009-10 was Rs 608.4 crore as against Rs 415.8 crore in 2005-06, showing an increase of 46% in four years, almost matching the rate of inflation, which means no real increase. Of this, almost three-fourth is contributed by state governments, 18% comes from the ICAR and the rest 8% from other sources.
The writer is a former Professor & Head, Department of Economics & Sociology, PAU, Ludhiana