Violence most foul
Rape, a widespread crime against women, shows little signs of abating. The unbearable trauma that a rape victim has to bear is further compounded by the insensitive laws and the "couldn't care less" attitude of the law-enforcing machinery. Until rapists are dealt with severely, the offence will continue to breed and grow
Shree Venkatram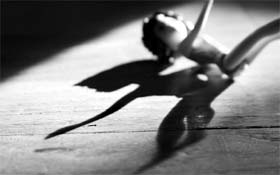 Rape is one of the most heinous crimes, impacting the victim for life. Given its enormity, it should be considered next only to murder. Sadly, it has not been given the attention it needs by social scientists, law makers and justice dispensers. When two Class IX boys attempt to rape a Class I girl, as in a Bathinda school recently, it is time society introspected. What kind of signals are we sending out to our young?
The National Crime Records Bureau had termed rape "India's fastest growing crime". We have complete figures for 2009, when according to the NCRB, a total of 21,397 rape incidents were reported countrywide. Add to this, 25,741 cases of kidnapping and abduction of women and 38,711 cases of molestation, and you get 235 reported cases of molestation/rape/ abduction of women every day. These are just the reported cases. Most, especially molestation and rape cases, go unreported in the name of guarding 'family honour'.
Convoluted sense of justice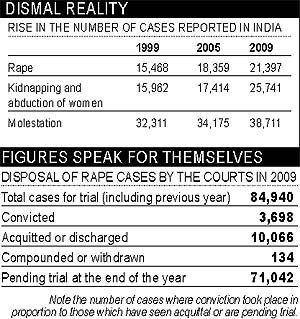 Let us examine some recent sentences proclaimed by our justice dispensers and the messages these have sent out to society. A few months ago the Supreme Court decided to let off three farmers, who had been convicted of gang raping a woman in Ludhiana district. A sessions court had awarded a 10-year imprisonment to them. The Punjab and Haryana High Court had upheld their conviction, following which, the criminals appealed to the Supreme Court. Their sentence was cut short after a few years under a "compromise formula" that entailed paying Rs 50,000 each to the victim.
The rapists had appealed to be let off as "they and the victim were happily married to their spouses" and "wanted to live peacefully". The fact that the victim is "happily married" is no credit to the rapists. Did the judges ascertain the happiness quotient of the criminals' marriages? Did they speak to their wives? Men who rape, make for draconian and violent husbands. As far as "wanting to live peacefully is concerned", it is easy to say that after committing a violent crime. The fact that they can indulge in rape makes them dangerous criminals. If they could do that to one woman, they can inflict themselves on another. How does the court ensure that this does not happen? The National Council for Women has asked for a review of the case for it sets a bad precedence of reaching a compromise in rape cases, where conviction rates are extremely low anyway.
Wrong signals embolden rapists
It is not surprising that such a judgement should come from our highest court. The former Chief Justice of India, K G Balakrishnan, is reported to have said that society and the state must respect the decision of a rape victim if she chooses to marry the rapist. His words as reported by a newspaper: "Due regard must be given to their personal autonomy since in some cases victims may choose to marry the perpetrator." Imagine the trauma of a woman having to spend her life with a man who has raped her? It is like inflicting a lifelong sentence of mental and physical cruelty on her, while the man goes scot free. And then, what would prevent the rapist from marrying the victim to escape punishment and then deserting her? This kind of a mindset furthers the warped view society holds that marriage is the be all and end all for a woman. And that it is better to marry a man who has raped you than not marry at all!
Now look at the punishment a panchayat in Ghaziabad meted out to an rapist uncle: It ruled that five smacks with a shoe was enough punishment for raping his niece. In another case, also in Ghaziabad, a five-year-old was raped by her 19-year-old cousin. But the family chose to keep quiet, not even getting medical attention for the little girl.
She was sent to school the next day where she complained of abdominal pain and died. It was only then that the parents approached the police. The girl's mother said she had raised an alarm when she saw the cousin raping the child. The family elders had caught him, slapped him and let him off. Consider now how these family elders and panchayats handle youngsters who marry outside their caste group or marry within their own gotra. The punishment has ranged from social ostracism to even death! Obviously, rape is considered a minor crime compared to violation of caste and kinship lines.
Compounding victims' trauma
The law as it stands today is weak and archaic. Apart from woefully inadequate sentences, it only recognises vaginal rape and does not believe that children below 12 can be raped. Women's groups have been demanding its amendment but though decades have passed, the bill is still in a draft stage.
The Aruna Shanbaug case illustrates the complete warpedness of our justice system. While Aruna, the nurse who was raped and maimed for life has been lying in a hospital bed for the last 37 years, the rapist, ward boy Sohanlal Walmiki, is a free man today. He is said to have changed his name, moved to Delhi with his family where he works in a hospital. He was imprisoned for only seven years for attacking her and stealing her jewellery, but not for rape as it was anal and not vaginal rape he indulged in as Aruna was menstruating at that time. What kind of justice is this?
The death penalty awarded to rapist and murderer Santosh Kumar Singh was commuted to a life sentence because of what is termed as "mitigating circumstances". Among them were that he was "young, just 24 years old" at the time of his crime. At 24 years, one is an adult! The fact that he was "married" and "the father of a girl child" were the other "mitigating" factors. Now, how does this help either the wife or the daughter? They have to fend for themselves anyway and live with the knowledge of having a rapist and murderer as a husband and father for the rest of their lives. In fact, the law should give the wife and children of a rapist the choice to walk off from the relationship with no legal binding on their part, while retaining all their rights on the family property. If the wife has the option of being legally freed of the relationship, she can think of starting her life again. It is extremely traumatic for a young girl to grow up knowing her father is a rapist. In fact, such men are best kept away from their daughters.
We have also had judgments where the sentence was commuted when the rapist passed a civil services exam. What is the message that went out? That if you pass the exam, all will be forgiven and you will occupy an important government post. In fact, the opposite should be the case. Convicted rapists who have served their term in jail should be debarred from holding a government job.
Need for unorthodox methods
The law must acknowledge that rape mars a person for life. The condition has been recognised as Rape Trauma Syndrome where the victim suffers from phobias and nightmares and feels emotionally crippled, unable to form meaningful relationships and friendships for life.
Kamini Lau, Delhi's additional sessions judge, recently called for a public debate on "chemical and surgical castration" of child rapists and serial offenders as an alternative punishment. She said this while delivering a sentence for a man who raped his minor step daughter for four years.
Chemical castration is being used in parts of United States and many European countries, with the rapist's consent. Sweden, France and Germany are among them. In Poland it is mandatory. A province in Argentina is the latest to adopt it. It involves an injection of an anti-pregnancy drug every three months to lower libido and uncontrolled sexual impulses. There is much evidence in the medical and psychiatric world that a rapist cannot be cured unless there is a medical intervention. It is time to act. There can be no compromises with a rapist.
The writer works in the development sector