CM flays Cong leaders for opposing pvt varsities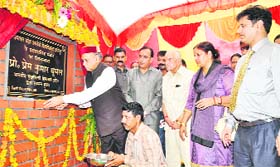 Matahni (Hamirpur), September 1
Chief Minister Prem Kumar Dhumal has lashed out at Congress leaders for opposing private universities in the state and took them to task for their propaganda of "Himachal on sale".



CM PK Dhumal lays the foundation stone of the administrative block of HP Technical University in Hamirpur on Thursday. Photo by writer
BJP govt has betrayed farmers: Cong
Bilaspur, September 1
Congress president Kaul Singh Thakur has criticised the state government for its alleged failure to fulfil its election promises and having betrayed farmers.
Ganesh festival begins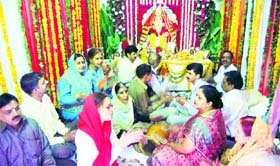 Kangra, September 1
A Ganesha procession was taken out from Ujjain, on the outskirts of the town, to the Donga Bazaar locality here today for the instalation of the idol there in connection with the week-long Ganesh festival.


People pray to Lord Ganesha on the occasion of the Ganesha festival in Shimla on Thursday. Photo: Amit Kanwa

Dept of Posts penalised for late delivery
Sundernagar, September 1
The Consumer Forum, Mandi, has penalised the Department of Posts for late delivery of speed post and directed the Chief Postmaster, Dharamsala, and the Chief Postmaster, Shimla, to pay Rs 2,500 as compensation and Rs 2,000 as cost of complaint to Raj Pal, Principal, Vivekanand Model School, Pargi of Sarkaghat, Mandi district.


Precariously perched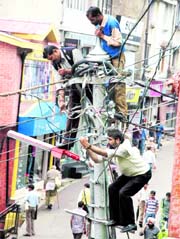 Workers busy in repairing electric wires on the Mall Road in Shimla on Thursday. Photo: Amit Kanwar
Drive to check illegal sale of polythene launched
Palampur, September 1
The local administration has launched a special drive here to check the illegal sale of polythene, expired medicines, encroachments on the roadside and traffic violations in Palampur town and its adjoining areas.
Toll tax contractor fails to deposit fee
Solan, August 29
With the contractor failing to deposit the licence fee for collecting entry tax within the prescribed period, the Subathu Cantonment Board has failed to earn from this venture.
Two leopards on the prowl
Bilaspur, September 1
At least two leopards are said to be on the prowl in several villages, including Tihri, Ghumarda, Jol Palakhuin etc of Kutheda gram panchayat near Ghumarwin, near here, which has created a scare among villagers in the area.
Man arrested for murdering woman
Bilaspur, September 1
The police has arrested Khem Raj of Sandoli village under Markand-Maakadi gram panchayat, near here, on the charge of murdering Babbli Devi in her house last night.
MLA comes to snakebite victim's rescue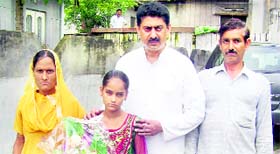 Nurpur, September 1
Timely financial help rendered by local MLA Rakesh Pathania helped save the live of Mamta (13), a Dalit girl of Nagabari, near here.




Mamta and her parents with MLA Rakesh Pathania in Nurpur. Photo by writer

Job fair at Baddi on Sept 3
Shimla, September 1
The Department of Labour and Employment will be organising a job fair in association with the Baddi University of Emerging Sciences and Technology at Baddi on September 3.