Gaddafi planning fightback, claims Libyan military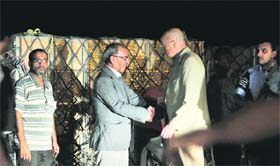 CASH FLOW: Libyan Bank Governor Qassem Azzoz (centre) shakes hands with John Jenkins, Britain's ambassador to Benghazi, as they stand near crates of bank notes at Benghazi. Britain's Royal Air Force flew in crates of freshly printed bank notes worth $227 million to Libya on Wednesday to help its new rulers pay public workers and banks to replenish cash machines.
— Reuters
Tripoli, September 1
Muammar Gaddafi is in a desert town outside Tripoli planning a fightback, a Libyan military chief said today, as Libya's interim rulers met world leaders to discuss reshaping a nation torn by 42 years of one-man rule and six months of war.
The ruling National Transitional Council (NTC), trying to mop up pro-Gaddafi forces, extended by a week the deadline for the surrender of the coastal city of Sirte, a spokesman said. The council had given Sirte, Gaddafi's birthplace and other areas still loyal to him, until Saturday to surrender or face a military assault.
The extension of the ultimatum follows a peace feeler from one of Gaddafi's sons, Saadi.
"We were talking about negotiations based on ending bloodshed," Saadi, whose whereabouts are not clear, said on al-Arabiya television on Wednesday, adding his father had authorised him to parley with the NTC.
The head of Tripoli's military council, Abdul Hakim Belhadj, told Reuters the same day he had spoken to Saadi by telephone and promised him decent treatment if he surrenders.
But Gaddafi's better-known son Saif al-Islam, in a statement on a Syrian-owned TV channel, promised a war of attrition until Libya was cleansed from "gangs and traitors".
Mystery still surrounds Gaddafi's whereabouts, with an NTC commander saying he is in Bani Walid and an Algerian newspaper reporting him in the border town of Ghadamis.
Abdel Majid Mlegta, coordinator of the Tripoli military operations room, said "someone we trust" had said Gaddafi fled to Bani Walid, 150 km southeast of the capital, with his son Saif al-Islam and intelligence chief Abdullah al-Senussi three days after Tripoli fell last week.
All three fugitives are wanted by the International Criminal Court for alleged crimes against humanity.
"They wanted to set up an operations room there and conduct aggressive operations against us," Mlegta said. "We have talked to notables from Bani Walid to arrest him and hand him over. They haven't responded. We are assessing our position."
He said Ali al-Ahwal, Gaddafi's coordinator for tribes, was also in Bani Walid, a stronghold of the powerful Warfalla tribe, Libya's biggest at about a million strong among a population of six million, but by no means solidly pro-Gaddafi.
"We are capable of ending the crisis but military action is out of the question right now," Mlegta said. "We cannot attack this tribe because many of our brigades in Benghazi and Zintan are from Bani Walid. The sons of Bani Walid hold the key."
Libyan foreign minister arrested
Libyan rebels have arrested foreign minister Abdelati al-Obeidi, a key figure of Muammar Gaddafi's regime, a senior rebel commander said.
"Yes, Abdelati al-Obeidi was arrested," Mahdi al-Harati, vice chairman of the rebel military council, told journalists in the capital yesterday without giving further details.
"We've heard that he was arrested today, near Janzur," a suburb west of Tripoli, Mohammed Elkish, a media liaison official for the National Transitional Council, told AFP.
Obeidi became foreign minister following the defection of Mussa Kussa on March 31. Many high-ranking officials turned their backs on Gaddafi's regime after demonstrations that erupted in mid-February escalated into all-out war.
Seif al-Islam, the fugitive son of Gaddafi, said yesterday in an audio tape on Damascus-based Arabic-language channel Al-Rai that he was still in Tripoli and the fight against rebels goes on.
"I am talking to you from a suburb of Tripoli," he said. "We want to reassure the Libyan people that we are still here. The resistance continues and victory is near." — Agencies