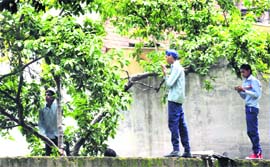 Fruit of labour! Children pluck guavas after school hours in Chandigarh. Tribune photo: Pradeep Tewari
Two girls injured in acid attack
Mohali, September 1
Two girls, Swatika and Shefali, suffered serious injuries when two unidentified motorcycle-borne youths threw acid on them at the busy Daun petrol filling station near Kharar late this evening. The girls had to be rushed to the PGI, Chandigarh, where the condition of Swatika (who suffered maximum burn injuries) is said to be critical.
Men in khaki ready for day of reckoning
Chandigarh, September 1
The Chandigarh Police is all set to ensure a violence-free Panjab University Campus Student Council poll tomorrow, in line with the period of a calm election campaign.
Way to woo — pick-and-drop facility
Chandigarh, September 1
If you are a college student and someone arrives at your doorstep at 7 am on Friday to pick you up, do not be surprised. The visitors can be a part of the service being provided by different student organisations.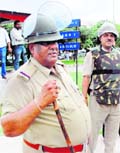 Operation waistline successful, at last
Panchkula, September 1
Belying the general perception that pot-bellied policemen can never reduce their waistline, at least 45 personnel of the Haryana Police have set an example by losing more than 10 kg each during a 45-day weight-loss course.




A pot-bellied cop at Panchkula. tribune photo: nitin mittal
Another cable theft, 1200 phones down
Mohali, September 1 The woes of Bharat Sanchar Nigam Limited (BSNL) subscribers in Mohali seem to be unending. Almost a week after repeated incidents of theft of its underground cables from Phase IX, crippling hundreds of telephone connections of government and private offices at Phases VII, IX and X, thieves struck at Phase V the previous night and stole five metres of the expensive cable.
Correction
The name, Satish Chandra, published on page six under the caption 'Chandigarh top cops are out on the field at the same time!' in Chandigarh Tribune on September 1 should be read as IGP PK Srisvastava. The error is regretted.
High-rise buildings threat to chandigarh's character
Chandigarh, September 1
The Chandigarh Administration today expressed concern at the high-rise buildings proposed in the vicinity of Chandigarh, which could have adverse impact on the unique character of the city.
No electricity panel meeting for 6 months
Chandigarh, September 1
Chairman of the electricity committee of the Chandigarh Municipal Corporation Kamlesh has not been able to convene the meeting of the panel. Reason: The officials concerned have failed to prepare the minutes of the previous meeting held in March.
Blocked road gullies, wild growth abound in Sec 11
Panchkula, September 1
Ill-maintained parks, blocked road gullies and potholed roads have become

a part and parcel of the life of Sector 11 residents. "We have approached the authorities time and again, but it seems the grievances of public do not bother them," said US Sharma, president of the House Owners Welfare Association.
(Left) A community centre being used for drying clothes; and (top) for parking vehicles at Sector 11 in Panchkula. Tribune photos: Nitin Mittal
Want to improve your voice?
Chandigarh, September 1
If you thought changing voice was only a technique restricted to smart phone and computer software applications that allow voice modulations to make one sound differently, you need to update your facts. Like tummy tuck, breast enhancement and reduction and body sculpting, surgeries that make one look better and confident, voice surgery is a modern-day marvel for those feel low due their shrill, low or hoarse voices.


Out of control The mangled remains of a Honda City car after it rammed into the Sectors 7-8 roundabout (above); and a damaged Maruti Swift car after it hit a road berm near the Sectors 24-25 roundabout in Chandigarh late on Wednesday night. Tribune photos: Vinay Malik
Protesting PEC students detained, freed on bail
Chandigarh, September 1
A day after Section 144 was imposed within 100 metres of the gate of the PEC University of Technology at Sector 12 here, the police detained students staging a protest outside the office of its director.



Time for students' mandate

Campaign : For the first time ever since its installation, inter-personal campaign became the key tool in elections. Thanks to the UT police and Lyngdoh recommendations, rallies, protests, freebies gave way to issue-based campaigning, where candidates had to prove their worth by their commitment to an issue rather then old promises. Publicity became the last priority and catching on to voters kept parties busy.
Vicky Midukhera (left), president SOPU, interacts with Sukhjeet Brar, president, PUSU. Tribune photo: Manoj Mahajan


Sumit Goklaney, Sharma, Ankur Rana, Simrpal Kaur and Anindita
High drama at GC-11
Chandigarh, September 1
High drama was witnessed at Post Graduate Government College, Sector 11, on Thursday after a college student was found distributing college identity cards among students. The student had procured the ID cards from the college library.
Last-minute effort to woo voters
Tribune News Service
Chandigarh, September 1
Utilising the last day before the student poll, student organisations in all colleges were seen persuading students to cast votes in their favour. Party workers focused on neutral students attending classes to garner their support.