Physiotherapy route to a healthy life
Specialised physiotherapy services are gaining popularity all over the world, particularly in the West. Many people are fed up of taking medicines for different kinds of ailments which can easily be treated and cured through physiotherapy
Dr Jagmohan Singh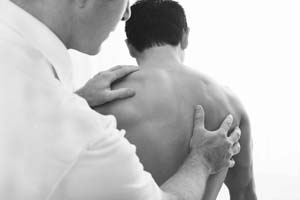 Physiotherapy as defined by the Indian Association of Physiotherapists is a physiotherapeutic system of medicine which includes examination, treatment, advice and instructions to any person preparatory to or for the purpose of or in connection with movement dysfunction, bodily malfunction, physical disorder, disability, healing and pain from trauma and disease, physical and mental conditions using physical agents including exercise, mobilisation, manipulation, mechanical and electrotherapy, activity and devices or diagnosis, treatment and prevention.
Physiotherapy is concerned with identifying and maximising quality of life and movement potential within the spheres of promotion, prevention, treatment/intervention, habilitation and rehabilitation. This encompasses physical, psychological, emotional and social well-being. Physiotherapy involves the interaction between patients/clients, other health professionals, families, care givers, and communities in a process where movement potential is assessed and goals are agreed upon, using knowledge and skills unique to physiotherapists.
A physiotherapist utilises an individual's history and physical examination in diagnosis and treatment and if necessary incorporates the result of laboratory and imaging studies. Physiotherapy provides services to individuals and populations to develop, maintain and restore maximum movement and functional ability throughout the lifespan. This includes providing services in circumstances where movement and function are threatened by ageing, injury, disease or environmental factors. Functional movement is central to what it means to be healthy.
Physiotherapists are qualified and professionally required to:
Undertake a comprehensive examination /assessment/evaluation of the patient/client or needs of a client group;
Formulate a diagnosis, prognosis, and plan;
Provide consultation within their expertise and determine when patients/clients need to be referred to another healthcare professional;
Implement a physical therapist intervention/treatment programme;
Determine the outcomes of any interventions/treatments; and
Make recommendations for self management.
Knowledge of body
The physiotherapist's extensive knowledge of the body and its movement is central to determining strategies for diagnosis and intervention. The practice settings will vary according to whether the physiotherapy is concerned with health promotion, prevention, treatment/intervention or rehabilitation.
Physiotherapists operate as independent practitioners, as well as members of health service provider teams, and are subject to the ethical principles of the World Confederation for Physical Therapists which is a governing body of physiotherapy worldwide. They are able to act as first contact practitioners, and patients/clients may seek direct services without referral from another health care professional.
Physiotherapy is an established and regulated profession in many countries, with specific professional aspects of clinical practice and education, indicative of diversity in social, economic, cultural and political contexts. But it is clearly a single profession, and the first professional qualification, obtained in any country, represents the completion of a curriculum that qualifies the physiotherapist to use the professional title and to practice as an independent professional.
Physiotherapy is concerned with the treatment of seriously ill patients of orthopaedics, cardio-pulmonary, neurology, paediatrics, geriatrics and all other types of ailments. Physiotherapists are as essential as other doctors and surgeons in recovering and rehabilitating patients from a state of incapability because of genetic defect or due to an accident or illness. In sports, the role of physiotherapist is of great importance and his presence is must. He makes assessment and plans proper treatment and gives exercises in the event of any injury to the players in the field and helps him returning back to the sport with full potential as early as possible.
Physiotherapy is not new. Earlier there were only two modes of treatment worldwide: physical therapy (physiotherapy) and chemical therapy (chemo/drug therapy). It has been practiced to treat people by advocating manual therapy techniques, hydrotherapy and massage circa 460 BC. In India role of physiotherapy started after World War II. First independent physiotherapy centre started in 1952 and now there are more than 200 colleges in India offering BPT and a few MPT and PhD degrees out of which 15 are in Punjab in 3 State and one private universities. The need is to regulate the profession by forming an independent Council both at National and State level. The basic (entry level) qualification required here is intermediate i.e. 10+2 with medical group.
Specialised services
Physiotherapy has quite large field and has specialties in each branch of medical treatment such as:
Orthopaedics: Physiotherapists diagnose, manage and treat disorders and injuries of the musculoskeletal system and help in rehabilitation after orthopaedic surgery. They take the responsibility of the treatment of post-operative orthopaedic procedures, fractures, acute sports injuries, arthritis, sprains, back and neck pain, strain, spinal conditions and amputations. The patients suffering from injuries or disease affecting the muscles, bones, ligaments, or tendons of the body get a lot of benefit by physiotherapy.
Neurology: In neurological disorders including Parkinson's and Alzheimer's diseases, brain injury, cerebral palsy, multiple sclerosis, spinal cord injury, stroke etc. In neurological treatment the Physiotherapist's role is as important, rather more, as that of a physician and surgeon. He gives proper exercises and manual therapy to bring the patients on their routine working life.
Cardiopulmonary: Role of a physiotherapist in cardiopulmonary diseases is both preventive as well as therapeutic. Physiotherapists treat a wide variety of patients with cardiopulmonary disorders including heart attacks and post coronary by-pass surgery etc and also to clear secretions of the lungs.
Paediatrics: Physiotherapists are fully competent in the diagnosis, treatment, and management of infants, children and adolescents with a variety of congenital neuromuscular, skeletal or acquired disorders/ diseases. Children with developmental delays, cerebral palsy, spina bifida, or torticollis are wonderfully treated through physiotherapy.
Geriatrics: Physical Therapy takes care of the problems emerging with growing old age and treats the people suffering with arthritis, osteoporosis, hip and knee joint replacement, Alzheimer's disease and helps in restoring mobility, reducing pain and extending the fitness levels.
These specialised physiotherapy services are very promising all over the world, particularly in the Western and advanced countries. In these countries, people prefer to go to physiotherapists for treatment and go to physicians only on the advice and recommendations of the physiotherapists. The physiotherapists are in great demand in these countries. Our qualified and competent physiotherapists used to migrate to these countries for green pastures. Alas! Punjab could have retained them.
In Punjab, several private hospitals and nursing homes are running their physiotherapy centres profitably. Also, the opening of a new physiotherapy centre does not cost much. To commence with, it needs only about Rs 5 lakh. There is a quite bright future for young physiotherapists to open these centres. No doubt the people are fed up of taking medicines for different kinds of ailments which can easily be treated and cured through physiotherapy.
Punjab can become a hub of physiotherapy by opening specialised physiotherapy centres even for foreign patients. It costs more than 40-50 pounds (Rs 4000) for outpatient visits and 70-80 pounds (Rs 7000) for indoor physiotherapy stay per day in the United Kingdom (data provided by British Society for Rheumatology). In some southern states such centres are being set up, as Karnataka is earning in heart-related ailments where a good number of foreign patients come for treatment.
In Punjab, this will not only help patients to get the best of the treatment that they deserve but also to the budding physiotherapists to get avenues to settle here. Therefore, private hospitals, nursing homes, NGOs, trusts and societies should come forward to open as many as physiotherapy centres as possible to cater to the need of patients and to serve the society at large.
The writer is Professor & Principal, Gian Sagar College of Physiotherapy, Rajpura