The roots of corruption lie more in the domain and dynamics of institutional structures, including political, administrative, kinship and class, than in the realm of individual motivations
Finally, an uprising against graft
S.L. Sharma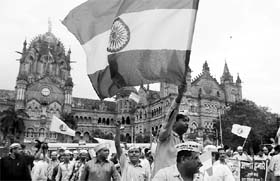 The manner in which people from all walks of life came out to join Team Anna was an eye-opener for our leaders
Indian society is witnessing a wave against corruption the likes of which it has never seen in the past.  In fact, this kind of peoples' upheaval against corruption does not seem to have occurred in any other part of the world either.  Triggered by Anna's fast unto-death for pressurising the government to accept the Jan Lokpal Bill, the upsurge is gathering unprecedented momentum.  On the face of it, Anna's demand for the passage of the Bill doesn't seem to be such a big issue.  What is it then that accounts for the huge public support that it commands?  It is the cause at its core, i.e., the mission of combating corruption, a monster that has been bugging people for long, that explains the massive support of the people.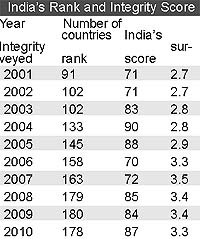 Corruption has grown in free India through two phases: a phase of proliferation (1960-90) and another of explosion of mega corruption (1991 onwards).  Corruption mushroomed during the first phase due to licence-quota-permit raj, among other things, and grew into mega corruption in the second phase following the economic reforms in 1991.  Its recent spurt is highlighted by a number of media surveys, research studies and, above all, the annual reports of Transparency International, a Berlin-based corruption watch agency which is known for its annual exercise of ranking various countries of the world on its Corruption Perception Index (CPI).  India has always figured among the "highly corrupt' countries, and at times even among the "ten most corrupt" countries of the world which is clear from the following table.
Scams Galore
This dubious distinction apart, Indian society had to hang its head in shame in 2010-11 when corruption reached at its blatant worst, nay its tipping point, with the stunning disclosures of CWG, 2G spectrum, Adarsh Housing and many more.  The public anger against it has been building all the while but could not find collective expression for want of a credible rallying point.  The political parties failed to provide such a platform, despite their occasional attempts to make corruption an election issue to serve their partisan interests.  Anna's noble move came a day not too soon to provide a much needed viable rallying point which is why it is receiving such a mammoth support.
The prevailing mobilisation signifies an event with a difference.  For one thing, led by a public figure known for his impeccable integrity and resolute commitment to social causes, the movement developed at the hands of civil society.  In the process it lent weight to the authenticity of civil society and its gathering influence.  Incidentally, the rise of civil society has been associated with the decline in corruption in many parts of the world, mainly in the developed nations.  Secondly, it is marked by an intense engagement of the urban, educated middle class which is rapidly growing bigger with its current strength of 22 million households in urban India, according to a report of the McKinsey Global Institute.  Thirdly, the movement is being carried forward by youth who have come forward in incredible numbers to lead it in numerous cities and towns.  It registers a new awakening of youth about their stake in India's future and hence their concern for a clean, transparent, accountable and responsive governance.  Fourthly, it reveals the immense power of social networking as a medium of civil mobilization, among other things.  Fifthly, the prominence of these sections notwithstanding, it grew into a mass movement encompassing people of all walks of life, all classes from corporate to domestic maids, all age groups and men and women alike.  Finally, it has earned acclaim for its enviable distinction of passing as a peaceful protest.
The only section of society which has raised a dissenting against it is represented by the 'Dalit' and the 'backward' lobby.  Their leaders contend that the move is unconstitutional, anti-reservation and it portends a dangerous development.  They have problems with the dictatorial and unreasonable stance of the civic leaders which tends to undermine the constitutional, institutions like the parliament.  Some members of the Parliament as well resent it.  The view is not altogether baseless and the civic leaders would do well to be civil in their conduct.  However, the question is: what do the people or the social activists do if the parliament sleeps over a public issue for as long as 42 years?  More importantly, the critical question is: in the event of a rift between the people at large and the parliament, which agency merits primacy?  The constitutional experts may advise.
Safeguarding quotas
At a deeper level, however, the opposition by the Dalit and the backward lobby seems to stem mainly from their perceived threat to the policy of reservation, just in case the civil society were to launch such an agitation against it.  Their opposition thus appears to be more of a pre-emptive action to safeguard their reservation benefits than to oppose the mission of the movement to curb corruption.  Some sympathizers of the present movement read into it the resonance of the traditional differences between Gandhi and Ambedkar.  Some others have objected to the draft of the Jan Lokpal Bill and its contents.  Aruna Roy as well as J.P. Narayan of Lok Satta, for instance, find the Bill rather unwieldy and overambitious and for the same reason suspect its efficacy.  Alternatively, they have advanced their own separate versions. 
There is finally a more fundamental question that merits consideration: can the passage of the Jan Lokpal Bill, all by itself, deliver liberation from corruption?  It doesn't seem likely.  The problem of corruption is far too complex and intricate to be tackled by a single piece of legislation, no matter how comprehensive and stringent it is.  Corruption is a hydraheaded phenomenon that takes various forms not all of which are amenable to be handled by legislative measures alone.  It warrants differentiated strategies to deal with different forms.  More importantly, the roots of corruption lie more in the domain and dynamics of institutional structures, including political, administrative, kinship and class, than in the realm of individual motivations, though the latter cannot be regarded as altogether inconsequential.  Given the structural sources of corruption, it warrants tackling strategies of institutional reforms as much as of regulatory ones.  Within the regulatory framework also, it calls for institutional reforms which may provide for independent and autonomous supervisory and investigative agencies.  Above all, there is an urgent need for strengthening our enforcement mechanisms too.  Prime Minister Manmohan Singh is right in stressing the need for judicial reforms.  No less important, if not more, however, is the need for reforms in our polity which constitutes the fountainhead of corruption from where it flows down to administrative and other domains.  It is interesting to note the omission, deliberate or inadvertent, of a reference to the need for political reforms in the Prime Minister's statement.
New awakening
Conceding all the limitations of the Bill, its sociological significance lies in generating new developments.  First, it has sharpened peoples' awakening about the gravity of corruption and stirred their conscience and mobilized them against it.  Secondly, it has lent voice to peoples' built up aggression against it.  Thirdly, it has changed their perceptions about corruption by debunking their smug belief that corruption has become a way of life and that it is a necessary evil with which they have to put up.  The movement has shown that evil it is, but not necessary.  At a time when people had ceased to react to it and even begun to see merit in it on the count that it at least gets things done, it is no small achievement.  Fourthly, it has also delivered a severe blow to the contention of a number of eminent social scientists who once contended that corruption has functional value, and that it promotes economic development rather than retarding it.  Like the people, several scholars have underscored efficiency value of corruption in getting things done.  Nathaneil H. Leff, an economist, states: "if the government has erred in its decision, the course made possible by corruption may well be the better one".  Further, Samuel P. Huntington, a renowned political scientist, observes, "In terms of economic growth, the only thing worse than a society with a rigid, over-centralized, dishonest bureaucracy is one with a rigid, over-centralised, honest bureaucracy".  Fifthly and finally, the movement has brought to fore the potential of peoples' power to rein in erring polity.  This shows maturity of our democracy and augurs well for future. 
Overall, the Jan Lokpal Bill is not so much about legislative enactment alone as about initiating serious measures to curb corruption.  It has emerged as a symbol of expression of peoples' anti-corruption sentiment.  Most important of all, it represents peoples' intense craving for a new public hygiene.  For sure, the Bill by itself, is not likely to root out the endemic and entrenched problem of corruption.  Nevertheless, it marks a significant beginning and represents an important milestone in peoples' fight against it.  It as well paves the way to the introduction of institutional reforms by creating the institution of Jan Lokpal at the centre and Lokayukta at the state level.  
The writer, former Chairperson Department of Sociology, Panjab University is an eminent sociologist who has worked extensively on corruption. He is currently working on his book on "Sociology of Corruption".