Strauss-Kahn returns to a frosty welcome in France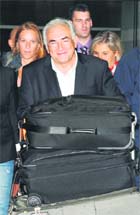 Former International Monetary Fund leader Dominique Strauss-Kahn arrives at the Roissy-Charles-de-Gaulle International Airport in Paris on Sunday. — AFP
Paris, September 4
Dominique Strauss-Kahn, whose presidential hopes shattered by a sex assault scandal that rocked his homeland, returned to France today facing a frosty public reception and unease among his political allies.
The former IMF chief arrived at Paris's Roissy Charles de Gaulle airport at 7 am with his wife Anne Sinclair. Police escorts whisked the couple through the terminal, past waiting media, and into a car.
Strauss-Kahn pulled up at his Parisian apartment in the chic Place des Vosges square an hour later. He waved, but made no comment as he pushed through a sea of flashing media cameras.
"I am thinking about his joy, and that of Anne Sinclair, to be back here," Jack Lang, a left-wing former education and culture minister and a neighbour of the couple, said. "What we owe him, as Socialists and friends, is to greet him here with warmth, friendship and joy," he added.
But another bystander yelled, loudly enough to be heard by Strauss-Kahn and Anne Sinclair as they stood in the interior courtyard of their apartment building: "You are a disgusting creature. Go and get cured somewhere else."
Strauss-Kahn's public relations adviser Anne Hommel told journalists outside that he would not make any statement today. "You can all leave. He won't come back out," she said.
His homecoming marks the end of a three-month struggle through New York's criminal court system after he was charged with attempting to rape a New York hotel maid. The case was dropped after her credibility was thrown into doubt. — Reuters
Future uncertain
The arrest of the former finance minister, one of France's most talented economic thinkers, thrust the country's political landscape into turmoil, with the main opposition Socialists forced to find alternative candidates. Many of Strauss-Kahn's former backers have now repositioned themselves behind Francois Hollande, who leads opinion poll for the Socialist primary contest, or his rival Martine Aubry. Yet his allies say he is bound to play a role in the future, either by contributing to the Socialists' election campaign or taking a position in a future left-wing government. Others see him opting for a role on a European or international level, following his experience leading the IMF through the 2007-09 global financial meltdown.