Upside down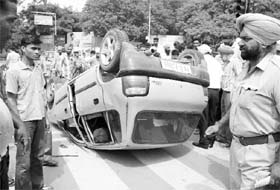 A car that met with an accident at Sheranwala Gate Chowk in Patiala. Two persons were injured in the mishap. A Tribune photograph
PGI docs for Bihar-like law for their protection
Chandigarh, September 4
The recent incident of the alleged manhandling of a junior resident doctor by the relatives of a patient at the PGI emergency on Friday has led to a demand for enactment of a law, on the lines of the recently passed Bihar Medical Service Institution and Personal Protection Bill, 2011, which provides shield for doctors by making an attack on them a cognizable offence.
Drunken Driving
Cops zero in on 30 hotels, pubs
Chandigarh, September 4
In an important development, the Chandigarh Police has listed at least 30 hotels, clubs and pubs feeding the maximum potential drunk drivers hitting local roads after downing their share of evening drinks.
2 students held with pistol, cartridges
Chandigarh, September 4
Two days after the alleged shooting incident in which Sourav Malik, a supporter of the Hindustan Students Association (HSA), was injured, the Chandigarh Police arrested the two accused involved in the incident from Sector 43 and recovered one 7.65 mm pistol and two live cartridges from them.


Open House Response
Need to work unitedly to rid nation of corruption
The response to Anna Hazare's fast showed public dissatisfaction with the prevalent corruption in all walks of life. His fast was not an exhibition of any overnight discovery, but a public face of simmering anger breeding in the hearts of the common man. We have grown up hearing about mega-scandals in education, recruitment, agriculture and politics.
Members of the Art of Living stage a protest near Parliamentary Affairs Minister Pawan Bansal's residence in Sector 28, Chandigarh. Tribune photo: Pradeep Tewari


| | |
| --- | --- |
| Huddled up! | No child's play this |
| Schoolchildren sit in verandahs due to lack of classrooms at Government Primary School, Palsora, Chandigarh. Tribune photo: Vinay Malik | Schoolchildren push a three-wheeler that broke down in Sector 40, Chandigarh. The kids were heading home. Tribune photo: Vinay Malik |
| Festive colours | Norms up in air |
| Women from Kerala make a rangoli to mark Onam celebrations in Sector 19, Chandigarh, on Sunday. Tribune photo: Pradeep Tewari | Helmets without ISI certification being sold on a roadside in Chandigarh. Tribune photo: Vinay Malik |
11 yrs on, industry still denied transfer of lease hold rights
Chandigarh, September 4
Almost eleven years after the lock-in period for transfer of lease hold rights of their plots ended, the city's industry continues to be at the receiving end of the UT administration that is still dilly-dallying over the issue. As if this was not frustrating enough, the administration has also been dragging its feet on issuing "no objection certificates" (NOCs) for transfer of the rights.


Sector 16 a blot on Panchkula
Panchkula, September 4
Heaps of garbage, dangerous road cuts and a new building of dispensary lying unoccupied for the past one year have become a bane of Sector 16 here. "The sector is in fact surrounded by slum areas and unkempt parking lots," said Kuldipak Lal, president of the Residents Welfare Association.
Heaps of garbage strewn opposite the Sector 16 market in Panchkula.
| | |
| --- | --- |
| A road in a bad shape in Sector 16. Tribune photos: Nitin Mittal | Unauthorised 'cuts' on a road pose a threat to commuters. |

Park's entrance puts off visitors
Zirakpur, September 4
A pool of stagnant water in front of the Zirakpur Municipal Council park at Baltana is causing a major health risk for visitors. Residents claim that the council has turned a blind eye to this problem. They say they have submitted their complaints to the local councillor and MC officials many times, but nothing has been done so far.
Water accumulated in front of a park at Baltana has become a breeding ground for mosquitoes. Tribune photo: Nitin Mittal


Zirakpur MC fails to launch website
Zirakpur, September 4
Even four months after the Zirakpur Municipal Council had announced to launch its website, like the council's many other assurances, this one too remains unfulfilled. The need for having the website of the council was felt since long as it would contain vital information about the development and other projects being taken up in the area under the MC's jurisdiction and also provide details of fresh proposals.
Housefed flats
Rollback in transfer fee sought
Mohali, September 4
The Housefed Flats Sangarsh Committee, Sector 79, has urged the Punjab Chief Minister to ask Punjab State Federation of Cooperative House Building Societies ltd (Housefed) to reduce the transfer fee of its upcoming flats in Sector 79. The fee was increased from Rs 20,000 to Rs 1 lakh on July 4.


Simplify procedure for getting NOC: Pendu sangarsh panel
Chandigarh, September 4
Members of the Pendu Sangarsh Committee held a meeting to finalise charter of demands, which the committee intended to hand over to the UT Administrator Shivraj Patil shortly.

A meeting in progress at Khuda Aliser village on Sunday. Tribune photo: Pradeep Tewari
ENT surgical workshop concludes
Chandigarh, September 4
The three-day ENT surgical workshop was concluded at PGI today. The workshop today commenced with a live demonstration of endoscopic dacryocystorhinostomy by professor Ashok Gupta head of otolaryngologists department of the institute.
MC issues 25 challans
Chandigarh, September 4
The Municipal Corporation, Chandigarh, held an anti-encroachment drive at Sector-19 and 22 markets on Sunday. About 60 shopkeepers were challaned for encroaching corridors opposite to their shops.

student poll: SOPU rises like phoenix
Chandigarh, September 4
The party had lost by a few hundred votes last year, party's senior leader Brinder Dhillon was arrested for allegedly firing at another student leader. It was late October when SOPU was handed over to Robin Brar and Vicky Midukhera, known as Dhillon's sidekicks. Six months and the duo has not only got SOPU a victory in the student elections against an alliance of four parties, but has ended up creating a history by defeating the rivals with a record margin of over 1,000 votes.

Supporters of SOPU celebrate their victory in the PU student council elections. Tribune photo: Pradeep Tewari




Beginning of golden era for SOI
When the Student Organisation of Panjab University (SOPU) entered into an alliance with the Student Organisation of India (SOI), nobody could have thought that it would prove to be the luckiest ally than the most sought-after INSO and ABVP.
Workers of SOI prepare material to be used at the time of student elections. Tribune photo: Pradeep Tewari



PUSU: Divided we fall
Contrary to their last year's winning stint when defeating the two-time winner, SOPU, sent them into a frenzy, Panjab University Student Union (PUSU) supporters were nowhere to be seen amidst victory celebrations this year.

Senior PUSU leaders take out a procession at Panjab University. Tribune photo: Pradeep Tewari




Teachers urged to become role model for students
Chandigarh, September 4
Almost every country in the world celebrates Teacher's Day but for different reasons and on different dates. The Teacher's Day is celebrated on September 5 in our country.

A boy selects a rose stick for his teacher on the eve of Teacher's Day in Chandigarh on Sunday. Tribune photo: Pradeep Tewari