The PDS is not failing or ailing
A survey conducted across nine states by the Indian Institute of Technology, Delhi and Allahabad University suggests that the much maligned system has revived, prodded by politics, good governance and the apex court. It also found the poor to be averse to cash transfers
Ria Singh Sawhney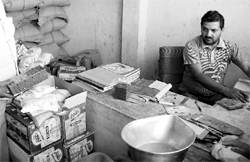 A Public Distribution System outlet at Chail chowk in Mandi (Himachal Pradesh) Photo: Reetika Khera

Kotri is a mid-sized village in Desuri block (Pali district, Rajasthan), about 15 kilometres away from the nearest large bus stand and market place. We walked to the dusty outskirts of the village to meet an old man on our list of sample households. His blind wife squatted outside their hut, emaciated, worried and in a state of constant confusion. In the background their young son peered out from a picture on their wall, with a withered garland around his neck. Looking at this skeletal couple, living off their old age pensions and monthly supply of government-subsidised grain, you got the impression of a tenuous hold on life.
The landscape is expectedly dry and arid, dotted with neem and prickly babool trees. The main occupation is agriculture and animal husbandry, but among the people we met, the few who owned some agricultural land shrugged when asked about their reliance on it. It was 'saawan-khet', dependent on the recalcitrant monsoon, and therefore unreliable.
Previous reports on the PDS in Rajasthan provided a pretty dismal report card, like the 2009 report of the Justice Wadhwa committee, which pointed to large-scale diversion of PDS grain and serious bottlenecks in the delivery system. So we were pleasantly surprised to see how well the state welfare programmes were working in Pali.
Most families we met had worked for a hundred days at MGNREGA worksites, and almost all Below Poverty Line (BPL) cardholders were receiving their 'full quota' of 25 kilos of wheat, at Rs.2 per kg, every month from the PDS.
The changes in the PDS are primarily because of significant reforms introduced in May 2010. Under the "Chief Minister's Anna Suraksha Yojana", the price of grain was reduced to Rs.2 per kg, and Fair Price Shops were directed to stay open for a fixed period of seven days every month, from the 15th to the 21st. Importantly, the commissions for PDS dealers were increased from Rs.8 to Rs.20 per quintal, substantially reducing incentives to cheat. Earlier, the low commissions meant that there was enormous pressure to cheat just to recover costs, and this was also used as a convenient excuse to justify any amount of cheating.
Problems persist
There are still problems in the system: the quality of PDS grain left much to be desired, with many respondents complaining that their monthly wheat ration came with 2-3 kilos of stones and chaff. The availability of items other than wheat (e.g. rice and sugar) was uncertain and irregular. Although the Rajasthan state government was supposed to distribute sugar, it frequently failed to even lift the entire sugar quota released from the Centre. So, despite being entitled to half a kilo per member at subsidised rates, BPL families could not count on getting this every month. The same applied to the occasional apportionment of cooking oil and rice, when these commodities were supposed to be given.
This irregularity also indicated the power of information: because these 'additional' PDS entitlements were not clear to the recipients or even to the dealers, and allocations were subject to vagaries down the supply chain. Some dealers even said that they were asked to pay bribes to godown officials to get any 'extra' quota of rice or sugar.
Other lacunae include missed opportunities to modernise the system for increased efficiency and transparency. Although we saw fairly well maintained sales and stock registers at the Fair Price Shops, no one was checking the sales register and there was minimal checking of stock registers. No electronic weighing scales had been provided anywhere. It was also unclear what recourse people had for genuine grievances.
While the PDS was of great help to vulnerable households in meeting their food requirements, this support was restricted to those fortunate enough to be on the BPL list. There have been problems with the BPL list both at the policy and implementation levels. In 2002 a new 'scoring' approach was used to identify BPL families, with scores given on thirteen socio-economic criteria. This replaced a previous identification system based on income and expenditure, used in the 1997
BPL survey.
The BPL list is a dubious way of ensuring that the entitlements of the most vulnerable are met, especially in areas where disparities in standard of living are relatively small. Getting onto the list often requires some clout, defeating the purpose of the exercise. This is particularly so since the centre caps the number of BPL households for each state, and the state has to adjust its 'poor' into this figure. This leads to situations where limited BPL cards are used as a means of reward and punishment. For instance, we heard of cases where BPL cards had been arbitrarily taken away from some families and given to political supporters of the village sarpanch.
Another significant reason for preferring food was the thought of having to cope with the all-too-likely possibility of a drought. Pali district, although slightly better off than the drier regions west of the Aravallis, expects a drought every three to five years. Reliance on the government increases drastically during a drought, and the government often releases larger amounts of food grain through the PDS at such times. One respondent, a 50 year old woman from the Meena tribe, pointed out that in such a situation, money is of little help as the cost of food spirals upwards and the availability of food grains dwindles.
All these reasons led to an overwhelming preference for the known, functional and simple option: food. For most women it was an obvious choice - one simply pointed at her alcoholic husband, while another laughed when we gave her the alternatives, and said "Kya mein paisa khaa sakti hoon?"
It is clear from the gains made over the last few years that the PDS system in Rajasthan is not, as is commonly believed, a failing and ailing animal. It is showing clear signs of revival, and has to a large extent been made more efficient and leakage-proof. It has evolved to play an important role in people's lives. This has been achieved by the state government realising that fixing the PDS system can lead to significant political gains.
Cash transfers
A crucial question we posed to our respondents was how they would feel if the PDS were replaced with an equivalent system of direct cash transfers. Their experience with money transfers is, for example, the Indira Awas Yojana, a scheme wherein the government gives eligible rural families money to build a house. It has wizened them to sarkari calculations, and taught them to think in 'percentages' which have to be paid as bribe to different levels of the administration to get their money.
People aired their misgivings over fluctuating market prices (misgivings about how the state would index cash transfers), the high risk of delays in payments (commonly experienced in MGNREGA payments, and hard to cope with when it was the question of day-to-day sustenance), how much money they would spend going to the bank (which were often far away), how many days' wages would be wasted withdrawing the money and then buying their rations (markets too, were often not in the same village), and so on. The concern with transaction costs is particularly relevant in Rajasthan where the PDS system reinforces a tenuous market infrastructure.
The writer is a Law student in Delhi University
Will cash transfers reach the poor and plug leakages?
Complaining that the Delhi government's scheme replacing the Public Distribution System with cash transfers will not benefit the poor since they would be receiving a fixed sum when prices of essential items are rising, an NGO 'Rozi Roti Adhikar' kicked off a 20-day campaign on Tuesday to galvanise opinion against the government's decision.
One of the organisers, Deepti Sinha said, "We want to let the public know that the government's scheme of cash transfer in lieu of ration subsidy is a total fraud. We demand that instead of luring people with cash, the government should strengthen the PDS scheme and make it available to common people at subsidised rates."
Pushpa Lata, a slum dweller in south Delhi's Malviya Nagar area, said: "We don't want cash because today the government may give us Rs.1,000 but what will we do when the food prices rise?" She wondered whether the government will keep increasing the cash amount to meet the rising food prices.
Another slum dweller, Sunita said: "We all know that leakages and malpractices are there in the public healthcare system; so will the government decide to shut down government hospitals next and give us a fixed amount of money for our medical needs too?" — IANS