For SGPC chief Makkar, it's a familiar terrain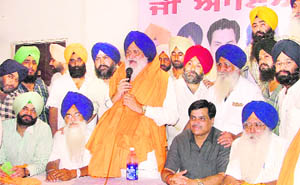 Ludhiana, September 6
With less than a fortnight to the SGPC elections, the campaign of SGPC president Avtar Singh Makkar, who is SAD (B) candidate from Ludhiana (West), has turned into a hectic mode. He is pitted against Gurdip Singh Gosha, the Panthic Morcha candidate.


Avtar Singh addresses a gathering at Akalgarh market in Ludhiana. Photo: Inderjeet Verma

Explain deficit in Golden Temple accounts: Capt
Chandigarh, September 6
Punjab Pradesh Congress Committee president Capt Amarinder Singh today asked the Shiromani Gurdwara Parbhandhak Committee (SGPC) to explain the deficit of Rs 23 crore in the Darbar Sahib accounts, despite the large inflow of devotees.
HC puts order on hold


Chandigarh, September 6
Breathing fire, the State of Punjab today dubbed the developments in the Sehajdhari voting rights case as a "great conspiracy" between the Centre and Sehajdhari Sikhs, even as the Full Bench of the Punjab and Haryana High Court put on hold its previous order of September 1.
Remove posters within 2 days: Brar
Chandigarh, September 6
Chief Commissioner, Gurdwara Elections, Justice HS Brar (retd) has issued a warning to candidates for the SGPC poll against pasting posters and billboards on public land, the roadside and on properties which don't belong to them, or their supporters.
Another Manpreet aide joins SAD
Muktsar, September 6
Another Manpreet Badal's confidant Jagdeep Singh Kala and the People's Party of Punjab's zone incharge Balkar Singh joined the ruling SAD here today.
Manpreet, Capt misleading Sikhs, says Dal Khalsa
Jalandhar, September 6
The Dal Khalsa has said that the term Sehajdhari has lost its relevance in Sikhism and that former Chief Minister Amarinder Singh and PPP chief Manpreet Singh Badal were either ignorant or were misleading the electorate.


Anand Marriage Act Row


Law Minister to take up issue with PM
New Delhi, September 6
Law Minister Salman Khursheed today assured a group of Sikh MPs that he would discuss the Anand Marriage Act amendment matter with Prime Minister Manmohan Singh soon as he returned from Bangladesh trip, and come up with a solution.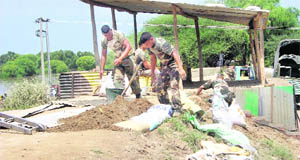 Fazilka bundh breach yet to be plugged
Fazilka, September 6
Breach in the DCB bundh near RD 27 in Dona Sikandari area of the district continues to create problems for the residents even as the administration has been struggling to plug the gap -- around 200-feet wide.

Army jawans fill sand bags to plug the breach of the bundh in Fazilka. Photo: Praful Chander Nagpal

Child dies as house collapses in Mansa
Mansa, September 6
A five-year-old child died as a house collapsed at Jatana village of Mansa following heavy rain today morning.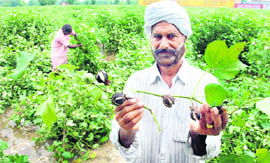 Rains may dampen prospects of record cotton yield in Malwa
Bathinda/Mansa, September 6
Incessant rains in various districts of the Malwa region over the past 24 hours have affected the cotton crop, something that may result in reduced yield this season.

A farmer of Jodhpura Romna village of Bathinda shows rotten cotton balls following incessant rains. A Tribune photo

Candidates want dates of PCS, Judicial mains exams changed
Jalandhar, September 6
Scores of aspirants who have cleared their preliminary exams have appealed to the Punjab and Haryana High Court and the Punjab Public Service Commission (PPSC) to change the dates of the PCS (Executive) Mains and the Additional District Judge (ADJ) Mains examination as both were clashing.
Set up cancer hospitals in all dists, CPI tells Centre
Bathinda, September 6
The Communist Party of India (CPI) today asked the Centre to release Rs 2,500 crore to Punjab for setting up and maintaining cancer hospitals at its all 22 district headquarters on the plea that Punjab's underground water and environment had been affected badly due to continuous and excessive use of pesticides.
Inside Babudom


Baldip Sandhu back in Chandigarh, this time as I-T Commissioner
Chandigarh, September 6
An administrative reshuffle in the Income Tax Department has been homecoming for Baldip Singh Sandhu of the 1981 batch of the Indian Revenue Service (Income Tax). He will be the new Commissioner-II, Income Tax, Chandigarh. In all, more than 60 IRS officers have been shifted and given new postings in the administrative reshuffle ordered today. Baldip Singh Sandhu
Roko Cancer comes to aid of special children


Faridkot, September 6
At least 60 special children suffering from cancer have a reason to smile. The UK-based Roko Cancer Trust has donated equipment for hydrotherapy and naturotherapy to Baba Farid Centre for Special Children, Faridkot, which helps counter the adverse impact of cancer. Two years back, laboratory tests had found traces of depleted uranium in the hair of 113 special children at this centre.
Bumpy ride on Kharar-Kurali stretch irks villagers
Mohali, September 6
Irked over increasing accidents due to bad condition of the 10-km-long Kharar-Kurali stretch of the National Highway 21, residents of several villages of the area, led by senior Congress leader Rajbir Singh Padiala, today blocked the highway for more than two hours.

Villagers protest against poor condition of the 10-km-long Kharar-Kurali stretch of the NH-21 near Padiala village on Tuesday. A Tribune photograph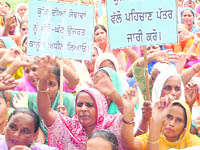 Mid-day meal workers protest over poor wages
Patiala, September 6
Hundreds of female mid-day meal workers of the Democratic Mid-Day Meal Cook Front, Punjab, working in various government schools, staged a protest against the callous attitude of the Punjab Government at the Nehru Park here today.

Mid-day meal workers protest against the Punjab Government in Patiala on Tuesday. Tribune photo: Rajesh Sachar

Pirated CDs of 'Bodyguard' hit video stores in Patiala
Patiala, September 6
Despite breaking the records of the highest-ever first-day box office collections in the country, all it takes is Rs 40 in Punjab to flout orders of the top brass of the state police to watch the pirated version of the recently released Bollywood movie 'Bodyguard'. It is easily available at all the video stores.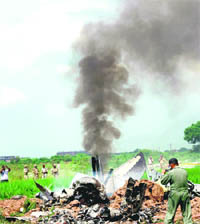 The clouds spat fire, say terrified villagers
Shambhu (Rajpura), September 6
"The clouds opened and poured fire instead of rain," explained a terrified car driver, an eyewitness to the MiG crash that left a deep crater in this sleepy village near Rajpura. It was a cloudy Tuesday morning when an unusual sound from the skies jolted the villagers out of their slumber. They ran out of their homes and were horrified to see the smouldering aircraft wreckage strewn in the fields.


The smouldering wreckage of a MiG that crashed in therr fields of a village near Rajpura on Tuesday. Tribune photo: JS Virdi

Dhanda case: SC issues notice on Punjab's plea
Chandigarh, September 6
Just more than a fortnight after the Punjab and Haryana High Court set aside Harish Rai Dhanda's appointment as Punjab Public Service Commission Chairman, the Supreme Court has issued a notice on a special leave petition filed by the State of Punjab.


Policeman booked for fake raid
Bathinda, September 6
The local police has booked a sub-inspector stationed at the Kotkapura city police station and two others for conducting a fake raid on a house a few days ago.
Another person held in fake degree case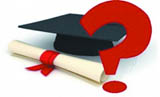 Patiala, September 6
A day after the Patiala police claimed to have busted a fake degree racket, the third accused and the mastermind of the racket Jaswinder Singh has also been arrested. The city police is smelling a widespread travel agency fraud as well, in which candidates could have used these degrees to get admissions abroad.
Man booked for duping Patiala resident
Rajpura, September 6
The police here has registered a case against Nishan Singh of Saidkherhi village for duping a Patiala resident of his money on the pretext of selling him a piece of land. An FIR has been registered against the accused.
Two held with drugs
Patiala, September 6
The Jhulka police has arrested two persons in different raids and recovered 5-kg opium and 80-kg poppy husk from them. A case under the NDPS Act has been registered against the arrested persons.